Missouri mother watched home burn down with her four sons inside: 'She lost everything'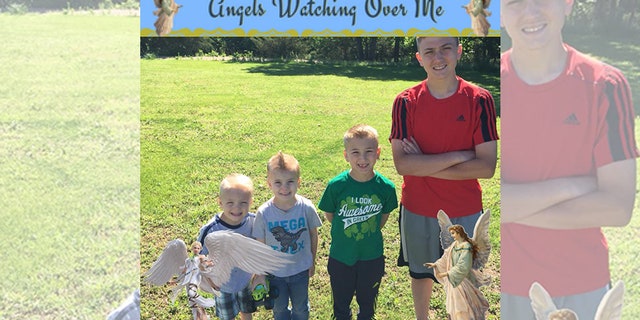 A Missouri mother was heard screaming as her home burned down with her four children trapped inside.
Tina Brazil, of Lake Ozark, was on her way home early Thursday unaware that a fire erupted inside the house, the Kansas City Star reported.
Her neighbor Eddie Helt, 81, said he had his wife call 911 when he discovered smoke. He tried to enter the home but the heat pushed him 15 feet back.
The neighbor said he saw Brazil drive up to the home with her boyfriend, Mike Andrews, as the fire lashed. He recalled the mother going "berserk" as she knew her children – Tyler Otto, 14; Cason Otto, 8; Max Otto, 5; and Levi Otto, 4 – were inside the residence.
"My children! My kids! My kids!" Helt recalled the distraught woman shouting. The neighbor said it took five firefighters to restrain Andrews and to keep Brazil from entering the home.
ONE DEAD, SEVERAL INJURED AFTER TV STATION TOWER COLLAPSES IN MISSOURI
"There was nothing you could do," Helt said.
The Lake Ozark Fire Protection District said they arrived at the home at 1 a.m. after being dispatched at 12:51 a.m. but were not able to enter due to the rear of the home collapsing. Firefighters found the bodies of the four children and two pets when they were able to go inside. Autopsies will be performed on the children to determine the causes of death.
Following the incident, Brazil shared a photo of her sons on Facebook writing about each one of her children.
"My babies," Brazil wrote. "I don't have any words to say how we are all feeling. . . .Tyler was my Tyler-man. Soccer and the biggest do-gooder heart I've ever seen. Cason bug was my smarty pants early talker, artist and avid reader.
"Monster Max popped off with some of the funniest things ever at the most random moments and was a crazy awesome dancer and had the biggest imagination I've ever seen.
"Levi was my little nugget who would say, 'Mommy, I love you, Mommy,' at least 50 times a day," she wrote.
Lindsey VanPelt, the children's aunt, told the Kansas City Star that the children "grew up in a fun-loving family."
WOMAN FACES UPGRADED CHARGES IN MISSOURI OFFICER'S DEATH
"They always had smiles on their faces," she said. "They could turn anything into a good time. They just had hearts of gold."
Brazil's sister, Angie Lawrence, said the mother is "heartbroken."
"She lost everything. They were her life," Lawrence said. "Our lives are never going to be the same without them."
When the paper asked if Brazil left the children at the residence alone, Lawrence said, "Honestly, I just want to leave that out because I don't want her to hear the criticism. … She has been through enough."
The state of Missouri does not "stipulate how old a child must be in order to be left home alone."
Lawrence said the fire department's preliminary investigation found the fire may have been caused by a nearby barbecue. Fire officials said Thursday the fire may have gone unnoticed for a period of time but the wind made it grow. It appeared no smoke detectors were found in the home but they might have been destroyed in the blaze.
Kenneth Otto, the boys' paternal grandfather, said of his grandsons, "You can't replace them."
The boys' father, Travis Otto, did not immediately comment on his children's deaths.
"He said, 'Dad, I just need to get outside,'" Kenneth Otto said of his son. "You're just numb. There's nothing you can say, there's just – there's just nothing. You can lose everything in the snap of your finger."