Minn. man murdered wife after searching 'dark web' for hitman, prosecutors say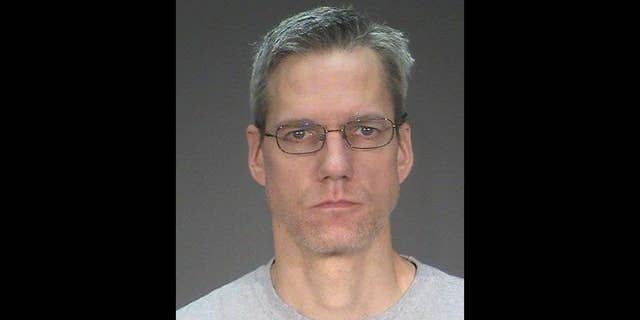 A Minnesota man is facing murder charges for allegedly killing his wife in November 2016 after unsuccessfully trying to hire someone else to do it for him.
ACCUSED COP-KILLER MARKEITH LOYD TELLS JUDGE HE'LL REPRESENT HIMSELF
According to the criminal complaint, Stephen Allwine, 43, shot and killed 44-year-old Amy Allwine at their Cottage Grove home on November 13, 2016. He allegedly staged her death as a suicide and told police he discovered his wife's body when he arrived home from picking up the couple's nine-year-old son from his grandparents' house.
The autopsy revealed Amy had been drugged and shot in the head.
VIRGINIA EXECUTES INMATE CONVICTED OF MURDERING FAMILY OF FOUR
An investigation also revealed that in the months before her death, her husband had allegedly searched the "dark web" unsuccessfully for a hitman to kill her.
Stephen was charged with second degree murder on Wednesday, with his bail set at $500,000.
Stephen and Amy Allwine met at a small religious college in Texas, and after they married they moved to St. Paul to be closer to her family.
Amy ran a dog training business located right next door to her home, Active Dogs Sports Training. The business shut down shortly after her death.
Investigators believe Stephen made several attempts early last year to hire a hitman on the "dark web" to kill his wife using the username "dogdaygod."
FBI evidence revealed "dogdaygod" sent an email to a "dark web" site called Besa Mafia, where people solicit murders and assaults for hire, to inquire about the cost of a "hit."
In one exchange, a hitman was supposedly hired to kill Amy while she was traveling to Illinois for a dog training competition. However, Besa Mafia informed dogdaygod that their hitman followed Amy, but did not get a chance to kill her.
Dogdaygod and Besa Mafia ultimately decided Amy would be killed at her home and the house would be burned down afterwards, but Besa Mafia continually delayed the hit, investigators said.