Man arrested in beating of Deandre Harris in Charlottesville, police say
Charlottesville police on Friday arrested a man in connection with the beating of 20-year-old Deandre Harris in the wake of the deadly "Unite the Right" rally.
Daniel Patrick Borden, 18, was arrested and charged with malicious wounding in the Aug. 12 assault that took place in a parking garage. Police also charged Alex Michael Ramos, 33, with malicious wounding—but he has not yet been arrested.
Video and photographs of the incident, in which Harris was attacked with clubs and poles by a group of white supremacists, went viral and sparked outrage.
"They were beating me with poles. I have eight staples in my head, a broken wrist and a chipped tooth," Harris told The Root.
Borden is currently being held at the Hamilton County Justice Center in Ohio.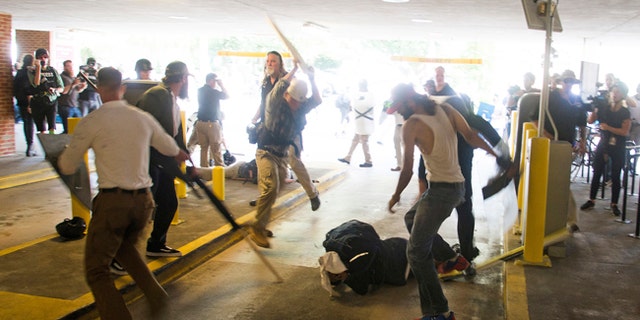 James Alex Fields has been charged with second-degree murder, five counts of malicious wounding, three counts of aggravated malicious wounding and one count of felony hit and run in relation to the vehicular death of Heather Heyer, who was protesting against those at the rally in Charlottesville.
Police have identified a total of 35 victims in the unrest and are in the process of reaching out to all of them.
Harris' attorney, Lee Merritt, told WCPO that he will file a civil personal injury lawsuit on behalf of Harris.