Los Angeles police hunt for kidnapping suspect caught on camera forcing woman into van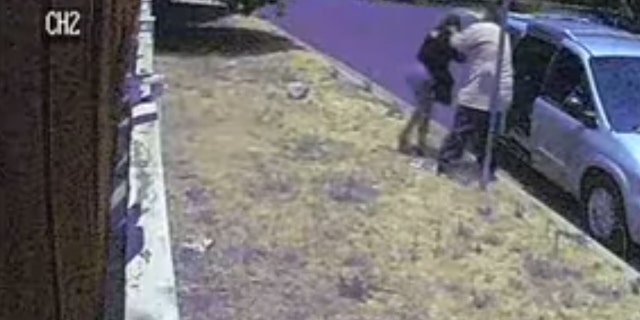 Authorities in Los Angeles are searching for a man who is suspected of kidnapping a woman Wednesday by forcing her into a minivan in an incident that was caught on camera.
Video released Thursday by the Los Angeles Police Department shows the victim talking with a heavy-set man near a parked Chrysler minivan, possibly a Town and Country, around 12:30 p.m. on El Cajon Street in Sylmar, FOX 11 reported.
The woman is then seen in the video trying to walk away, but the male then follows her. He is then seen opening the sliding door of the van as he continues to talk to her.
"The male grabs her by the hair and forcibly throws her inside the van," police said in a statement. "She tries to escape, but he pushes her back inside the van."
The man then gets into the driver's seat of the van and drives off with the woman still inside.
Los Angeles Police said the female victim "appears to be Hispanic, with long black hair, around 25 to 35 years old." The male suspect is described as "about 250 pounds, and around 30 to 35 years old," and was wearing a baseball cap that is turned backwards.
"It appears as if the suspect and the victim know each other," police said, adding the motive for the kidnapping has yet to be determined.
Anyone with information about the kidnapping is urged to call the LAPD's Mission Station at (818) 838-9800. After-hours and weekend calls should be directed to (877) LAPD-24-7 and anonymous tips can be submitted through Crime Stoppers by calling (800) 222-TIPS.
Read more from FOX 11 Los Angeles.