Lawyers for alleged victims blast USC's tentative $215M settlement over abuse claims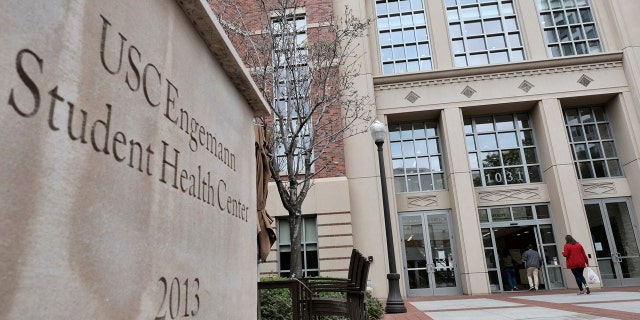 The University of Southern California said Friday that it would pay $215 million to settle claims of sexual abuse and harassment by a school gynecologist while lawyers for hundreds of the accusers said the amount is not enough and the school has yet to fully disclose what it knew about the doctor's behavior.
The tentative settlement would provide compensation ranging from $2,500 up to $250,000 for women who claim that Dr. George Tyndall abused them between 1988 and 2016, Wanda Austin, USC's interim president, said in a statement.
"I regret that any student ever felt uncomfortable, unsafe, or mistreated in any way as a result of the actions of a university employee," Austin said.
The proposed settlement of the pending federal class-action lawsuit would offer $2,500 to any USC student that Tyndall ever treated and up to $250,000 to those who allege he abused them, The Los Angeles Times reported.
"The only guaranteed number in this case is $2,500 — $2,500 won't even get you a 50-yard-line seat at a USC football game, let alone compensate somebody for being sexually assaulted by their doctor when they were 18 or 17," said John Manly, an Irvine-based attorney who represents 180 accusers.
A university lawyer told the paper that as many as 17,000 students and alumnae are eligible.
About 500 current and former students have now made accusations against Tyndall and filed various lawsuits. They claim he routinely made crude comments, took inappropriate photos, forced them to strip naked and groped them under the guise of medical treatment.
Three attorneys representing nearly 300 accusers said they're strongly advising their clients against joining the federal action so they can fight in state court.
"They want to shut it down, close the loop and end the inquiry on the documents showing who knew what — because it's bad," Manly told The Times. "If you are in favor of secrecy about sexual assault and in favor of protecting sexual abusers, this is a great day for you."
Attorney Gloria Allred, who represents 36 women who have accused Tyndall, said in a statement that the amount of money under the proposed settlement is "way too minimal" for what some of the women endured.
Attorney Tara Lee, who represents USC, said questions regarding potential criminal conduct are being investigated "and those answers will be available when the investigation itself is completed."
USC PRESIDENT AGREES TO STEP DOWN AMID UNIVERSITY GYNECOLOGIST SEX SCANDAL
Tyndall spent about three decades as a USC staff gynecologist before retiring last year after a university investigation concluded there was evidence that he sexually harassed students during exams.
Tyndall has denied the allegations and has not been charged with a crime. Los Angeles police and Los Angeles County prosecutors are reviewing the claims.
Leonard Levine, Tyndall's attorney, said in a statement that his client "continues to focus on the criminal investigation" and had no further comment.
More than a dozen women appeared at a news conference Thursday to announce the new lawsuits on behalf of 93 women against the university, bringing the total number of accusations against Tyndall to about 500 current and former students.
"I am part of an accidental sisterhood of hundreds of women because the university we love betrayed our trust," said Dana Loewy, who alleged that Tyndall assaulted her during an examination in 1993.
The Associated Press contributed to this report.