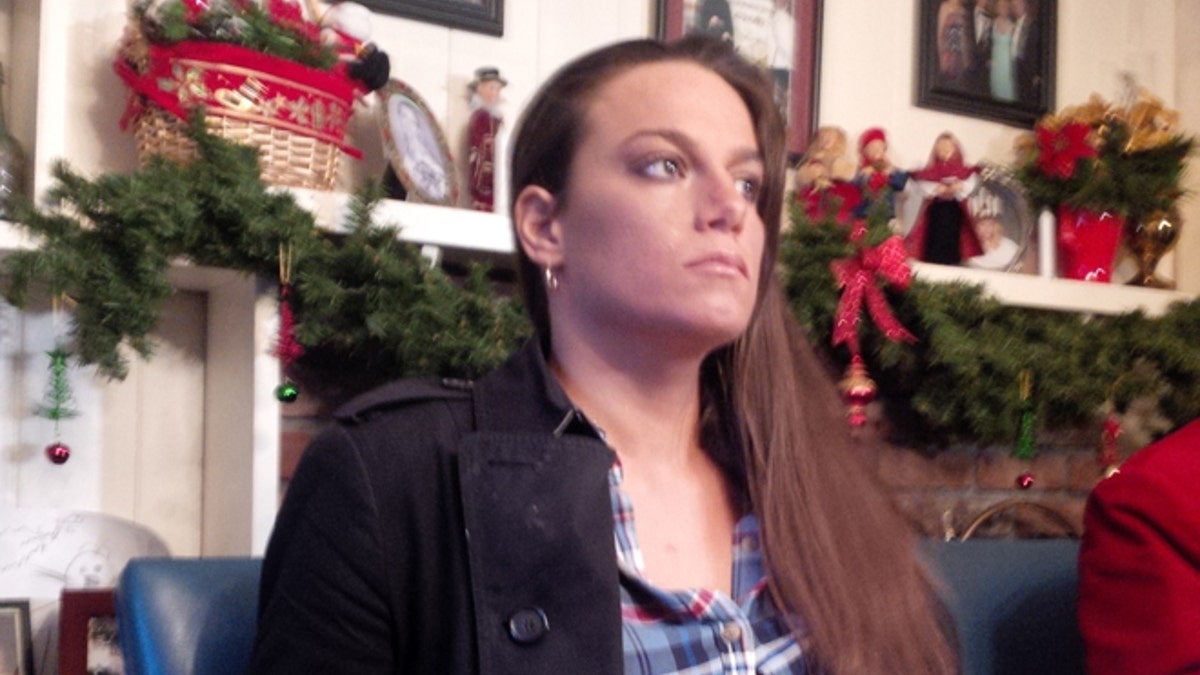 The lawyer for the family of a prostitute whose body was found near a suspected serial killer's dumping ground claimed Thursday that a disgraced former New York police chief regularly hired women for sex in a home near the scene.
Attorney John Ray held a press conference Thursday with a prostitute, identified only as "Leanne," who claims she was paid to have sex with former Suffolk County Police Chief James Burke in 2011.
The remains of four prostitutes, each covered in burlap and dumped in thick bramble on the south shore of Long Island, N.Y., along the edge of Ocean Parkway in Gilgo Beach, were discovered five years ago in a case that remains unsolved. Ray represents the family of Shannan Gilbert, a New Jersey escort whose body was found near the other women and whose death may also have been a homicide.
Burke, who reportedly blocked the FBI from investigating key evidence in the murders, is currently serving time in federal prison in a separate case. Burke was sentenced to 46 months for beating up a man who stole sex toys and other items from his car and then later orchestrating a cover-up.
Burke has not been named a suspect or person of interest in the Long Island serial murders.
"The allegations against my client don't warrant a comment," Burke's attorney, John Meringolo, told FoxNews.com Thursday.
On Thursday, "Leanne," told reporters she met Burke at a party in Oak Beach in June 2011. According to the woman, Burke paid her $400 for "rough sex" at the home, a few miles from where the murdered prostitutes were found. The woman claims Burke hired her again for sex two months later.
According to an affidavit, the woman claims she observed Burke "roughly pull a young woman by her hair to the ground" at the party, which included cocaine. She said in read sworn affidavit that Burke was introduced to her as a "a high police official."
In August 2011, the woman said she met Burke for sex a second time in a bathroom at an undisclosed location. "He insisted upon oral sex, which was given," the affidavit states.
She described Burke as "aggressive" to reporters and said he called her a "whore" before throwing $300 or $400 in cash at her.
"I was a little dehumanized," she said.
A law enforcement source with knowledge of the Long Island serial killer investigation told FoxNews.com last month that Burke was being eyed as a person of interest in the murders, though the FBI declined to comment on the case. The source, who spoke on condition of anonymity, said federal investigators were questioning Burke's former girlfriends after learning he had a "violent past."
This is not the first time Burke -- once Suffolk County's top cop -- has been linked to prostitution.
A 1995 internal affairs report by the Suffolk County Police Department shows Burke -- then a sergeant -- had a months-long relationship with a convicted prostitute and drug dealer named Lowrita Rickenbacker, according to Newsday, which obtained a copy of the report.
The report claimed Burke once left Rickenbacker alone in his car with his gun belt and service weapon resting on the backseat. The report also said Burke engaged in a sexual act with Rickenbacker at least once inside his patrol car.
Despite the report, Burke continued to rise through the ranks of the Suffolk County Police Department -- one of the highest paid police departments in the country. In 2000, Burke was promoted to lieutenant. In 2002, he was named chief of detectives by Suffolk County District Attorney Thomas Spota and, in 2012, he became the Suffolk County police chief.
It was the search for Shannan Gilbert that led to the discovery of four other women's remains -- the work of a suspected serial killer.
Gilbert, 23, of Jersey City, N.J., disappeared May 1, 2010, after visiting a client in the gated community of Oak Beach on a barrier island off Long Island's south shore.
On December 10, 2010, a police dog and his officer stumbled across the first set of remains. In the following days, police found three more women in varying states of decomposition.
The women were identified as Maureen Brainard-Barnes, Melissa Barthelemy, Megan Waterman, and Amber Lynn Costello. They were all sex workers in their 20s found stuffed inside burlap bags along Ocean Parkway, a 15-mile road that spans Jones Beach, roughly a mile from where they would later find Gilbert's body, in December 2011.
After the discovery of Gilbert's remains, the medical examiner ruled her cause of death "undetermined," and police theorized she drowned while running through a marsh in a drug-induced state -- calling her death unrelated to the four other victims.
But that finding was called into question in March 2015, when Dr. Michael Baden, former chief medical examiner of New York City, and a Fox News contributor, examined Gilbert's skeletal remains inside a Nassau County funeral home at the request of her family.
Baden observed the hyoid bone -- a small horseshoe-shaped bone in the neck -- had a "rough edge" on one side, suggesting a fracture. A fracture to the hyoid bone is a hallmark sign of a strangulation.
"The hyoid shows some breakage," Baden said at the time. "If it is a fracture, that would be strong evidence Ms. Gilbert was strangled to death by neck compression."
FoxNews.com's Robert Gearty contributed to this report.