Las Vegas shooting: Memorial events mark 1-year anniversary as massacre motive still shrouded in mystery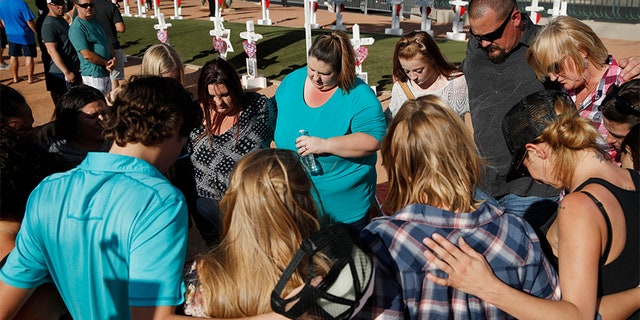 One year ago today, something compelled Stephen Paddock to grab a gun and start firing out of his room at the Mandalay Bay Resort and Casino on the Las Vegas Strip, killing 58 people and wounding hundreds more in the deadliest mass shooting in modern American history.
Police investigating the shooting have released hundreds of photos and videos of the massacre, and eyewitnesses have come forward and to tell harrowing stories of survival – and recovery. Lives have been altered forever.
Yet a year since the shooting began, one thing remains a mystery – what pushed the 64-year-old Paddock to pull the trigger?
In December last year, the man tasked with handling the FBI's investigation, Special Agent in Charge Aaron Rouse, vowed the bureau would get to the bottom of the matter. He said their own investigative report would be "focusing a large part on the why" – and that it would be released sometime before the one-year anniversary of the shooting.
But that report is yet to come out.
In early August, Sandy Breault, a spokesperson for the FBI's Las Vegas Field Office, told Fox News that "the FBI's Behavioral Analysis Unit report is still on schedule to be released this year."
When asked by Fox News in recent days for a further update on the status of their investigation, Breault did not answer.
LAS VEGAS SHOOTER'S FATHER, 'BINGO BRUCE', LIVED COLORFUL LIFE OF CRIME AND DECEPTION
The Las Vegas Metropolitan Police published their final, 187-page report at the beginning of August – but the police notably stated they could not determine a motive for the shooting.
"The goal of our investigation all along has been to provide the public with the clearest picture possible of the events leading up to 1 October, as well as motive," the department's sheriff, Joseph Lombardo, told the media upon the report's release. "What we have been able to answer are the questions of who, what, when, where and how. What we have not been able to definitively answer is the why Stephen Paddock committed this act."
That report did state, though, that Paddock, an avid gambler, lost around $1.5 million in the two years leading up to the shooting.
"I think that might have a determining factor on what he determined to do," Lombardo told local news station KLAS in November.
"If you look at the numbers that he did gamble, he was pretty prolific, but he was going in the wrong direction," Lombardo added.
During that time, Paddock also spent around $95,000 on "firearms and gun-related purchases" and began amassing an arsenal inside his Mesquite home, police said.
His girlfriend, Marilou Danley, told investigators she believed Paddock's sudden interest in the weaponry – which coincided with frequent visits to gun stores and shows -- was simply a hobby.
"Danley asked Paddock why he had so much ammunition and Paddock told her it was because one gun could use a lot of ammunition," the report stated. "Paddock also said he began buying ammunition in bulk because it was cheaper."
Danley also told investigators that Paddock was becoming less affectionate in their relationship as the years went on.
"Paddock would often complain of being sick and told Danley that doctors couldn't cure him," the report said. "He stated doctors told him he had a chemical imbalance."
WHERE THINGS STAND IN THE VEGAS SHOOTING AFTERMATH
Danley was visiting family in the Philippines when the attack happened. Paddock had wired her $150,000 to be used to purchase a home in the island country, and she suspected that he could have been preparing to break up with her, Danley said.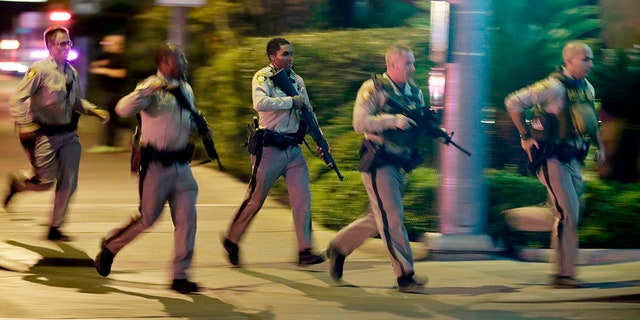 To help mark the one-year anniversary Monday, a sunrise ceremony was held at 6:30 a.m. local time at the Clark County Government Amphitheater, which included "speakers, singers and 58 seconds of silence to honor the victims of the Route 91 Harvest Festival tragedy," according to a police press release. The message from speakers Monday was one that focused on the positive aspects of the hellish aftermath.
"The hate that was rained down on those individuals by a terrorist from the 32nd floor was met with an outpouting of love from this community," Clark County commissioner Steve Sisolak said.
The lights on the normally-glitzy strip are set to go dark tonight at 10:01 p.m. in remembrance of those lost in the shooting.
From sunrise to sundown, American and Nevada state flags have also been ordered by Gov. Brian Sandoval to be flown at half-staff.
Artwork of the victims, called the Las Vegas Portraits Project, will remain on display at the Clark County Government Center until Oct. 19, before being given to the victims' families.
MGM Resorts International, which is currently embroiled in lawsuits with victims and their families, told Fox News last week it will be participating in community events throughout Las Vegas in remembrance, but that there is nothing planned at the site where the shooting happened, which continues to remain closed off to the public.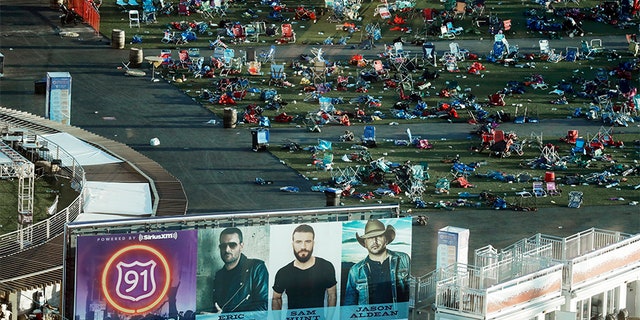 Survivors and first responders have already been in town this weekend to attend events leading up to Monday, including the Vegas Strong 5K/1-Mile run, faith services and a charity poker tournament.
The poker tournament organizer, Los Angeles resident and survivor Dennis Guerrero, established LoveWins after the shooting, a non-profit that plans to help the "Route 91 Family" by starting "college funds for the children left without a parent, [sending] flowers to a mother who no longer has her child, and genuinely be there for everyone who needs support." He said Monday that $1,300 was raised.
"LoveWins will honor the 58 by being kind and being a beacon of hope, love, and healing because I believe, "A random act of kindness WILL change the world!" Guerrero wrote in an e-mail to Fox News.
Guerrero described the shooting as "a game changer, because what I thought my life was supposed to be, it didn't matter" – he just wanted to call his wife and to tell her and their kids that he loves them.
"Some days are hard," he said. "Some days some of the survivors are barely holding it together, some days [there are] little moments of victory...we all came together because we love country music, but after 1 October we became family, a majority of us."