Las Vegas shooting: Internet searches, missing hard drive could be key to motive
The Las Vegas gunman reportedly searched for details about the techniques used by police to breach rooms during standoff scenarios, suggesting the mass killer was preparing for officers to rush his suite at the Mandalay Bay Resort and Casino.

Stephen Paddock wanted to know how Las Vegas Metropolitan Police Department SWAT teams force their way into rooms and buildings, but it was unclear if the shooter used any of that information, a law-enforcement official with knowledge of the investigation told the Wall Street Journal on Wednesday.
The revelation came after investigators found a laptop belonging to Paddock in his hotel room that was missing its hard drive, the official added.
In a stunning development, the missing hard drive has not been located – and it could be key in finding out why Paddock killed 58 people in the Oct. 1 attack.
FULL COVERAGE OF MASSACRE IN LAS VEGAS
More than three weeks after the shooting, no manifesto or anything else indicating Paddock's motive has been found, and Las Vegas police officials – who are approaching two weeks since the last time they gave an update to the public about the investigation – are remaining tight-lipped.
In addition to the searches, Paddock had set up cameras inside and outside his hotel room so he could see the hallway, authorities said, according to The Wall Street Journal.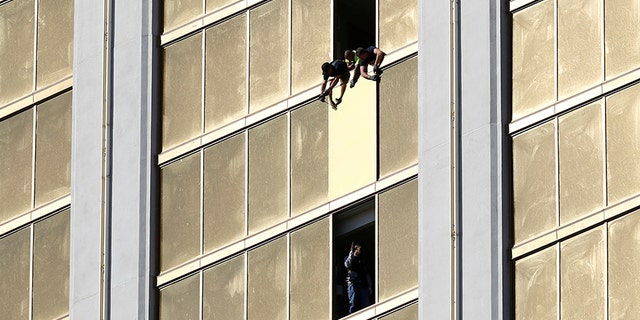 Las Vegas Metropolitan Police Department Sheriff Joseph Lombardo had said Paddock may have been using them to monitor officers descending upon his room.
He also had left a handwritten note in his room with numbers on it, which investigators believe were calculations of the distance and trajectory of his targets at the Route 91 Harvest music festival, which was taking place across the street from the resort property.
STEPHEN PADDOCK'S BROTHER ARRESTED FOR CHILD PORN
Mandalay Bay, meanwhile, has been hit with lawsuits from victims whose lawyers have been blasting MGM Resorts International for allegedly not keeping close enough tabs on Paddock.
"It's inconceivable to us that the perpetrator was capable of transporting what amounts to an actual armory of weapons into the hotel, especially in an era in which shooting incidents and terrorism are front page news on a daily basis," attorney Richard Bridgford said in a statement to Fox News earlier this week.