Las Vegas police, feds race to uncover what drove 'aggressively unfriendly' gunman with weapons arsenal to kill
NEWYou can now listen to Fox News articles!
Law enforcement officials were working Monday to determine what may have motivated a gunman described as "aggressively unfriendly" — with an arsenal of weapons — to kill at least 59 people and wound more than 520 enjoying a country music festival on the Las Vegas Strip.
The killer, identified as 64-year-old Stephen Paddock of Mesquite, Nev., was a gambling multimillionaire who made much of his money investing in real estate, according to his brother, Eric, who added that he had no reason to believe the gunman had run into financial trouble.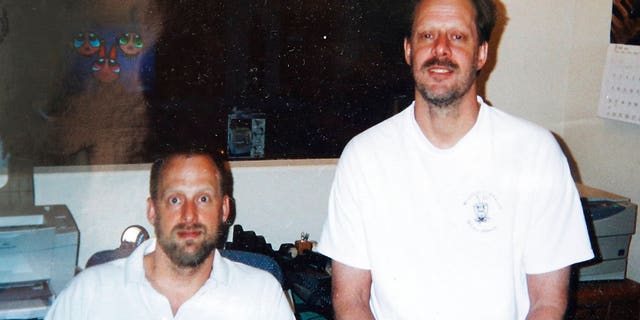 On Sunday night, Stephen Paddock shot down at the packed Route 91 Harvest Festival from the 32nd floor of the hotel, where he had been staying since Sept. 28. Officials said he booked one suite, with two rooms that had windows facing different directions.
Neighbors in Reno — where he had a home, in addition to a property in Mesquite — described Paddock as "extremely standoffish," The Washington Post reported. One neighbor told the paper that Paddock occasionally revealed a refrigerator-sized safe when he opened his garage door, but otherwise kept the blinds drawn.
"No affiliation, no religion, no politics. He never cared about any of that stuff," the gunman's brother, Eric Paddock, told reporters as he alternately wept and shouted. "He was a guy who had money. He went on cruises and gambled."
He told reporters outside his home Monday that the shooter was a multimillionaire who had no history of mental illness.
Eric said he and his brother had business dealings and owned property together. He said he was not aware that his brother had gambling debts. "He had substantial wealth. He'd tell me when he'd win. He'd grouse when he'd lost. He never said he'd lost four million dollars or something. I think he would have told me."
Investigators uncovered 19 firearms, explosives and several thousand rounds of ammunition at the gunman's Mesquite home, police said. In addition, authorities found 23 firearms in Paddock's hotel room. The weapons consisted of a mixture of handguns and long rifles, which, according to Clark County Sheriff Joe Lombardo, traveled up to his hotel suite through 10 different suitcases.
A computer was also found in Paddock's hotel suite, and is being evaluated as part of the ongoing investigation.
Authorities also found "several pounds" of tanerite, a product used for firearms target practice, at the Mesquite home.
The shooting Sunday was the deadliest in U.S. history. Gunfire rang out from inside Paddock's hotel room before SWAT officials broke down the door and found the gunman dead from a self-inflicted gunshot wound.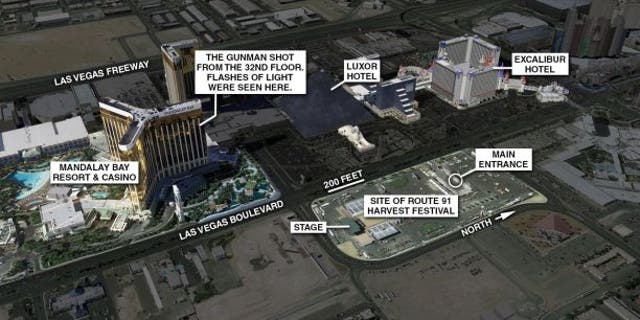 Lombardo said earlier that the rifles found included scopes on them. Two of the guns were modified to make them fully automatic, two U.S. officials told The Associated Press.
It was unclear if Paddock used a hammer to break the windows he shot from, or if he just shot them out. Investigators are looking at both possibilities.
Upon inspection of Paddock's car, officials found ammonium nitrate — an ingredient that's harmless alone, but when combined with other chemical ingredients, can make a bomb.
Asked about a potential motive, Lombardo said he could not "get into the mind of a psychopath at this point."
But in spite of what the shooting has brought to the city of Las Vegas, goodness is coming out in full force. There's a six to eight hour wait to donate blood at nearby centers, supply donations are abundant and a GoFundMe account set up by officials has raised over $2.2 million from more than 30,000 separate contributions as of late Monday night.
Fox News' Jake Gibson and The Associated Press contributed to this report.