Kingston Frazier case: 1 of 3 suspects in Mississippi boy's murder could face death penalty
The three suspects in the murder of a 6-year-old Mississippi boy -- who was the subject of an Amber Alert -- faced a judge Monday as prosecutors said one of the suspects could be looking at a death sentence.
Byron McBride, 19, along with 17-year-olds Dwan Wakefield and D'Allen Washington, appeared via videoconference before the judge Monday morning in Madison County Justice Court in Canton. Prosecutors said the three kidnapped and killed 6-year-old Kingston Frazier, who was last seen early May 18 when his mother went shopping at a local grocery store.
Frazier was found shot to death in a stolen car hours after the Amber Alert went into effect, investigators said.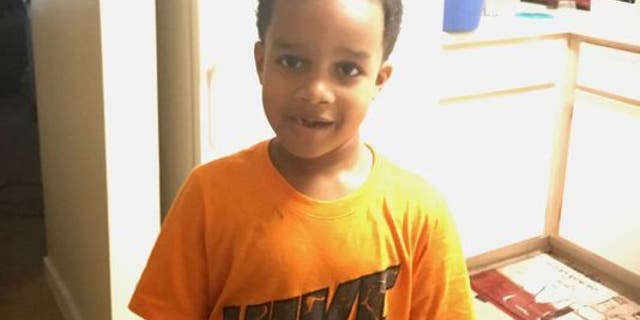 The judge said each defendant posed a danger to the community and decided against allowing bail. All three are facing capital murder charges for the alleged crime.
McBride could face the death penalty because he's over eighteen, according to Madison and Rankin County District Attorney Michael Guest.
"Two of the defendants are facing a maximum sentence of life without the possibility of parole based on their age," Guest said. "The third defendant based on his age is looking at a potential death sentence."
FLORIDA MURDER SUSPECT TELLS POLICE HIS ROOMMATES 'DISRESPECTED' ISLAM
In addition to the capital murder charge, Washington, who is a high school student, was currently out on bond for a pending felony armed robbery charge at the time of the alleged crime. McBride had a prior commercial burglary charged while Wakefield, who is also a high school student has no previous criminal record.
The courtroom was filled with family members of the victim and suspects.
Frazier's granduncle Amos Archie spoke shortly after the hearing, saying the family stood by the boy's mother.
"It's a sad situation. We love Ebony dearly, we love Kingston dearly, it's just totally sad for the community like I said," Archie said. "We're pleased with everything the judge did, so we have no bad situation about that."
COLLEGE STUDENT'S MURDER INVESTIGATED AS POSSIBLE HATE CRIME
McBride's father shouted at a group of reporters while leaving the courthouse.
"How can all of the world know that my son is the shooter and the second day my son is in jail ... my son did not kill that baby," he shouted while walking away.
Wakefield's aunt, who did not want to be named, said she believes her nephew is innocent.
I believe he's innocent," she said. "I know Dwan, I know he's innocent. My prayers are with the family of Kingston more than anything, I'm a mother and he's a child so. I pray justice is served," she added.
A preliminary hearing for all three of the accused has been set for June 26.