Investigators dispute New Mexico granddad's claim that remains in 'extremist Muslim' compound belong to missing boy
Investigators on Thursday disputed a claim that the remains of a child found at a New Mexico compound earlier this week were conclusively determined to be that of a missing 3-year-old boy.
The grandfather of Abdul-ghani Wahhaj, who was reported missing in Georgia in December, said earlier in the day that remains that were found on the compound on Monday were his grandson's.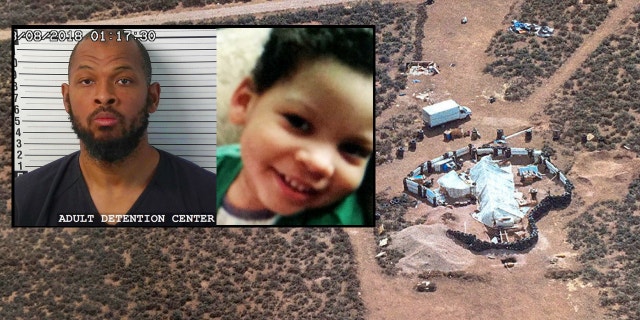 Siraj Wahhaj, a Brooklyn imam who, according to the New York Post, was named by prosecutors as an unindicted co-conspirator in the 1993 World Trade Center bombing, claimed the remains were the missing boy's.
He said he learned from other family members that the remains were Abdul-ghani's, and that other children who lived at the compound said the child was buried there after he died.
MAN ARRESTED AT 'EXTREMIST MUSLIM' NEW MEXICO COMPOUND WAS TRAINING KIDS TO COMMIT SCHOOL SHOOTINGS: DOCUMENTS
"Whoever is responsible, then that person should be held accountable," Wahhaj said.
However, the New Mexico Office of the Medical Investigators told Fox News on Thursday that those claims were in dispute, and that medical examiners are still working to identify the remains.
"The remains are in a state of decomposition that has made identification challenging," chief medical investigator Kurt Nolte said. "Investigators often try to compare remains to radiologic images, fingerprints, DNA or other identification materials."
"At this time, investigators are using all known methods to make an identification, but this will not be a quick process. If we must rely on DNA results, identification could take many weeks," the office said.
Wahhaj's son and Abdul-ghani's father, Siraj Ibn Wahhaj, along with four other adults, were arrested at the makeshift compound — found shielded by old tires, wooden pallets and other debris — on Friday after investigators raided it.
Eleven children, ages 1 to 15, were found living on the compound in "filthy" conditions. The Taos County Sheriff's Office said the kids "looked like third world country refugees not only with no food or fresh water, but with no shoes, personal hygiene and basically dirty rags for clothing."
The sheriff's office previously said the occupants of the compound were "most likely heavily armed and considered extremist of the Muslim belief."
In a warrant made public on Monday, Siraj Ibn Wahhaj, 39, told the missing child's mother that he wanted to perform an "exorcism" on Abdul-ghani because he was "possessed by the devil." The missing boy reportedly suffered from seizures and couldnt' walk.
On Wednesday, prosecutors alleged in court documents that Siraj Ibn Wahhaj was training children to commit school shootings. They asked Wahhaj be held without bail.
Fox News' Dan Gallo and William LaJeunesse contributed to this report.