Houston girl, 4, 'abducted' by 3 men in blue pickup, recently had brain surgery, police say
A 4-year-old Houston girl who recently underwent brain surgery and who requires frequent medical care was reportedly abducted by a trio of men who beat her stepfather unconscious before absconding with the child.
Authorities in the nation's fourth-largest city were desperately searching Monday for Maleah Davis, who was last seen Friday with her stepfather, Darion Vence. Vence told authorities he was in and out of consciousness for nearly 24 hours after being beaten by three men who later abducted the child.
The Houston Police Department said an Amber Alert was issued Sunday for Davis, who had brain surgery within the past two months.
Vence and his 2-year-old son were on the way to pick up Maleah's mother at Bush Intercontinental Airport at about 9 p.m. when Vence pulled over on U.S. 59 after experiencing what he believed to be an automotive issue, HPD Detective Mark Holbrook said.
"He hears a popping noise like he has a flat tire," Holbrook told reporters.
KANSAS MAN SHOT IN HEAD WHILE PLAYING BASKETBALL WITH DAUGHTER AT PARK, POLICE SAY
But Vence told police he was soon approached by three men who got out of a 2010 blue Chevrolet crew cab pickup truck.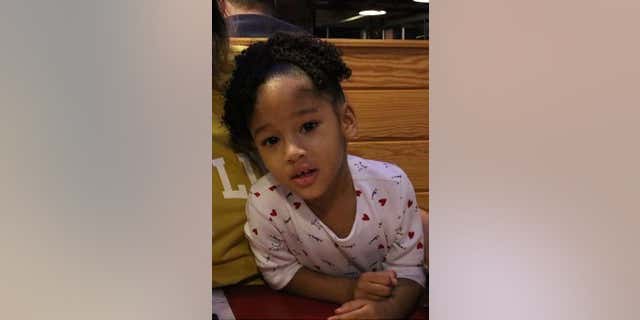 "One of them makes a comment saying that Maleah looks very nice, looks very sweet," Holbrook said.
Vence then said he was hit on the head by one of the men and lost consciousness as the men took Maleah and drove off. Vence said he didn't really know where he was until 6 p.m. on Saturday, when he said he woke up along the side of another highway with his son, according to ABC13.
TEXAS MAN ALLEGEDLY DROWNED CAT BECAUSE IT CLAWED HIM DURING BATH: REPORT
The vehicle that Vence was driving, a 2011 Nissan Altima, was also reportedly stolen by the alleged abductors. The vehicle was last seen driving through an intersection in Sugar Land, Texas at about 3 p.m. Saturday, ABC13 reported.
After coming to and wandering along a highway, police said Vence went to the hospital Saturday night and reported Maleah missing while he sought treatment for his injuries.
The Houston Police Department released a photo of Vence's father on Twitter that showed an injury to his forehead.
Authorities are not considering Vence a suspect or person of interest in Maleah's disappearance, according to The Houston Chronicle.
"I realize there's a lot of blanks in that story, but we're hoping that the public fill in the blanks," Holbrook told reporters.
The girl's mother told ABC13 she was waiting for Vence at the airport but did not initially report him, his son or her daughter missing when the trio failed to show up. After getting another family member to pick her up, Maleah's mother told the television station they called police Saturday morning to file a report after Vence still remained unaccounted for.
CLICK HERE FOR THE FOX NEWS APP
Maleah is described by police as having black hair and brown eyes, according to FOX26. She is approximately 3-feet tall and weighs 30-40 pounds, and was last seen wearing a light blue Under Armor jacket, blue jeans and a gray Under Armor tennis shoes with pink and white details.
Detectives are asking anyone who saw Darion or Maleah between 9 p.m. on Friday and 6 p.m. on Saturday to contact HPD Homicide 713-308-3600 or Crime Stoppers at 713-222-TIPS.