Hole makes 1,400-pound pumpkin ineligible for Alaska fair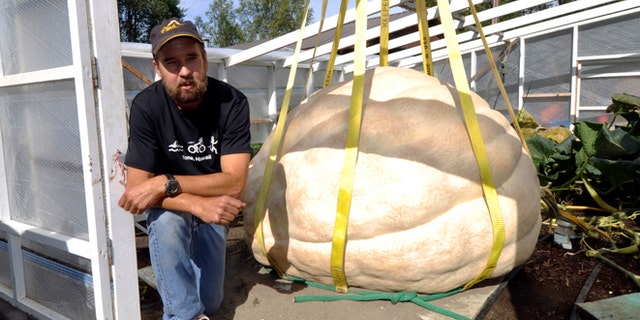 KENAI, Alaska – J.D. Megchelsen holds the record for giant pumpkins in Alaska, and the Nikiski gardener knew he had a candidate this year to beat the record of 1,287 pounds set in 2011.
But when a boom truck gently lifted the behemoth on Monday with rigging and a sling, the big pumpkin revealed a big disappointment: a thumb-size hole that will make it ineligible for the competition at the Alaska State Fair in Palmer.
"It's not going to count," Megchelsen told the Peninsula Clarion. "It's a bummer, but it's the rules."
Entries must be free of rot, chemical residue and serious soft spots. They can't have holes or cracks that reach the pumpkin cavity.
A scale on the crane indicated the big pumpkin weighed 1,500 pounds, but Megchelsen estimates the state competition scale would have registered closer to 1,420 pounds.
"It's just killing him," said Pam Elkins, Megchelsen's sister-in-law. "He eats, sleeps and dreams pumpkins. All he does is pumpkins."
Megchelsen began to pursue the record in 2002. He set the record in 2004 with a 700-pounder. A year later, he grew a 942-pound pumpkin, and in 2006 he grew the first Alaska pumpkin to exceed 1,000 pounds. The current record followed in 2011.
Two years ago, Megchelsen said, he had a disqualifying hole in another of his giants. It might have surpassed the record if it had kept growing, he said.
His 2013 pumpkin probably grew too fast when it opened a hole in a "rib valley," he said. During the height of a growth spurt in the warmest part of the summer, Megchelsen said, he was feeding the pumpkin up to 300 gallons of water a day.
The hole likely opened the first week of August when the fruit hit its peak growth spurt of 41 pounds in 24 hours. That happened two days in a row, he said.
When the pumpkin was hand-pollinated June 5, it was the size of a cherry tomato.
Megchelsen still plans to take his pumpkin to Palmer for weigh-in day. He's not likely to leave it there on display, he said.