Harvey floodwaters overflow Houston reservoir, separate levee breach reported
An already-swollen reservoir west of downtown Houston overtopped its spillway Tuesday, sending an "uncontrolled release" of Harvey's floodwaters into nearby neighborhoods that may be underwater for "weeks," as a separate levee breach south of the city prompted an urgent warning for residents to leave immediately.
Floodwaters in the the Addicks Reservoir, located about 19 miles west of downtown, went over the top of the 108-foot spillway for the first time in history, threatening immediate surrounding subdivisions.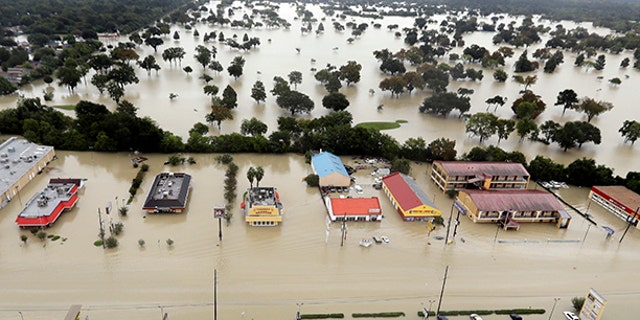 Jeff Lindner, a meteorologist with the Harris County (Texas) Flood Control District, said it was "something we've never seen before" at a news conference.
"This is not going to happen fast, this is a slow rise," Lindner told reporters, adding the flow of water going over the reservoir into neighborhoods will increase as the levels in the reservoir behind continue to rise.
Hours after the Addicks Reservoir was overtopped, officials in Brazoria County, located south of Houston, warned that a levee at Columbia Lakes had been breached by floodwaters and urged any residents who had not already evacuated the area to leave immediately, writing "GET OUT NOW!!"
The new strains on infrastructure come as the National Weather Service announced a new record for total rainfall from a tropical system in Texas, with 49.32 inches of rain observed at a location southeast of Houston. Lindner said bridges, roadways and other structures are beginning to fail Tuesday afternoon in some parts of Houston due to excess water.
The level of water in Addicks Reservoir and neighboring Barker reservoir in Houston is so high the flood gages are broken or almost broke, according to Lindner, who added the flood control agency is working quickly to repair them and has law enforcement on scene to provide readings.
Edmond Russo with the U.S. Army Corps of Engineers said spillways on both reservoirs are designed and maintained for overflows and "can withstand them," and will not be further compromised.
The spillway for the Barker Reservoir is expected to overflow by Friday, according to Russo.
The subdivisions surrounding Addicks and Barker reservoirs will experience flooding for the next "four to five weeks" and last "until October," according to Lindner.
"The biggest challenge we face right now is to determine how the flow interacts with the system, and how the water will go as it comes out of the spillway," he said.
Lindner said the agency believes the additional water will flow towards the Sam Houston Tollway, then south to the area around Interstate 10, known as the Katy Freeway and, eventually, Buffalo Bayou, which leads to downtown Houston.
County officials said they are monitoring six neighborhoods around the reservoirs, and encouraged residents in those areas to evacuate before the water levels rise.
"Once the water comes into the street you aren't going to be able to leave," Lindner said.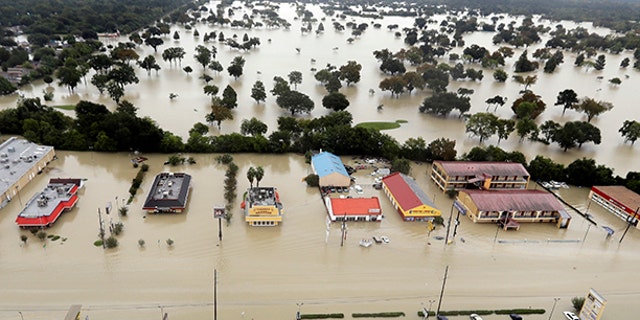 Lindner earlier told Fox News the spillover will cause "serious flooding in immediate areas," starting as a trickle, then becoming an uncontrolled release of water. Second-story homes also will be at risk, he added.
Lindner said this does not mean that downtown Houston will necessarily be greatly impacted, but officials don't fully know what will happen because they've never faced this situation before.
The meteorologist described the situation to Fox News as "uncharted territory" for the city.
FAMILY OF SIX COUNTED AMONG THE DEAD AS HARVEY DEATH TOLL RISES TO 14
The Army Corps started releasing water Monday at the Addicks and Barker reservoirs because water levels were climbing at a rate of more than 6 inches per hour, Corps spokesman Jay Townsend said. The water being released by officials is not keeping up with the water that is coming into the reservoirs, according to Lindner.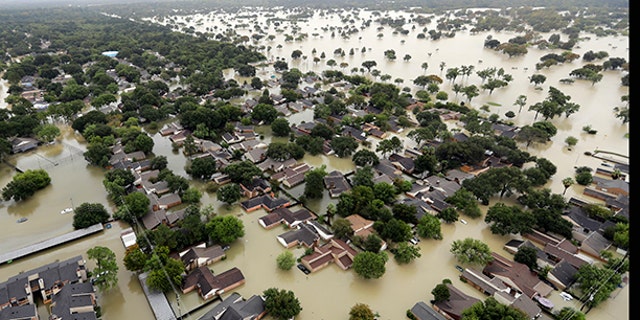 The move was supposed to help shield the business district from floodwaters, but it also risked flooding thousands more homes in nearby subdivisions.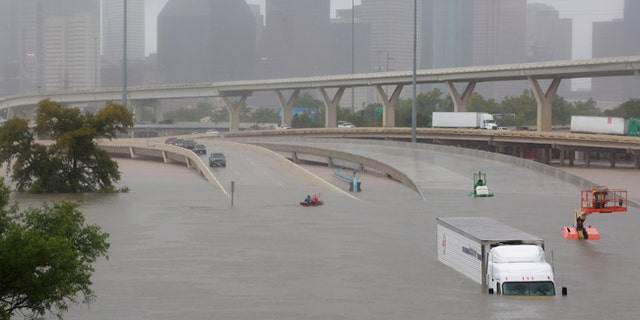 The two resevoirs were built after devastating floods in 1929 and 1935, and were designed to hold water until it can be released downstream at a controlled rate.
In Houston's southwestern suburbs, officials in Fort Bend County, Texas, warned Tuesday the Brazos River is projected to crest at 59 feet, FOX 26 Houston reported.
The Fort Bend County Office of Emergency Management issued a new advisory Tuesday warning subdivisions where residents should prepare to be affected by the floodwaters.
With nearly two more feet of rain expected on top of the 30-plus inches in some places, authorities worried the worst might be yet to come from Harvey. As of Tuesday, at least 14 people have died in the historic storm, including a family of six trying to escape the floodwaters, authorities said.
"We know in these kind of events that, sadly, the death toll goes up historically," Houston Police Chief Art Acevedo told the AP. "I'm really worried about how many bodies we're going to find."
HOUSTON COMBATING HARVEY LOOTERS WITH MANDATORY JAIL TIME
The storm is generating an amount of rain that would normally be seen only once in more than 1,000 years, said Edmond Russo, a deputy district engineer for the Army Corps of Engineers.
Fox News' Griff Jenkins and the Associated Press contributed to this report.