Crocodile takes bite out of crime when half-naked Florida man breaks into exhibit for a swim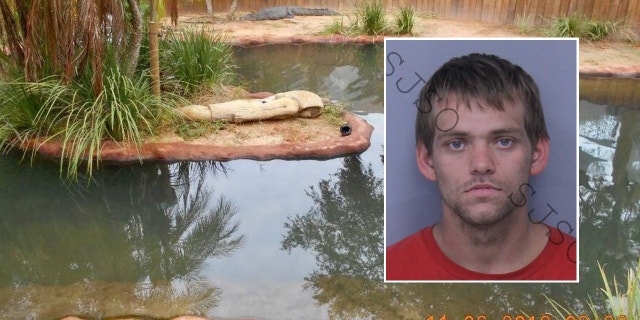 McGruff wasn't around, so a hungry crocodile had to do.
A 9-foot Florida croc took a literal bite out of crime, chomping on the foot of a half-naked man who broke into the crocodile's exhibit in order to go for a swim -- a bizarre sequence of events that was caught on video.
Brandon Keith Hatfield, 23, was charged Wednesday after he allegedly broke into an exhibit at St. Augustine's Alligator Farm Zoological Park the night before, took a dive into the crocodile exhibit and caused more than $5,000 worth of damage, police said.
Workers at the farm were baffled early Wednesday when they discovered a trail of blood on a platform, along with a pair of shorts and, fittingly, a single Croc shoe floating in a crocodile pit, Action News Jax reported. The bizarre scene prompted them to search their surveillance video where they discovered an equally unusual sequence of events.
The park's security footage shows a man, said to be Hatfield, entering the park around 7:45 p.m. and jumping into a pit from a 20-foot roof, taking a swim in the crocodile-infested pool while knocking down a statue.
While the man, wearing only underwear, was sitting on the bank of the pond, a 9-foot-long crocodile lunges at him and locks its jaws on his left foot. He appears to fight off the reptile and manages to escape by climbing over the enclosure's fence, police said.
Jeff Black, who lives in a neighborhood near the park, found Hatfield "doing a slow, creeping crawl" on his property, Action News Jax reported. Black told the news station he was about to release his dogs on Hatfield when his wife called 911.
"There's a man with only gym shorts crawling," she told dispatchers. "He's just crawling with his shorts halfway down his [butt] and no other clothes."
MASSIVE ALLIGATOR CAPTURED IN FLORIDA PARK: 'THIS MAY BE THE LARGEST GATOR WE'VE EVER RESPONDED TO'
Black said he saw "chomp marks" on Hatfield's foot.
"A little weird to see somebody that early in just boxers going over your wall into your property," he said. "He kept saying, 'I was held hostage in a pool with gators'…he says, 'Yeah, I got bit by alligators.' Everybody's looking at him like, 'OK, he's got to be on something.'"
Police arrived at the scene just before 6:50 a.m. Wednesday and took Hatfield to the hospital — at the same time park workers called to report "criminal mischief" at the alligator farm.
"Oh, I think we've already got the perpetrator in custody. We got somebody who told us they were bitten by an alligator," the officer reportedly said about the call.
Hatfield claimed he ran into an old man with an alligator on a leash and then was soon "surrounded by all these baby alligators in the old man's garage," according to a police report.
"He said the old man had a pool in his garage with all these alligators and the old man was feeding him to his alligators," the report stated.
FLORIDA MEN PULL IN MASSIVE 750-POUND ALLIGATOR: 'MORE SCARED THAN WE WERE HAPPY'
Alligator Farm Director John Brueggen said this is the first time someone jumped into the exhibit in the 125 years the park has been open.
"I'm concerned about an individual who literally climbs up a wall that's meant to keep you from crocodiles and leaps over the wall into the water with them," Brueggen said.
Hatfield sustained non-life-threatening injuries to his foot and leg. He was charged with burglary, criminal mischief and violation of probation.