Massive alligator captured in Florida park: 'This may be the largest gator we've ever responded to'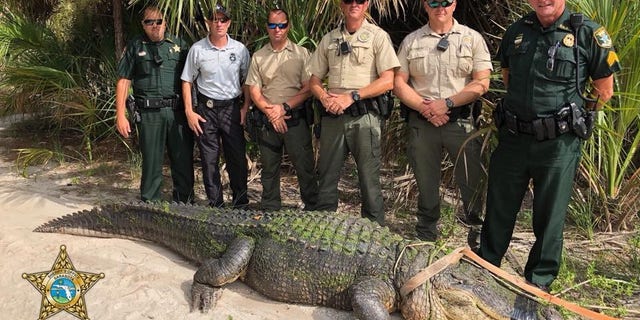 Florida officers may have encountered a record-breaking gator.
A 13-foot alligator was captured in Shamrock Park in Venice, Fla., on Sunday, the Sarasota County Sheriff's Office said. The department wrote on Facebook that Animal Services Supervisor Carl Sellitti, Sgt. Tim Bauer and Deputy Rob Lowen were at the scene assisting until a trapper came to take the gator away.
"According to Supervisor Sellitti, who has been with SCSO for 20 years, this may be the largest gator we've ever responded to," the sheriff's office said.
It's unclear what events led to the gator's capture. The sheriff's office shared a photo of the giant reptile, which gained more than 2,200 reactions and 3,200 shares as of Monday afternoon.
The gator was captured in the same park where two German shepherds were attacked last week. One of the dogs died.
Susan Kosterman and Dr. Alan Knapp were walking their dogs, Rio and Lucy, when the dogs ran off while they were briefly off leash, Sarasota Herald-Tribune reported.
Knapp told officials he "heard one loud yelp from one of the dogs and he heard splashing and saw Rio take off into the water." Rio came out of the water "bleeding heavily."
The other German shepherd's body was never found.