Gunman at Jacksonville Landing gaming event kills 2 before killing himself, investigators say
A shooting Sunday during a gaming event at a popular shopping center in Jacksonville, Fla., killed two people and wounded several others before the gunman killed himself, investigators confirmed.
The gunfire was heard around 1 p.m. ET at a video gaming event held at The Jacksonville Landing, Madden NFL Championship Series. In addition to the two killed in the attack, 11 people were injured, nine of them with gunshot wounds, Jacksonville Sheriff Mike Williams said at a news conference Sunday night.
Williams said the gunman was believed to be 24-year-old David Katz of Baltimore, who was in Florida for the gaming tournament. Law enforcement sources earlier said four people were killed before the sheriff revised the number to three.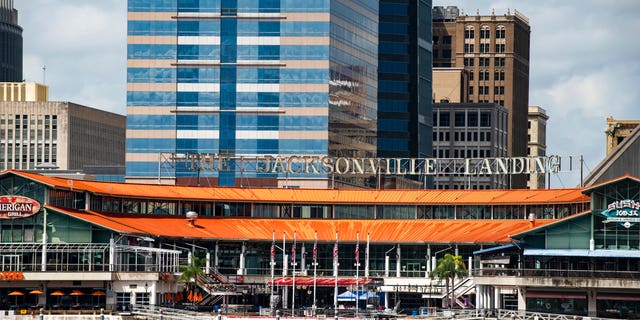 The incident is being investigated as a criminal act, and not an act of terrorism, according to the Jacksonville Sheriff's Office.
While the sheriff's office has taken the lead on the case, the FBI's Jacksonville office has deployed personnel to assist local law enforcement in their investigation.
One witness at the gaming event told Fox News that someone who was competing in the tournament lost and was upset. A previous account from the witness stated the suspect "went crazy and started shooting up the room," but later clarified that in events like this, "There are multiple guys who are upset or are saying things are like, 'BS,' if you will."
Police have not confirmed a possible motive.
The gamer said he had gone outside of the building — which he said had roughly 50 people inside — to make a phone call when the shots rang out. He said he saw people fighting to get out of the place, and he started running from the area.
JACKSONVILLE 'MASS SHOOTING' SPARKS REACTION FROM POLITICAL FIGURES: 'HORRIFYING NEWS'
The Bureau of Alcohol, Tobacco, Firearms and Explosives wrote on Twitter it was responding to the shooting in downtown Jacksonville.
Memorial Hospital in Jacksonville confirmed to Fox News that three individuals were being treated and remained in stable condition. UF Health Jacksonville confirmed six victims with gunshot wounds were transported to the university hospital, all between the ages of 20 and 35. Five were in stable condition while one was in serious condition.
The Jacksonville Landing area is located along the St. Johns River and is described as an area with "a wide variety of waterfront dining options and a cozy inside shopping mall."
Several people on social media participating in the Madden NFL tournament reported hearing gunshots shortly after 1:30 p.m. during the livestream of the tournament on the platform Twitch.
A video surfaced on social media showing players disconnecting from the game as gunshots were heard in the background. At least 12 gunshots were heard in the video.
A reporter from Fox affiliate WJAX-TV, Brittney Donovan, said at least one person was seen being loaded onto a stretcher and into an ambulance.
CELEBRITIES REACT TO JACKSONVILLE 'MASS SHOOTING'
Madden NFL 19 is a new video game based on the NFL that's developed and published by EA Sports.
The sheriff's office said that "many people" were found hiding in locked areas at the riverfront shopping complex.
"We ask you to stay calm, stay where you are hiding. SWAT is doing a methodical search inside The Landing," police said. "We will get to you. Please don't come running out."
Drini Gjoka, who won the 2018 Madden Challenge, said on Twitter he was injured in the shooting in a series of posts on Twitter.
"The tourney just got shot up. Im leavinng [sic] and never coming back," Gjoka wrote.
"I am literally so lucky. The bullet hit my thumb," he posted. "Worst day of my life."
SK Gaming, a professional eSports organization based in Germany, said it sent a player to the event in Florida that there was a shooting at the tournament.
"There was a shooting at the Madden tournament in Jacksonville. Our player @JoelCP_ is safe. Our thoughts are with everyone that had to be part of such a horrendous event. Stay strong, stay safe," the organization tweeted.
EA Sports tweeted the company was "aware of an incident at a sanctioned Madden Championship Series competition in Jacksonville. We are working with authorities to gather facts at this stage. This is a horrible situation, and our deepest sympathies go out to all involved."
The NFL tweeted it was "shocked and deeply saddened by the horrific tragedy today in Jacksonville. Our hearts go out to all those affected."
"We are grateful for the first responders immediately on the scene. We support our partners at EA Sports and will continue to monitor developments with local law enforcement," the NFL added.
PRO GAMERS REACT TO JACKSONVILLE SHOOTING AMID 'MADDEN NFL 19' TOURNAMENT
White House press secretary Sarah Sanders said that President Trump has been briefed on the situation, and is monitoring.
Florida Gov. Rick Scott also said his office is monitoring what unfolded in Jacksonville, and "offered state support & resources" to the city's mayor, Lenny Curry.
The Jacksonville Landing hosts more than 600 events each year including Florida/Georgia Weekend Celebrations, the city's annual Christmas Tree lighting, in addition to New Year's Eve and July 4th celebrations.
Fox News' Rick Leventhal, Madeleine Rivera, Bryan Llenas, Brooke Singman and Allie Raffa contributed to this report.