Giant statue in California is causing controversy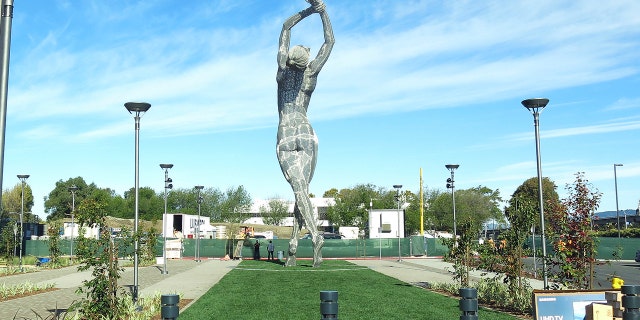 This week a 55-foot tall statue of a nude woman stirred controversy after it was unveiled in the San Francisco area.
The 13,000-pound statue has a message written in 10 languages saying, "What would the world be like if women were safe?"
The statue is made of steel mesh in the form of a graceful dancer, with an arched back and arms stretched overhead. The debate is over whether it's appropriate in public.
"If she's a ballerina, she should have some clothes on," said Tonette Watts, 57, a resident in San Leandro. She added, "If you've got kids you do not want them seeing that."
The statue is named, "Truth is Beauty" is located in a highly trafficked and visible area.
Many people have welcomed the statue as a reflection of the changing demographics.
"This is something I'd never have thought would come to San Leandro," Mayor Pauline Russo Cutter said. "It's edgy and modern, and it makes me proud."
Cutter said some city officials initially weren't thrilled by the choice but ultimately liked the idea of starting a conversation about art.
"She feels safe and she is loving herself in that moment, and hopefully people can feel that feeling," the sculptor said of the statue, adding, "It's a beautiful woman, and part of it is to draw men in. Then they look down and see the message and they go, 'Ohhhh.' I hope that happens thousands of times."
The statue first debuted in 2013 at the Burning Man festival in the Nevada desert.
"This is a world-class statue," Businessman Michael Fennell, 73 said, "This is not a woman cowering because the world is against her. This is a woman saying, 'Here we are! We have arrived!' I love it."
The Associated Press contributed to this report.