Georgia dog, Poncho, survives emergency surgery after cord found wrapped around his neck, report says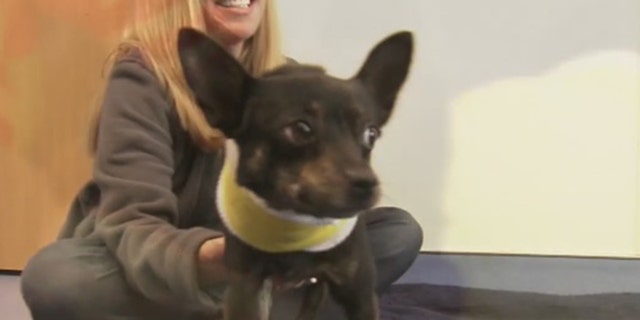 NEWYou can now listen to Fox News articles!
A likely abused stray dog in Georgia survived emergency surgery for injuries he sustained after a cord was wrapped around his neck, FOX5 Atlanta reported Tuesday.
The dog, Poncho, was brought to DeKalb County Animal Services last week with a torn trachea, the outlet said. According to veterinarian Kathryn Haines, he had "an open wound that went down to his lungs" and she said she believes a human is to blame.
"There's no way these injuries would be possible on their own," Haines said. "Someone had to wrap the cord around his neck so tightly to cause this."
LAST OF NEPAL'S DANCING BEARS RESCUED BY ANIMAL WELFARE GROUP
And because of the severity of his injuries, officials said they think "it's likely" that Poncho endured his condition "for a while."
"This is the worst embedding collar band situations we've ever seen," Karen Hirsch, with the Lifeline Animal Project, told FOX5. "I've seen bands around feet, but I've never seen something like this."
Lifeline Animal Project is a non-profit animal care group that seeks "to end shelter euthanasia of homeless animals," according to their website.
KENTUCKY MAN CHARGED WITH HARBORING A VICIOUS ANIMAL AFTER FATAL PIT BULL ATTACK
Poncho, who now sports a yellow cast around much of his neck, is recuperating from his surgery and injuries, FOX5 reported. He reportedly requires more care but he'll soon be able to be put up for adoption.
"He has to have medical treatment for next few weeks before he can go to a forever home," Haines told the outlet. "He may never be able to bark again but at least he will have another chance at life."