George H.W. Bush remembered in public memorial tribute in Houston
HOUSTON – Former President George H.W. Bush was known across the country for a lifetime of public service, but people in Houston saw him as much more than the country's 41st president.
Bush and his wife, Barbara, were beloved fixtures in the local scene, often appearing at sporting and charity events.
"You would always see them contributing and giving back to the community, and they're huge a part of Houston," said Elizabeth Flores, who lives in the city.
"You saw him a lot of the baseball games. You saw him at the Children's Hospital," said Tara Oneal, who was on her way to a Houston Texans game at NRG Stadium on Sunday, where Bush was honored with a moment of silence.
"Big supporter of Houston sports," Oneal's husband, Jamal, chimed in.
Bush moved to West Texas from the Northeast in 1948, finding success in the oil business before moving his family to Houston about ten years later. He became involved in politics and was largely known for reshaping the face of the Republican Party in the state.
"Bush was the architect of the modern Republican party in Texas," said Brandon Rottinghaus, a political science professor at the University of Houston.
Bush represented a moderate brand of Republicanism at a time when the party was searching for its footing in the state.
The Republican party "would not have risen as quickly if it hadn't been for him at the helm of a major transition for the party in the 1960s," added Rottinghaus.
Still, Bush's affability rose above politics, as supporters recalled during a public memorial tribute in front of City Hall on Monday.
"George Herbert Walker Bush clearly influenced this city. He shined a lot on Houston's growth and potential wherever he could," Mayor Sylvester Turner said.
"To me, he was for all people because he stood for what he believed in. And, he cared for the community, he cared for Houston, he cared for the state," said Tara Oneal.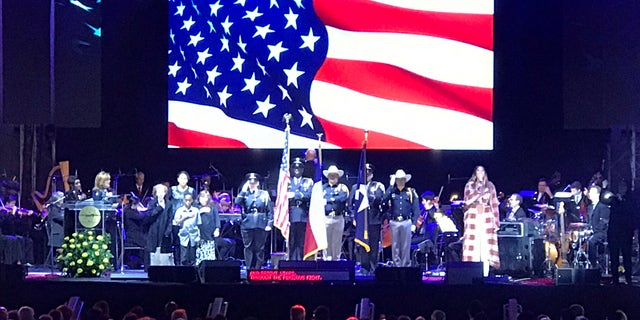 Some of the acts included the Houston Symphony; gospel music star Yolanda Adams, a friend of Bush who sang at many of his birthday parties; and country music stars Larry Gatlin and the Gatlin Brothers, who befriended Bush in the 1960s.
PRESIDENT TRUMP, FIRST LADY VISIT FORMER PRESIDENT BUSH'S CASKET AT U.S. CAPITOL
Attendees were encouraged to wear colorful socks — a trademark of the former president in his later years.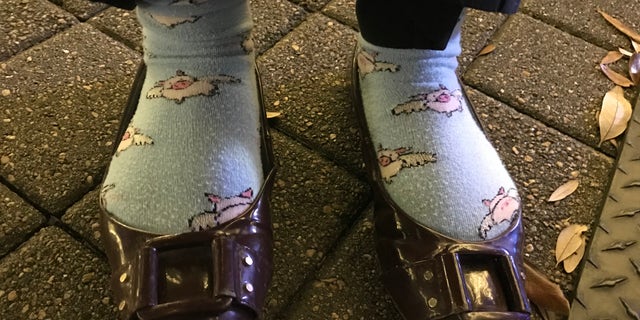 "I believed he challenged the city of Houston to show how tough and giving we are. He brought the world to this city," said Shara Fryer, news anchor for KTRH's "Houston's Morning News."
BUSH PRAISED FOR MAKING PARAMEDIC'S 'DREAM COME TRUE'
Hundreds of people attended, celebrating the life of a man who they said had become ingrained into the fabric of the city.
"In a lot of ways, he represented the city. He was somebody who moved to Houston and really helped to grow the city and to develop that common fiber of people who work hard and are invested in the community, and that's something personified perfectly," said Rottinghaus.