President Trump, first lady visit George H.W. Bush's casket at US Capitol after emotional ceremony
Hours after the body of former President George H.W. Bush arrived at the U.S. Capitol on Monday, President Trump and first lady Melania Trump paid their respects to the 41st president of the United States.
Trump visited the late president's flag-draped casket in the building's rotunda, where Bush will lie in state until Wednesday morning before being transported to the National Cathedral for a private state funeral, which Trump is scheduled to attend.
The pair stood in front of the casket with their eyes closed for a few moments on Monday night. The 45th president saluted the casket, before he and the first lady left the rotunda.
EVERYTHING YOU NEED TO KNOW ABOUT GEORGE H.W. BUSH'S FUNERAL AND MEMORIAL SERVICES
Trump didn't attend an earlier ceremony that was held to honor Bush at the Capitol. Vice President Mike Pence and other top lawmakers spoke and reflected on Bush's military record and service. Bush, Pence said, "never failed to answer the call to serve his country."
The current vice president remembered when the elder Bush sent his son — who recently became a Naval aviator, just like Bush once was — a hand-written letter in August, shortly after Pence was told Bush had stopped his practice of signing autographs.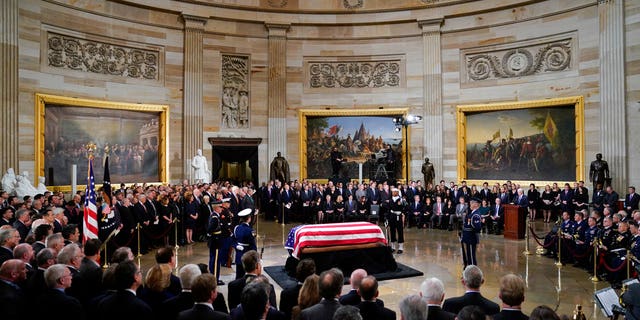 "But little to my surprise, just in time for my son's winging, there not only came a signed photograph but, of course, a letter," Pence said. Bush was often known for sending handwritten letters to loved ones, friends and politicians, among others.
Pence said that within the letter, Bush told his son, "Though we have not met, I share the pride your father has for you during this momentous occasion, and I wish you many CAVU days ahead. All the best, G. Bush."
CAVU is an acronym Navy pilots have used, meaning "ceiling and visibility unlimited." Bush, according to Military.com, used the term on his 80th birthday.
"In the Navy, we young pilots all prayed for CAVU — Ceiling and Visibility Unlimited. But, you see, that is where my life is now," Bush said. "Thanks to my family and my friends, my life is CAVU."
In addition to serving as president, Bush also served as a vice president for two terms under President Ronald Reagan. Pence said Bush joked that there was "nothing substantive to do at all" going into that job, but that he was "a sound counselor and loyal adviser to an outsider who came to Washington, D.C., to shake things up, cut taxes, rebuild the military, and together they did just that."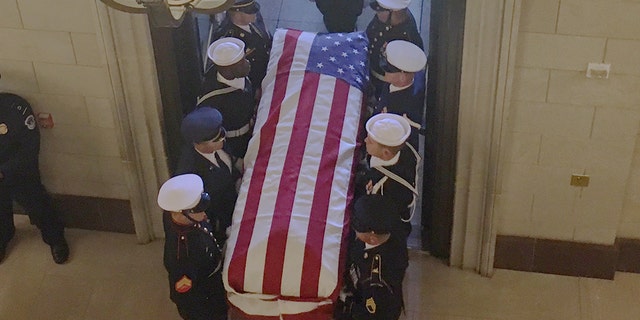 Bush's casket, along with members of the Bush family, arrived on Capitol Hill just before 5 p.m. ET as part of the nation's formal farewell. A military honor guard marched Bush's casket into the rotunda.
Former presidents or prominent politicians customarily lie in state. Gerald Ford, who died at the end of 2006, was the last president to do so in late 2006 through early 2007.
GEORGE H.W. BUSH REMEMBERED BY 3 FORMER PRESIDENTS AS 'ONE OF THE BEST PREPARED' IN HISTORY
Once Bush lies in state, his casket will be transported by motorcade on Wednesday morning to the National Cathedral, where an invitation-only state funeral will be held. President Donald Trump, who ordered federal offices closed on Wednesday for a national day of mourning, is scheduled to attend with first lady Melania Trump.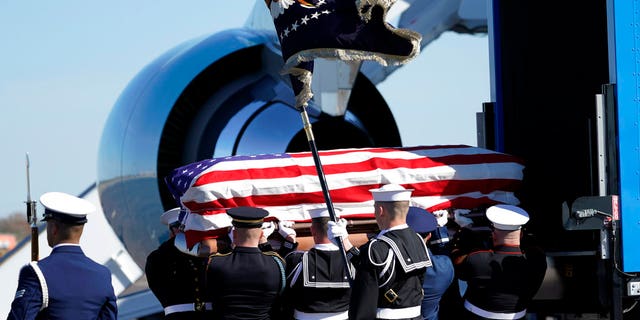 Bush's body will then return to Houston, where a public viewing of his casket will be held before a private funeral service on Thursday. He will be buried in a family plot at the George H.W. Bush Presidential Library and Museum in College Station.
Earlier Monday, Bush, his family, and the late president's former service dog, Sully, arrived at Joint Base Andrews in Maryland, just outside of Washington, D.C., around 3:30 p.m. ET. The casket was flown in from Ellington Field Joint Reserve Base, a Texas Air National Guard base, aboard an aircraft that often serves as Air Force One.
Upon their arrival, the former first family was greeted with ceremonial music and a 21-gun salute before Bush's casket was placed inside of a hearse.
Fox News' Chad Pergram, Adam Shaw and The Associated Press contributed to this report.