Hundreds, including Al Sharpton, Eric Garner's mom, mourn at George Floyd memorial in Minneapolis
Hundreds of mourners, including the Rev. Al Sharpton and the mother of Eric Garner, took part in an emotional memorial service in Minneapolis Thursday afternoon to honor George Floyd, the man whose death in police custody sparked nationwide protests against police brutality and racial injustice.
The ceremony began with attorney Benjamin Crump calling some of Floyd's family members to the front of the room to deliver remarks. They recounted their childhood, growing up with Floyd, who they said close friends and family members called "Perry." Crump said the fight for justice for Floyd was also part of a greater fight to help "America be America for all Americans."
Then, he introduced Sharpton to deliver the eulogy.
"George Floyd should not be among the deceased," Sharpton said, beginning his remarks. "He did not die of common health conditions. He died of a common American criminal justice malfunction."
MINNEAPOLIS OFFICER FACES UPGRADED MURDER CHARGE IN GEORGE FLOYD DEATH, 3 OTHERS CHARGED
Sharpton took aim at the criminal justice system's effects on African-Americans and took several swipes at President Trump -- first for his controversial move to pose with a Bible near the White House Monday.
"We cannot use Bibles as a prop," he said. "And, for those that have agendas that are not about justice, this family will not let you use George as a prop."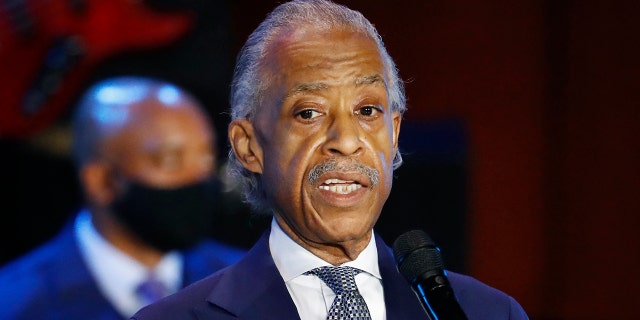 He also criticized Trump for questioning former President Obama's birthplace, noting that Obama rose up from a single-parent home to become the country's first black president.
"And, you ask him for his birth certificate, because you can't take your knee off our neck," he said. "We don't want no favors, just get up off of us and we can be and do whatever we can be."
Sharpton noted the parallels between Floyd's death and that of Garner -- whose eulogy he also delivered.
"As soon as I talked to the family and got the details and heard that among George's last words was 'I can't breathe,' with a knee on his neck, I immediately thought about Eric Garner," he said.
He said that Floyd's death needed to spark specific reforms.
"I want you to know in my life, there's times I lost hope," Sharpton continued. "Things can happen like this that'll dash your hope. But, there's something that is sister to hope, that is faith."
He also echoed the words of Floyd's 6-year-old daughter, Gianna.
"You changed the world, George," he said.
GEORGE FLOYD'S DAUGHTER, 6, SAYS SHE MISSES HIM: 'DAD CHANGED THE WORLD'
Inside the sanctuary, a golden casket was flanked by white and purple flowers, and the image of a mural was projected over the pulpit. It showed Floyd at the street corner where he was pinned to the pavement by police. The message: "I can breathe now."
The sanctuary normally seated 1,000, but because of the coronavirus outbreak, the capacity was reduced to about 500, and mourners wore masks.
People who prayed over the casket included the Rev. Jesse Jackson, who was present in 1968 when Martin Luther King Jr. was assassinated in Memphis, Tenn., and Democrats in Congress including Reps. Ilhan Omar of Minnesota, Sheila Jackson-Lee of Texas and Ayanna Pressley of Massachusetts. Sens. Amy Klobuchar, D-Minn., and Kamala Harris, D-Calif., also arrived. A band and choir performed the gospel standard "Goin' Up Yonder" as the sanctuary started to fill.
Seats were reserved for actors and comedians Kevin Hart, Tiffany Haddish and Regina Hall; actor and producer Tyler Perry; Martin Luther King III; Minnesota Gov. Tim Walz; Minneapolis Mayor Jacob Frey and others.
Crowds and media lined the streets outside the chapel at North Central University in Minneapolis, since the service was open only to friends, family and invitees of the Floyd family, according to the university's website.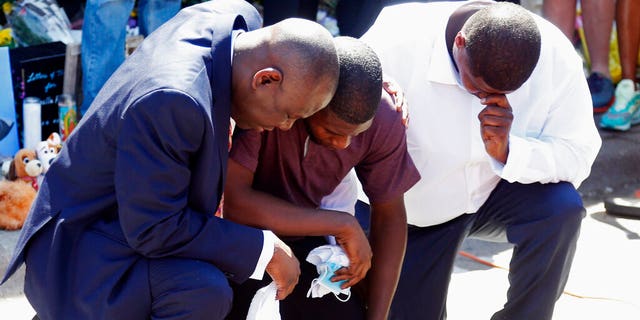 "It just feels like I'm coming to my son's funeral again," Gwen Carr, Garner's mother, told the Times on Wednesday. "This young man was crying for his mother at the end. That was like my son echoing from the grave saying, 'Mama, you've got to do something. They're still killing us.'"
Garner, an unarmed black man, died in 2014 in New York after he was placed in a chokehold by police and recorded saying "I can't breathe' – the same phrase that galvanized the Black Lives Matter movement and which Floyd repeated before he died.
In the Garner case, family and activists pleaded for five years before the officer, Daniel Pantaleo, was removed from the force in 2019, though he never faced federal charges.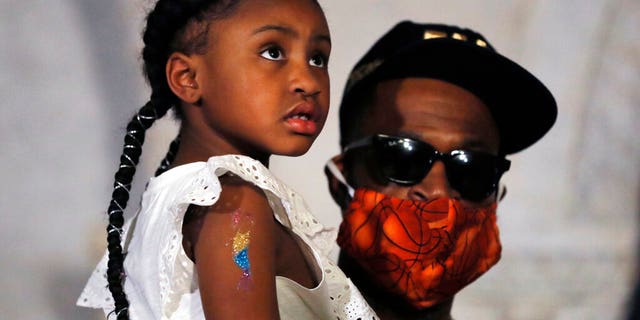 A second memorial service in North Carolina, where Floyd was born, is scheduled for Saturday at the Frank J. Lindquist Sanctuary in Raeford, outside Fayetteville.
Former Vice President Joe Biden, the Democrats' presumptive presidential nominee, and other public figures and celebrities are expected to attend a third memorial service in Houston scheduled Tuesday at the Fountain of Praise, KABC-TV reported. Floyd attended high school in Houston and lived there for most of his life until he moved to Minneapolis five years ago.
MINNEAPOLIS GEORGE FLOYD VIDEO COMPARES TO KAEPERNICK TAKING A KNEE, ANOTHER ERIC GARNER 'I CAN'T BREATHE CASE,' ACTIVISTS SAY
Senate Democrats came together at the Capitol Visitor Center's Emancipation Hall to hold a nine-minute moment of silence Thursday morning, the Washington Post reported. It symbolized the nearly nine minutes former Minneapolis police officer Derek Chauvin was recorded holding his knee to Floyd's neck, as he pleaded for his life.
Minnesota's Attorney General's Office on Wednesday upgraded the charges against Chauvin to second-degree murder. The other three officers involved – Thomas Lane, J.A. Kueng, and Tou Thao – were taken into custody Wednesday night and charged with two counts of aiding and abetting and second-degree murder. Chauvin, who still faces third-degree murder and manslaughter charges, was arrested last Friday. All four officers were fired from the Minneapolis Police Department on May 26, a day after Floyd's death.
The Minnesota Department of Human Rights filed civil-rights charges against the Minneapolis Police Department and vowed to investigate any racial discriminatory practices or policies, Walz announced Tuesday.
The Hennepin County medical examiner also announced Wednesday that Floyd posthumously tested positive for the coronavirus, without saying the virus played a role in his death. The pandemic, which has dominated news coverage for months as Americans were told to stay inside, has largely been swept to the background as the nation grieves Floyd and demands an end to systemic racism. The virus has also disproportionately affected members of the black community.
Over 10,000 people have been arrested nationwide in the civil unrest since Memorial Day, The Associated Press estimated.
CLICK HERE TO GET THE FOX NEWS APP
As many cities enforced nightly curfews to clampdown on looting and limit out of towners from coming in to drum up chaos, police have clashed with protesters, firing rubber bullets and deploying tear gas to disperse crowds. Officers have also suffered violent attacks, most recently, as one New York City police officer on looting patrol was stabbed in the neck, and two others were shot in an "unprovoked attack" Wednesday night.
As businesses, already struggled from the pandemic, are looted, vandalized and burned to the ground, Trump has clashed with top officials on whether to send the military into cities to restore the peace.
The Associated Press contributed to this report.