FOX NEWS FIRST: Trump suspends US-South Korea war games; Public pays final respects to McCain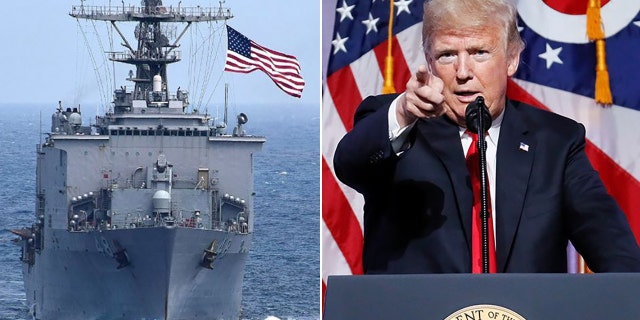 Welcome to Fox News First. Not signed up yet? Click here.
Developing now, Thursday, August 30, 2018
? President Trump tweets that joint military exercises between the U.S. and South Korea would be suspended as a gesture of goodwill toward North Korea, while warning that the exercises could relaunch "far bigger than ever before" if he wants them to
? At least 1,500 people pay their final respects to Sen. John McCain at the Arizona state Capitol. McCain died of brain cancer last Saturday at age 81.
? A professor who was reportedly a confidential source in the FBI's Russia probe is at the center of a DOJ complaint that alleges wasted taxpayer dollars, according to interviews and documents reviewed by Fox News
? CNN defends its reporting of the controversial Trump Tower story amid backpedaling from its confidential source
? A judge on Wednesday released three suspects tied to a New Mexico compound, where alleged Muslim extremists reportedly trained children to become school shooters, after charges against them were dropped because authorities missed a 10-day limit for a hearing to establish probable cause
THE LEAD STORY - WAR GAMES OFF … FOR NOW: President Trump on Wednesday tweeted that there was "no reason" for joint military exercises between the U.S. and South Korea, dubbing them costly while describing his relationship with North Korean dictator Kim Jong Un as "very good" and "warm" … However, he signaled that he could restart them if he wanted to, promising they would "be far bigger than ever before." The president tweeted a White House statement, in which he said he believed the rogue regime was experiencing "tremendous pressure from China" amid "trade disputes" with the U.S. Simultaneously, North Korea was acquiring "considerable aid" from China, which "is not helpful," Trump continued.
The statement went on to insist that any issues between the U.S. and China would be taken care of by Trump and Chinese President Xi Jinping, who have a "very strong" relationship.
FAREWELL TO A 'MAVERICK': At least 1,500 people paid respects to Sen. John McCain, who succumbed to an aggressive form of brain cancer on Saturday, as they streamed past his closed, flag-draped casket at the Arizona Capitol … Well-wishers had been waiting in line in the withering summer heat — the high in Phoenix was 104 degrees — some for hours, to take part in the public viewing on Wednesday.
Families with children paid respects. Men paused beside the casket to salute or bow. People came from out of state. They also crossed political lines and the full spectrum of ages. The viewing came on what would have been the Republican senator's 82nd birthday, and followed an emotional private ceremony attended by McCain's family and colleagues.
PENTAGON SPENDING SPREE?: The professor who reportedly assisted the FBI's Russia probe as a confidential source is at the center of a Defense Department whisteblower complaint that alleges government contractor abuses, as well as excessive payments with taxpayer dollars, according to interviews and documents reviewed by Fox News … The complaint was filed by attorney Sean Bigley on behalf of Pentagon lawyer Adam Lovinger.
Earlier this month, conservative watchdog Judicial Watch announced it was suing the Defense Department on behalf of Lovinger to force the release of emails and other electronic messages after Lovinger had his security clearance suspended.
CNN NOT BACKING DOWN: A full-blown war of words between the first family and CNN broke out late Wednesday on Twitter, with the cable network mounting an unprecedented attack on President Trump in a jarring official statement defending a widely questioned story … The statement from CNN came after the president mocked journalist Carl Bernstein, who co-wrote the disputed report that Michael Cohen, Trump's former lawyer, was prepared to give damning information about the president to Special Counsel Robert Mueller. CNN continues to stand by the story despite growing skepticism.
"Make no mistake, Mr. President, CNN does not lie. We report the news. And we report when people in power tell lies. CNN stands by our reporting and our reporters. There may be many fools in this story but @carlbernstein is not one of them," CNN's public relations department wrote.
'EXTREMISTS' RELEASED: Three suspects tied to a New Mexico compound where alleged Muslim extremists reportedly trained children to be school shooters were released from custody on Wednesday, hours after a judge dismissed all of the charges against them, Fox News confirmed … District Judge Emilio Chavez on Wednesday dismissed charges against three of the five defendants -- Lucas Morton, Subhannah Wahhaj and Hujrah Wahhaj -- ruling that authorities violated the state's "10-day rule." Child abuse charges against them were dropped because prosecutors missed the 10-day limit for an evidentiary hearing to establish probable cause.
AS SEEN ON FOX NEWS
GOLF LEGEND BACKS TIGER ON TRUMP: "No matter who's president -- whether it was Barack Obama or Donald Trump -- I think you respect the office, and I'm much in Tiger's camp on that." – Golf legend Jack Nicklaus, on "Fox & Friends," defending how Tiger Woods handled questions regarding his relationship with President Trump. WATCH
SPECIAL COUNSEL'S SELF-SABOTAGE: "Mueller's the guy who sabotaged his own investigation. First, by refusing to recuse himself in the face of mandatory disqualifying conflicts of interest. And then, [by] assembling a team of partisans." Fox News legal analyst and "The Russia Hoax" author Gregg Jarrett, on "Outnumbered," sounding off on Mueller's investigation of President Trump. WATCH
TRENDING
North Carolina UPS driver's 3-word failed delivery note becomes viral hit.
Tesla Model S goes airborne on video, driver charged.
Last remaining Blockbuster gets its own beer: 'With a light body, smooth finish and hints of nostalgia.'
THE SWAMP
Cruz, O'Rourke in talks for debates as Texas GOP taunts Democrat
Florida Dem candidate Gillum fires back at DeSantis over 'monkey this up' remark.
'It can be done': Newsom touts plan to give universal health care to illegal immigrants in California.
Andrew Cuomo, Cynthia Nixon accuse each other of lying, corruption in heated primary debate.
ACROSS THE NATION
Buccaneers' Mike Evans, 'Madden' gamer to compete in fundraiser after Jacksonville shooting
California Senate votes to raise age for buying long guns to 21.
Man arrested in ex-Playboy model's strangulation death in Pennsylvania home.
MINDING YOUR BUSINESS
Google disputes Trump's claim it failed to promote State of the Union address
Bernie Sanders, Amazon clash over his 'inaccurate' accusations about 'low' employee pay
Dick's Sporting Goods: Gun policy change, Under Armour to blame for weak results
NFL's Aaron Rodgers to sign record contract with $100M guaranteed: report
Ex-Tesla employee alleges company turned blind eye to drug trafficking in SEC tip
FOX NEWS OPINION
Judge Andrew Napolitano: John McCain and me
Christian Whiton: California craziness - Congress may have to stop state from giving 'free' health care to illegal immigrants
Doug Schoen: Florida governor's election will be Trump's first test of the 2020 White House race
HOLLYWOOD SQUARED
Rain Dove: Asia Argento called me 'a monster' for turning over texts to police.
Prince Harry busted by Halle Berry after throwback photo reveals cutout of her hanging in teen dorm room.
Kanye West: 'I'm sorry' for saying slavery 'sounds like a choice.'
DID YOU HEAR ABOUT THIS?
Black bear hit by arrow mauls hunter before dying, reports say.
Man loses left arm after contracting flesh-eating bacteria infection from sushi.
Browns release Mychal Kendricks after insider trading charges.
STAY TUNED
On Facebook:
Check out 'FOX News Update,' our new Facebook-exclusive news program!
On Fox News:
Fox & Friends, 6 a.m. ET: Ari Fleischer, former White House press secretary; former acting ICE director Tom Homan; "Michelle Malkin Investigates" host Michelle Malkin; Todd Piro on the "Fox & Friends All-American Road Trip"; the next installment of "Cooking with Friends" features Fox News contributor Sara Carter and her 6-year-old daughter preparing Cuban tacos.
On Fox Business:
Mornings with Maria, 6 a.m. ET: Newt Gingrich; Sen. Pat Toomey, R-PA.
Varney & Co., 9 a.m. ET: Joe Imperatrice, president, founder of Blue Lives Matter NYC; Florida Attorney General Pam Bondi; Michael Beckerman, Internet Association president, CEO.
Cavuto: Coast to Coast, Noon ET: Daniel Twining, former Senate Foreign Policy Adviser from 2001-2004, President IRI, and friend to John McCain; Genesco Sports Enterprises CEO John Tatum.
Countdown to the Closing Bell, 3 p.m ET: Warren Buffett, Berkshire Hathaway chairman, CEO.
On Fox News Radio:
The Fox News Rundown podcast: Florida and Arizona, two states that will be battlegrounds for control of Congress this fall, held primaries this week. FOX's Jessica Rosenthal and Eben Brown discuss the outcomes and what it means for the midterms.
Talks with North Korea could be falling apart as Kim Jong-un doesn't seem to be taking the necessary steps to denuclearize his country. Daily Beast columnist Gordon Chang discusses the United States' current relations with North Korea.
Plus, commentary by FOX's Juan Williams, cohost of 'The Five'.
Want the Fox News Rundown sent straight to your mobile device? Subscribe through Apple Podcasts, Google Play, and Stitcher.
The Brian Kilmeade Show, 9 a.m. ET: Tom Homan, former acting ICE director, on the latest possibility of universal healthcare for illegal immigrants. Chris Wallace on the latest developments in North Korea, the legacy of Sen. John McCain and the midterm elections. Additional special guests include: Dana Perino, Adam Housley and David Avella, chairman of Republican Political Action Committee GOPAC.
#OnThisDay
1997: Americans receive word of the car crash in Paris that claimed the lives of Princess Diana, her boyfriend, Dodi Fayed, and their driver, Henri Paul. (Because of the time difference, it was Aug. 31 where the crash occurred.)
1967: The Senate confirms the appointment of Thurgood Marshall as the first black justice on the U.S. Supreme Court.
1963: The "Hot Line" communications link between Washington and Moscow goes into operation.
Fox News First is compiled by Fox News' Bryan Robinson. Thank you for joining us! Enjoy your day and weekend! We'll see you in your inbox first thing Friday morning.