FOX NEWS FIRST: Trump seeks changes on immigration, to take executive action on ObamaCare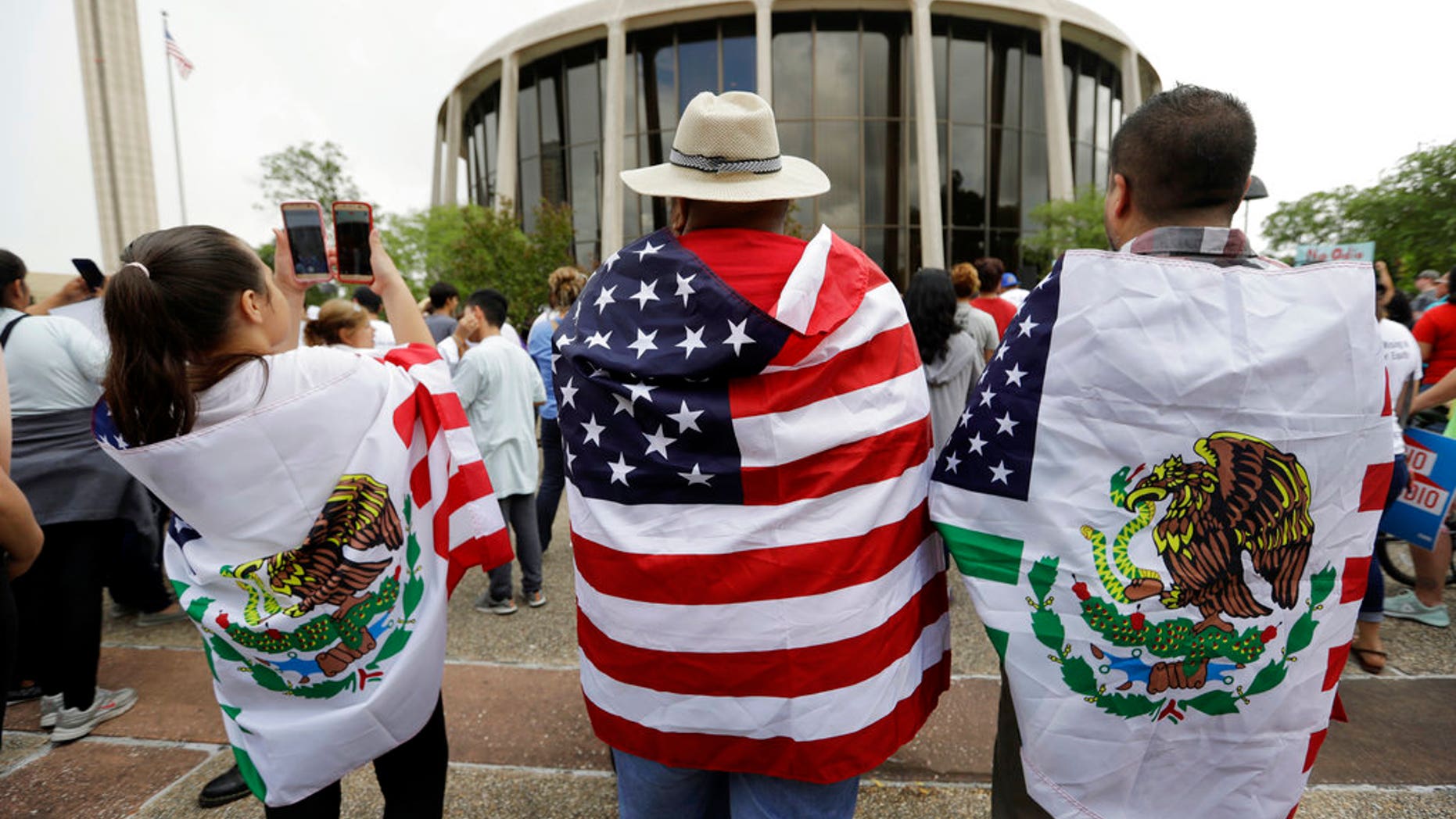 TOP OF THE MORNING
It's Monday, Oct. 9, 2017 - Columbus Day. Welcome to Fox News First, your place for all the news you need to start the day. To have your early morning news emailed directly to your inbox, subscribe by clicking here.
Here's your Fox News First 5 - the first five things you need to know today:
The Trump administration is seeking major changes to immigration in exchange for a DACA deal
President Trump will take executive action on health care, reports say
Vice President Mike Pence fires back at pundits criticizing his NFL walkout
Hollywood movie mogul Harvey Weinstein is fired from The Weinstein Company days after sex harassment claims surface
Exclusive: Casino magnate Steve Wynn tells Fox News the Las Vegas gunman seemed like a "rational man"
Let's dive deeper into these stories ...
THE LEAD STORY: The Trump administration has announced it is seeking several major changes to the country's immigration system in exchange for extending the Obama-era program known as Deferred Action for Childhood Arrivals, or DACA ... The changes include additional crackdowns on "sanctuary cities" that protect illegal immigrants; reducing the number of incoming refugees; 10,000 more Customs and Border Patrol agents; and new initiatives curbing the number of unaccompanied immigrants who come to the U.S. illegally as children. Democrats already have said many of the White House's terms are off the table. In a joint statement, Pelosi and Schumer said the White House's new list of requests "goes so far beyond what is reasonable" and "fails to represent any attempt at compromise."
TRUMP TAKING OBAMACARE INTO HIS OWN HANDS: The White House is putting the finishing touches on an executive order that would expand health care options with allowing individuals to band together and buy insurance beyond their state lines, according to reports ... The order will be aimed at expanding insurance options for Americans who buy their own coverage or receive it through working at a small company, according to the Wall Street Journal. The new options would broaden instructions for agencies to explore loosening regulations and lowering premiums. The order was being drafted as Trump expressed his willingness to work with Democrats on health care after Republicans were unable to approve legislation that would have repealed and replaced ObamaCare.
NO PR STUNT, SAYS THE VP: Vice President Mike Pence walked out on his home-state Indianapolis Colts Sunday when members of the opposing team knelt for the national anthem ... Some critics called Pence's walkout a publicity stunt arranged at taxpayers' expense. Pence later fired back on Twitter, saying "I left today's Colts game because President Trump and I will not dignify any event that disrespects our soldiers, our Flag, or our National Anthem. At a time when so many Americans are inspiring our nation with their courage, resolve, and resilience, now, more than ever, we should rally around our Flag and everything that unites us."
"While everyone is entitled to their own opinions, I don't think it's too much to ask NFL players to respect the Flag and our National Anthem," he continued. "I stand with President Trump, I stand with our soldiers, and I will always stand for our Flag and National Anthem." Following Pence's walkout, Dallas Cowboys owner Jerry Jones gave his players an ultimatum: Respect the flag or expect to sit out the game.
WEINSTEIN GETS THE BOOT: The Weinstein Company film studio fired movie mogul Harvey Weinstein days after the New York Times reported he settled sexual harassment lawsuits with at least eight women ... Weinstein's alleged inappropriate behavior with women in the last 30 years was detailed in the bombshell Times report published Thursday. In it, actress Ashley Judd described being lured to Weinstein's hotel room, only to find him wearing a bathrobe and requesting sexual favors. The report also detailed encounters Weinstein allegedly had with other women working for the Weinstein Company, as well as official settlements from people associated with him, including actress Rose McGowan, who was issued a $100,000 settlement that the famed film producer specifically said was not an admission of guilt.
FOX NEWS EXCLUSIVE: The gunman responsible for the worst mass shooting in U.S. history was well-known to staff and seemed like a rational man, Las Vegas casino magnate Steve Wynn told "Fox News Sunday" anchor Chris Wallace ... Wynn, the billionaire CEO of Wynn Resorts, said gunman Stephen Paddock and his girlfriend were regular visitors at his hotels. "He's been staying in Las Vegas since '06.  So you know, we're talking about 11 years with his girlfriend or at least in recent years, frequent visitor, once or twice a month, to this hotel and others. The most vanilla profile one could possibly imagine. A modest gambler at least by our standards, you know, nothing serious, paid promptly, never owed any money anywhere in Las Vegas. He didn't fit the profile of a problem or compulsive gambler."
THE WEEKEND THAT WAS
MICHELLE OBAMA CALLED OUT: "I don't know if she noticed, but I am not white and I am not a male ... "I don't fit in a box. I am a wife. I'm a mother. I'm a Utahan. I am a black Republican who cares about America and cares about all people." – Rep. Mia Love, on "Fox & Friends Weekend," blasting Michelle Obama for her charge that people do not trust politics because the GOP is "all men, all white." WATCH
A WYNNING APPROACH TO SECURITY: "Basically we had to recruit and expand security by tens of millions of dollars to cover every entrance, to retrain the entire workforce -- from housekeeping and room service -- and people are in the tower and observing people.  We had to cover every exit and every aspect of the building to see if we could identify and preempt any kind of terroristic or violent action. It is never perfect, of course, but what you can do, to use local vernacular: you can change the odds" – Las Vegas casino owner billionaire Steve Wynn, on "Fox News Sunday," discussing how a high-level counterterrorism program was developed to enhance security measures at his hotels and casinos in 2015. WATCH
MINDING YOUR BUSINESS
Big Tech has big plans to help reconnect Puerto Rico.
Honeywell prepares to spin off businesses: Sources.
Average U.S. gas prices fall 7 cents, thanks to crude costs.
Amazon has a luxury problem.
NEW IN FOX NEWS OPINION
Why celebrate Columbus Day? Here are a few reasons.
I won't let Las Vegas shooting change my mind. People are good.
Judge Jeanine: Hillary blames everyone but the shooter.
Alan Dershowitz: Trump's 'calm before the storm' is a message to North Korea and Iran.
HOLLYWOOD SQUARED
Blade Runner 2049 surprisingly weak at the box office.
Jason Aldean on SNL pays tribute to Las Vegas shooting victims, Tom Petty
Dr. Seuss museum mural accused of being racist could get new owner.
Facts of Life actress Kim Fields talks new film A Question of Faith.
DID YOU HEAR ABOUT THIS?
Uber's app can secretly spy on your iPhone.
Dove apologizes for 'racist' ad that triggered outcry.
Rowdy sex parties, poop antics cause New York winery to lose liquor license.
Company debuts skimpy Melania Trump-inspired costume ahead of Halloween.
STAY TUNED
On Fox News:
Fox & Friends, 6 a.m. ET: Counselor to President Trump Kellyanne Conway sounds off on Vice President Pence's walkout of an NFL game, Trump's latest proposals on health care and immigration and more; NRA spokesperson Dana Loesch takes on liberal attempts to take away gun rights following the Las Vegas massacre; and we take a closer look at a Long Island group's refuge to Columbus statues.
Hannity, 9 p.m. ET: Author and radio host Mark Levin take on the mainstream media's attempts to blame Trump for the mass shooting in Las Vegas.
On Fox Business:
Mornings with Maria, 6 a.m. ET: Former Health and Human Services Secretary Tommy Thompson gives his take on reports President Trump will take executive action on health care; Burt Ward, who portrayed Robin in the 1960s Batman TV series, talks New York Comic Con and his efforts to rescue and find "forever homes" for large breed dogs through Gentle Giants Rescue and Adoptions. Plus, House Budget GOP Committee Member Mark Sanford takes on Congress' quest to pass a budget.
Varney & Co., 9 a.m. ET: Andy Puzder, former CEO of CKE Restaurants, sounds off on the hot topics of the day.
The Brian Kilmeade Show, 9 a.m. ET to 12 noon ET: New York Post columnist Michael Goodwin tells Brian why the Las Vegas massacre shows we still have much to learn about domestic terrorism.
#OnThisDay
2009:  President Barack Obama is named the recipient of the 2009 Nobel Peace Prize for what the Norwegian Nobel Committee called "his extraordinary efforts to strengthen international diplomacy and cooperation between peoples."
1967: Marxist revolutionary guerrilla leader Che Guevara is executed by the Bolivian army a day after his capture.
1946:  The Eugene O'Neill drama "The Iceman Cometh" opens at the Martin Beck Theater in New York.
1936: The first generator at Boulder (later Hoover) Dam begins transmitting electricity to Los Angeles.
Thank you for joining us on Fox News First! Enjoy your Monday and we'll see you in your inbox first thing Tuesday morning.