FOX NEWS FIRST: Trump fires back at Helsinki summit critics; Putin calls Russian meddling charges 'ridiculous'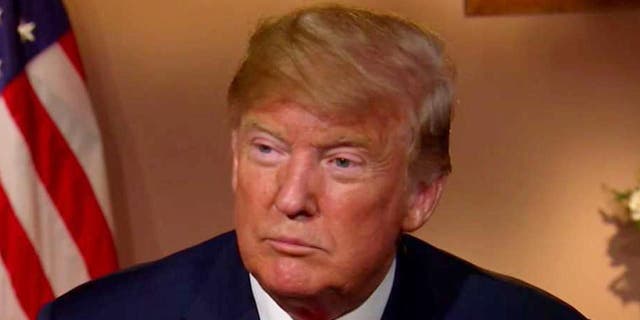 NEWYou can now listen to Fox News articles!
Welcome to FOX News First. Not signed up yet? Click here.
Developing now, Tuesday, July 17, 2018
In exclusive interview with FOX News' Sean Hannity, President Trump defends his controversial comments at his post-summit news conference with Vladimir Putin, saying Special Counsel Robert Mueller's investigation has driven a 'phony wedge' between the U.S. and Russia
Russian President Vladimir Putin denies having dirt on Trump, calls charges of Russian meddling in the 2016 presidential election 'utterly ridiculous' in exclusive interview with FOX News' Chris Wallace.
Anti-Trump FBI lovebird Lisa Page was grilled by House Republican lawmakers for a second day behind closed doors on Monday
Alabama voters will decide a primary runoff election Tuesday between former Trump critic GOP Rep. Martha Roby and former Rep. Bobby Bright, a Democrat-turned-Trump Republican
Showtime is denying accusations of 'stolen valor' from Sarah Palin and other critics who say satirist Sasha Baron Cohen posed a disabled military veteran to trick them in his new cable series
Check out FOX News Update, our new Facebook-exclusive news program hosted by Shepard Smith, Carley Shimkus and Abby Huntsman
THE LEAD STORY - 'PHONY WEDGE, PHONY WITCH HUNT': President Trump said Monday that Special Counsel Robert Mueller's investigation has "driven a wedge between us and Russia" following his summit with Russian President Vladimir Putin ... "Maybe we've just knocked down that wedge, but it has driven a wedge and President Putin said that," Trump told Fox News' Sean Hannity in an exclusive interview. "One of the early things he said when we started was, 'It's really a shame, because we could do so much good' ... And they drove a phony wedge, it's a phony witch hunt, rigged deal with guys like [FBI agent] Peter Strzok and [former FBI Director] James Comey and [former FBI Deputy Director Andrew] McCabe ... and you can imagine who else. It's a real shame."
Monday's summit took place three days after a grand jury indicted 12 Russian intelligence operatives on charges related to cyberattacks on Democratic organizations during the 2016 election campaign. At a news conference following the meeting, Putin offered to have Russian prosecutors question the indicted operatives and added that Mueller's team of investigators could be present for questioning, if U.S. officials would "reciprocate." Trump told Hannity he was "fascinated" by Putin's suggestion, but then appeared to dismiss it, saying that the special counsel's team "probably won't want to go."
In a joint press conference Monday, Trump and Putin touted the summit as a "success," vowing to improve ties on a range of issues. Trump ignited controversy when he appeared to undermine the U.S. intelligence community's findings that Russia did interfere in the 2016 elections and suggested he was willing to believe Putin's denials. When asked which side is responsible for damaged relations, the president said, "I hold both countries responsible." The statement drew bipartisan criticism back in Washington.
FOX NEWS EXCLUSIVE - PUTIN CLAIMS NO RUSSIAN INTERFERENCE, NO 'KOMPROMAT' ON TRUMP: Russian President Vladimir Putin, in an occasionally combative interview with Fox News' Chris Wallace, called it "utterly ridiculous" that some people think the Russians could have swayed millions of American voters in the 2016 election, while insisting his country did not have dirt on President Trump or his family ... "Interference with the domestic affairs of the United States -- do you really believe that someone acting from the Russian territory could have influenced the United States and influenced the choice of millions of Americans?" Putin said. "This is utterly ridiculous."
The Russian president sat down for the interview airing on "Special Report" Monday after his summit earlier in the day with President Trump and other U.S. officials in Helsinki, Finland. The summit came just days after the Justice Department announced the indictments of a dozen Russian intelligence operatives for allegedly hacking Democratic targets in the 2016 U.S. presidential election. At one point in the interview, Wallace tried handing Putin a copy of the indictment. But Putin motioned for him to put the papers on a side table instead. "First of all, Russia, as a state, has never interfered with the internal affairs of the United States, let alone its elections," Putin replied.
Putin also denied having "kompromat" -- or "compromising material" -- on Trump. The rumor of the Russians having compromising information on Trump was a central claim in the unverified and salacious dossier written by British ex-spy Christopher Steele and financed by Democrats that made its way to the FBI during the early stages of the Russia investigation.
A SECOND DAY ON THE HOT SEAT: Former FBI lawyer Lisa Page was questioned behind closed doors for a second day Monday on Capitol Hill by GOP lawmakers about anti-Trump texts she exchanged with colleague and former lover Peter Strzok ... Page, who first testified before lawmakers last Friday after initially defying a congressional subpoena, has reportedly been described "cooperative" and "credible" and more believable than Strzok. However, some lawmakers have also pointed out that Page has attempted to minimize her role in the Special Counsel Robert Mueller's Russia probe. Mueller removed Strzok and Page from the investigation once their anti-Trump messages surfaced.
THE TRUMP TOUCH VERSUS TRUMP 'LOYALTY': In 2016, GOP Rep. Martha Roby said Donald Trump's comments about women made him an "unacceptable" choice for president. Now, with Trump in the White House, Roby is at risk of losing her congressional seat ... Roby, who was first elected to Congress in 2010, faces a runoff election Tuesday against former Rep. Bobby Bright, a Democrat-turned-Trump-supporting-Republican who once held that very seat. In the June primary election, Roby garnered the most votes but could not secure enough to avoid a runoff with Bright. Whoever wins the July 17 runoff will face Democrat Tabitha Isner in the November general election.
Despite her past criticism, the Trump White House has emerged as Roby's most powerful backer. Trump himself endorsed Roby on Twitter, calling her a "reliable vote for our Make America Great Again Agenda" and bashing Bright as "a recent Nancy Pelosi voting Democrat." The 2nd congressional district encompasses much of Montgomery and southeastern Alabama. Trump beat Democrat Hillary Clinton in Alabama with 62.9 percent of the vote, according to Fox News projections.
'DUPED' VALOR: Showtime is fighting "stolen valor" accusations from critics who claimed Sacha Baron Cohen posed as a veteran for the actor's controversial new series, "Who Is America?" ... On Monday, the network released a statement explaining "there has been widespread misinformation over the past week" about Cohen's character Billy Wayne Ruddick Jr., Ph.D. "Baron Cohen did not present himself as a disabled veteran, and viewers nationwide who watched the premiere on Sunday can now attest to that," the statement read. "In Sunday's episode, during an interview with Senator Bernie Sanders, Baron Cohen in character as Dr. Ruddick was asked by the Senator if he is disabled, and he stated that he is not and uses a mobility scooter to conserve his energy." The statement went on to say that Cohen "never presented himself as a veteran of the U.S. military to former Alaska Governor Sarah Palin during the booking process or during the filming of her interview."
DON'T MISS FOX NEWS UPDATE! - Be sure to take a look at FOX News Update, our new Facebook-exclusive program that focuses on up-to-the minute breaking news and the most compelling stories of the day ... FOX News Update launched on Facebook Watch on Monday. FOX New Channel's chief news anchor and host of "Shepard Smith Reporting" Shepard Smith reports the latest news each weekday afternoon at 4 p.m. ET. "FOX & Friends First" headlines reporter Carley Shimkus updates viewers every weekday morning at 6 a.m. ET. And "FOX & Friends Weekend" co-host Abby Huntsman provides the latest headlines once each morning on weekends.
AS SEEN ON FOX NEWS
'MOB' MENTALITY: "I've never seen anything like it in my life. The reaction by most of the media, Democrats and anti-Trump people is like mob violence." – Stephen Cohen, New York University Russian Studies professor emeritus, on "Tucker Carlson Tonight," sounding off on the sometimes-hysterical reaction to President Trump's summit with Russian President Vladimir Putin. WATCH
'COMMON SENSE' VIEW OF TRUMP-PUTIN: "It's not about decorum, it's about integrity. On foreign soil at least you might consider praising our enemies less." – Neil Cavuto, in his "Common Sense" monologue on "Your World with Neil Cavuto," giving his take on President Trump's summit and joint press conference with Russian President Putin. WATCH
TRENDING
Amazon's Prime Day runs into snags swiftly.
Anthony Bourdain slammed Hillary Clinton and 'gropey, disgusting' Bill Clinton in newly released interview.
New Mexico church miracle? Virgin Mary statue appears to 'weep' olive oil.
New Jersey police release mugshot of runaway pug.
THE SWAMP
Judge halts deportations of reunited families.
Georgia governor primary leaves Casey Cagle, Brian Kemp vying for GOP nomination.
Don't Fear the Reefer? Legal-pot push shifts to red states.
ACROSS THE NATION
ICE uses 'Ride-Share Rapist' case to slam San Francisco over sanctuary policy: report.
Lava explosion near Hawaii tour boat injures at least 23.
Marine veteran makes second trek across U.S .to raise awareness for PTSD.
Bryce Harper wins Home Run Derby.
MINDING YOUR BUSINESS
Stock futures mixed ahead of Fed chairman's testimony.
Trump touts U.S. energy, will compete against Russia's gas pipeline to Germany.
Papa John's founder accuses marketing agency of $6 million extortion scheme.
Netflix shares plunge as subscriber growth disappoints.
Warren Buffett donates $3.4B to charity.
FOX NEWS OPINION
Kristi S. Hamrick: Want to live a happier life? Be a conservative!
Gary Shapiro: Many fear Artificial Intelligence as the road to robots is taking over the world -- are they right?
Karol Markowicz: Amazon Prime Day's best deal (Hint: It's not what you think)
HOLLYWOOD SQUARED
Debbie Reynolds 'never really stopped loving' Elizabeth Taylor, despite shocking love triangle, says Todd Fisher.
Johnny Depp reaches settlement agreement with former business managers.
Netflix's 'The Crown' releases image of Olivia Colman starring as Queen Elizabeth II in new season.
DID YOU HEAR ABOUT THIS?
World's most well-traveled man has been to 193 countries, and over a hundred more territories.
Scientists reveal secrets of a mysterious 2,000-year-old papyrus.
Texas company builds new oyster reef after Hurricane Harvey devastated population.
STAY TUNED
On FOX News:
FOX & Friends, 6 a.m. ET: Should the left back off their glowing endorsement of Alexandria Ocasio-Cortez after she attacked Israel in an interview? Best-selling author Daniel Silva talks about his new book "The Other Woman." Wisconsin Republican candidate and former Democrat, Kevin Nicholson, opens up about running for Senate. NFL Hall of Famer Kurt Warner is teaming up with Heroes at Home to provide critical home repairs for veterans.
Tucker Carlson Tonight, 8 p.m. ET: Don't miss Tucker's wide-ranging interview with President Trump!
On FOX Business:
Mornings with Maria, 6 a.m. ET: Guests include: Satya Nadella, Microsoft CEO; Rep. John Curtis; Ian Bremmer, president and founder of the Eurasia Group; Paul Wolfowitz, former Deputy Defense Secretary under President George W. Bush.
Varney & Co., 9 a.m. ET: Nate Nanzer, Overwatch League commissioner; Peter Morici, former U.S. International Trade Commission chief; Rep. Jimmy Duncan.
Cavuto: Coast to Coast, Noon ET: Brian Wesbury, First Trust Advisors chief economist; Stephen Yates, former National Security Adviser to Vice President Dick Cheney; Robert Wolf, former economic adviser to President Obama.
The Intelligence Report, 2 p.m ET: Rep. Ron DeSantis; Ari Fleischer, former White House press secretary; David Nelson, chief strategist for Belpointe Asset Management.
On FOX News Radio:
The FOX News Rundown podcast: President Trump facing criticism from both sides over his meeting with Russian President Vladimir Putin while both leaders consider their Helsinki summit a success. FOX News Radio's Simon Owen was in Helsinki, Finland and discusses the controversial news conference that followed their meeting. Special Counsel Robert Mueller indicted 12 Russian military intelligence officers for allegedly hacking the Democratic National Committee, the Clinton presidential campaign and the Democratic Congressional Campaign Committee during the 2016 elections. National Security analyst Dr. Rebecca Grant discusses the weight of the indictments. Plus, commentary by Brad Blakeman, former adviser to President George W. Bush.
Want the FOX News Rundown sent straight to your mobile device? Subscribe through Apple Podcasts, Google Play, and Stitcher.
The Brian Kilmeade Show, 9 a.m. ET: Chris Stirewalt and Allen West will break down the Trump-Putin summit and its fallout. Harris Faulkner talks the Trump-Putin meeting and her new book, "9 Rules of Engagement: A Military Brat's Guide to Life and Success." Judge Jeanine Pirro on the state of the Mueller investigation and her new book, "Liars, Leakers, and Liberals."
#OnThisDay
1997: Woolworth Corp. announces it is closing its 400 remaining five-and-dime stores across the country, ending 117 years in business.
1967: Jazz composer-musician John Coltrane dies in Long Island, N.Y. at age 40.
1821: Spain cedes Florida to the United States..
Fox News First is compiled by Fox News' Bryan Robinson. Thank you for joining us! Enjoy your day! We'll see you in your inbox first thing Wednesday morning.