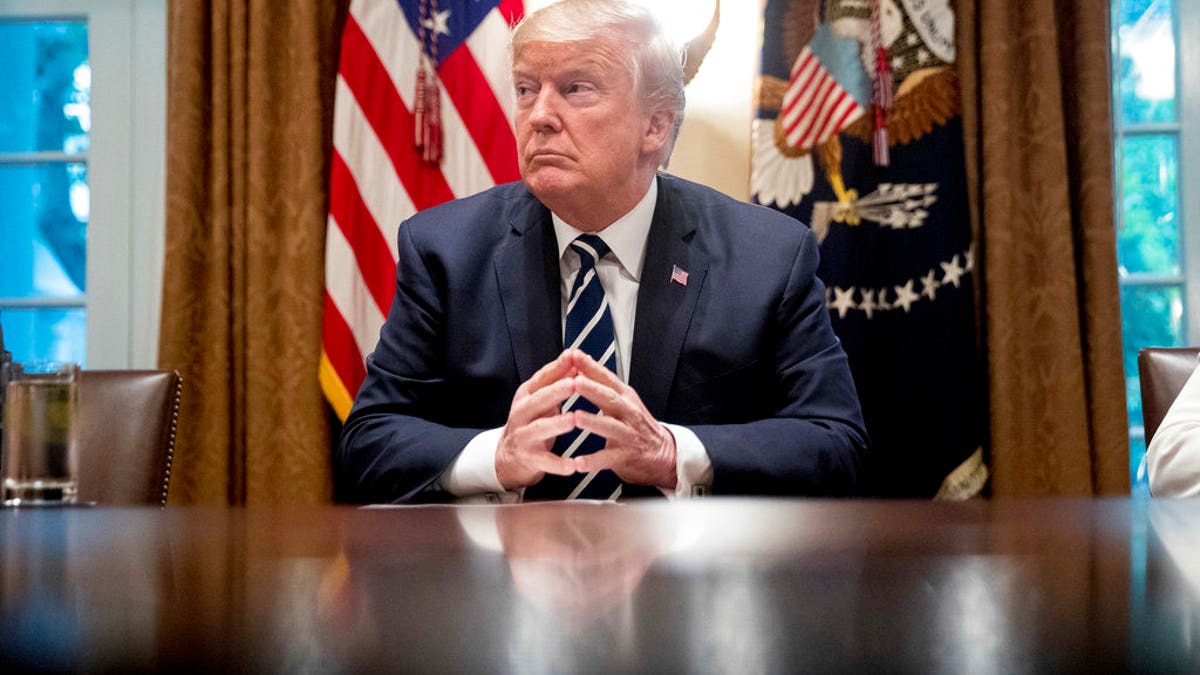 Welcome to FOX News First. Not signed up yet? Click here.
Developing now, Wednesday, July 18, 2018
President Trump says he misspoke and accepts the U.S. intelligence community's findings about Russia meddling in the 2016 elections as he tried to extinguish the bipartisan firestorm over his news conference with Vladimir Putin; in an interview with FOX News' Tucker Carlson, the president slams former CIA Director John Brennan for calling his news conference with Putin 'treasonous.'
A possible second round of tax cuts was on the table Tuesday as President Trump met with House Republicans
Fired FBI Director James Comey urges Americans to vote for Democrats in the upcoming midterm elections 
U.S. Rep. Martha Roby, a one-time critic of Trump, won Alabama's GOP primary runoff election Tuesday, holding off the challenge of former Democrat Bobby Bright
A record 10 home runs were hit as American League beat the National League 8-6 in extra innings in Major League Baseball's All-Star Game
THE LEAD STORY - 'I'M NOT PRO-RUSSIA': President Trump denied he was "pro-Russia" and slammed former CIA Director John Brennan in a FOX News interview airing Tuesday night, after Brennan described Trump's news conference with Russian President Vladimir Putin as "treasonous" ... "I think Brennan is a very bad guy and if you look at it a lot of things happened under his watch," Trump told Fox News' Tucker Carlson. "I think he's a very bad person." On Monday, Brennan tweeted that Trump's performance at the news conference "rises to & exceeds the threshold of 'high crimes & misdemeanors.'"
The "Tucker Carlson Tonight" interview was recorded in Helsinki following the Trump-Putin news conference, at which Trump appeared to dismiss the U.S. intelligence community's conclusion that Russia meddled in the 2016 election. Trump backtracked and attempted to clarify his comments on Tuesday.
Earlier Tuesday, Trump said that he misspoke when he seemed to dismiss allegations of Russian meddling in the 2016 elections, stating clearly that he accepts the U.S. intelligence community's conclusions as he sought to quell a bipartisan firestorm over his press conference with Vladimir Putin ... "I accept our intelligence community's conclusion that Russia's meddling in the 2016 election took place," Trump said, adding: "It could be other people also." The president suggested he was surprised by the negative reaction when he returned to Washington.
TAX CUTS 2.0: President Trump met with Republican members of the House Ways and Means Committee on Tuesday to discuss a possible second phase of tax cuts ... The president said late last month during an interview with FOX Business' Maria Bartiromo that the administration would "be doing" the new tax package this fall, in October or possibly sooner. House Ways and Means Committee Chair Kevin Brady, R-Texas, said on Tuesday he expected the House to vote on a bill by September.
In the wake of implementation of the tax overhaul, more than 430 companies have announced pay raises, bonuses or 401(k) hikes, benefiting more than 4 million Americans, according to the White House.
COMEY CHIMES IN: Former FBI Director James Comey on Tuesday said "history has its eyes on us" and encouraged Americans to vote for Democrats in the upcoming midterm elections ... Comey, who was fired by President Donald Trump in May 2017, issued a tweet urging Americans to snub Republicans this November. "This Republican Congress has proven incapable of fulfilling the Founders' design that 'Ambition must … counteract ambition,'" tweeted the former FBI director, a longtime supporter of Republicans. "All who believe in this country's values must vote for Democrats this fall. History has its eyes on us."
FORMER TRUMP CRITIC WINS: Voters in Alabama backed four-term Republican incumbent Rep. Martha Roby on Tuesday in a closely watched primary runoff, less than two years after she alienated some constituents by distancing herself from President Trump amid the "Access Hollywood" scandal ... Though Trump and Vice President Mike Pence endorsed Roby in the race over her Democrat-turned-Republican rival, Bobby Bright, Roby's decision to withdraw her endorsement of Trump just before the 2016 presidential election loomed large on Tuesday with voters in the deep-red state. Still, Roby prevailed in the 2nd Congressional District over Bright, a former mayor of Montgomery, owing largely to her support for Trump's agenda and her rival's inconsistent political affiliation. Bright had supported Nancy Pelosi when he served as a Democrat representing the district in Congress.
ALL-STAR SLUGFEST: Major League Baseball's Home Run Derby was Monday night, but Tuesday night's All-Star Game seemed like a repeat as the American and National league teams hit multiple round-trippers in the AL's 8-6 extra-inning victory ... The game at Nationals Park in Washington, D.C., was the sixth straight win for the American League. Houston's Alex Bregman and George Springer smacked back-to-back shots in the top of the 10th to put the AL in the lead for good. Bregman was named the game's Most Valuable Player.
AS SEEN ON FOX NEWS
'TUESDAY ON CABLE NEWS': "You've got to be nuts if you think he's a Manchurian candidate. [But] he played nice. Maybe too nice." – Greg Gutfeld, on "The Five," firing back at media hysteria of President Trump's Monday press conference with Vladimir Putin. WATCH
WHY THEY HATE TRUMP: "The people yelling the loudest about how the Russians are our greatest enemy, and Trump is their puppet, are the very same people who've been mismanaging our foreign policy for the past two decades. … That's the main reason they hate Trump. Because he calls them on it." – Tucker Carlson, in his opening monologue on "Tucker Carlson Tonight," giving his take on criticism of President Trump's summit and joint press conference with Russian President Putin. WATCH
TRENDING
Terrifying details of Thai cave rescue revealed.
Possible new Air Force One look revealed.
Japanese city running out of ninjas as population shrinks.
Struggling passenger goes viral for incorrectly trying to store luggage.
THE SWAMP
Obama slams populist 'right-wing billionaires,' touts liberal push for 'universal income.'
Clinton confidant, Stormy Daniels lawyer team up for high-volume protest outside White House.
U.S. pays $77G to Trump's golf resort prior to visit: report.
New IRS policy allows some tax-exempt groups to veil donors.
ACROSS THE NATION
Facebook exec apologizes for censoring Diamond & Silk.
'Ride-Share Rapist' suspect is denied bail: report.
Chicago police union fights state's 'bizarre' proposed consent decree after Obama-era DOJ investigation.
Shark attack victim reveals gruesome bite marks: 'I knew my foot was open.'
MINDING YOUR BUSINESS
Buffett's Berkshire loosens policy on stock buybacks.
Walmart mulls video streaming service to rival Netflix, Amazon: report.
Rolls Royce designing its first flying taxi.
Papa John's founder hires Harvey Weinstein's lawyer.
Maxing out your 401(k) might not be enough to have a secure retirement.
What it costs to live in the most expensive U.S. cities.
FOX NEWS OPINION
Marc Thiessen: Trump isn't the first president to embarrass America by cozying up to Putin.
Colin Hanna: Anti-Trump Democrats seek to block appointment of Consumer Financial Protection Bureau director.
Penny Young Nance: Let's unite to support justice for the millions of brave women who've survived sexual assault.
HOLLYWOOD SQUARED
Sacha Baron Cohen's 'Who Is America?' on Showtime pulls in just 327,000 viewers.
Richard 'Old Man' Harrison of 'Pawn Stars' cuts son out of his will: report.
San Francisco board bans tour buses near 'Full House' home.
DID YOU HEAR ABOUT THIS?
Robot butlers at Las Vegas hotel aim to elevate guests' experiences.
Incredible 5,500-year-old tomb discovery is 'find of a lifetime.'
'Quadrillion' tons of diamonds discovered deep below Earth's surface.
STAY TUNED
On Facebook:
Check out 'FOX News Update,' our new Facebook-exclusive news program hosted by Shepard Smith, Carley Shimkus and Abby Huntsman!
On FOX News:
FOX & Friends, 6 a.m. ET: House Ways and Means Committee Chair Kevin Brady talks Tax Reform 2.0. Other guests include: Newt Gingrich; Kellyanne Conway, counselor to President Trump; Tomi Lahren; Turning Point USA founder and executive director Charlie Kirk. Plus, meet the CEO who gave a car to a college student who walked 20 miles to work on his first day.
Your World with Neil Cavuto, 4 p.m. ET: Don't miss Neil's special interview with former Acting ICE Director Thomas Homan.
Hannity, 9 p.m. ET: Rep. Devin Nunes, chairman of the House Intelligence Committee, will be among the special guests.
FOX News @ Night, 11 p.m. ET: Guests include: former congressman Jason Chaffetz and former Arkansas Governor Mike Huckabee.
On FOX Business:
Mornings with Maria, 6 a.m. ET: Guests include: Martin Feldstein, former economic adviser under President Reagan; Rep. Blaine Luetkemeyer; Keith Alexander, former NSA director.
Varney & Co., 9 a.m. ET: Michio Kaku, CUNY physics professor and author of "The Future of Humanity"; Sen. John Thune; Rep. Trey Gowdy; Nigel Farage, former Brexit leader; former Sen. Tom Coburn; Rep. Kevin Cramer; Jimmy Vacarro, South Point Hotel and Casino Sports Book director; Rep. Tom Reed.
Cavuto: Coast to Coast, Noon ET: Karl Rove; Dennis Gartman, editor and publisher of the Gartman Letter; Rep. Jim Renacci.
The Intelligence Report, 2 p.m. ET: Rep. Sean Duffy; Gary Kaltbaum, president of Kaltbaum Capital Management.
Countdown to the Closing Bell, 3 p.m. ET: Craig Hodges, Hodges Funds portfolio manager; Andrey Kostin, VTB Bank chairman and president.
On FOX News Radio:
The FOX News Rundown podcast: Leaders from both sides of the aisle are highly critical of President Donald Trump's apparent acceptance Monday of Vladimir Putin's denials of Russian meddling in the 2016 presidential election. FOX News contributors Mollie Hemingway and Byron York discuss the ongoing fallout from the Helsinki summit. Republican lawmakers met with President Trump to discuss another round of changes to the tax system called "Tax Reform 2.0." FOX Business' Kristina Partsinevelos weighs in. Plus, commentary by Gary Shapiro, president and CEO of the Consumer Technology Association.
Want the FOX News Rundown sent straight to your mobile device? Subscribe through Apple Podcasts, Google Play, and Stitcher.
The Brian Kilmeade Show, 9 a.m. ET: Former Acting ICE Director Thomas Homan on the latest in Democrats' movement to abolish ICE; historian Arthur Herman on fallout from the Trump-Putin summit; Hall of Famer Dave Winfield looks back on Tuesday's MLB All-Star Game.
#OnThisDay
2013: Once the very symbol of American industrial might, Detroit becomes the biggest U.S. city to file for bankruptcy.
1969: Sen. Edward M. Kennedy, D-Mass., leaves a party on Chappaquiddick Island near Martha's Vineyard with Mary Jo Kopechne, 28. Sometime later, Kennedy's car goes off a bridge into the water. Kennedy is able to escape, but Kopechne drowns.
A.D. 64: The Great Fire of Rome begins, consuming most of the city for about a week. (Some would blame the fire on Emperor Nero, who in turn blamed Christians.)
Fox News First is compiled by Fox News' Bryan Robinson. Thank you for joining us! Enjoy your day! We'll see you in your inbox first thing Thursday morning.