FOX NEWS FIRST: Trump briefed on Putin meddling before inauguration; Nunes suggests DOJ, FBI want Dems to win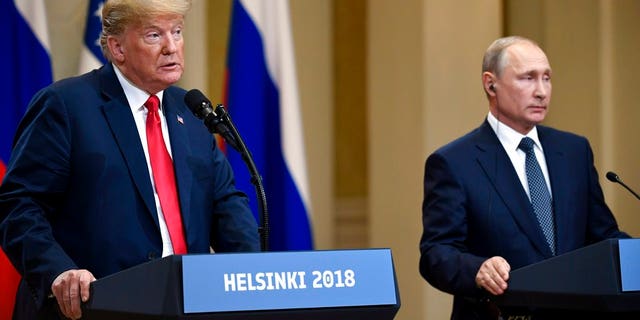 Welcome to FOX News First. Not signed up yet? Click here.
Developing now, Thursday, July 19, 2018
President Trump was briefed before his inauguration about Vladimir Putin's role in Russia's meddling in the 2016 elections, according to a report
House Intelligence Committee Chairman Devin Nunes casts doubt on the timing of the Justice Department's indictment of 12 Russian agents, suggests in an interview with FOX News' Sean Hannity that the FBI and DOJ want Democrats to regain control of Congress 
Footage of porn star Stormy Daniels' arrest at a strip club was released Wednesday by Columbus, Ohio police
Facebook, responding to concerns about the spread of 'fake news,' reportedly will begin removing posts that it believes could incite violence
Sen, Elizabeth Warren backs luxury Native American casino plan over struggling Massachusetts city's rival bid
THE LEAD STORY - TRUMP-PUTIN SAGA CONTINUES: Two weeks before his inauguration, President Trump was shown evidence that Russian President Vladimir Putin had directly ordered cyberattacks to disrupt the 2016 elections, the New York Times reports ... The intelligence was backed up by emails and texts from Russian military officers and a top-secret source close to Putin, who told the CIA how the Kremlin decided to start its hacking and disinformation efforts against U.S. targets, the Times reported. Trump was "grudgingly convinced" by the assessment, according to the Times.
Trump says he holds Putin personally responsible for the Kremlin's attempts to meddle in the 2016 presidential election. He told CBS News that he holds Putin accountable "because he's in charge of the country, just like I consider myself to be responsible for things that happen in this country."
Trump's CBS interview was his latest attempt to deflect backlash over his summit with Putin. It has been a whirlwind week fueled by the president's contradictory statements about whether he agrees with the conclusion of the U.S. intelligence community that Russia interfered with the election. On Monday, in a joint news conference with Putin following their summit, he appeared to undermine the intel community's findings; then on Tuesday he said he misspoke and insisted he supported the FBI's conclusions.
On Wednesday, the confusion continued when Trump appeared to answer "no" when asked whether Russia was still targeting the United States. White House press secretary Sarah Sanders said the president actually was saying "no" to the prospect of answering more questions, not responding to the specific question.
'THE OLDEST TRICK IN THE BOOK': The timing of the Justice Department's indictment of 12 Russian intelligence agents last week was "very hard to believe," House Intelligence Committee Chairman Devin Nunes said on "Hannity" Wednesday ... A federal grand jury on Friday indicted the agents for allegedly hacking emails from the Hillary Clinton campaign and Democratic Party during the 2016 election -- just days before Trump's one-on-one meeting with Russian President Vladimir Putin in Helsinki, Finland. The indictment also dropped shortly after House Republicans publicly questioned FBI agent Peter Strzok for the first time, and held a private meeting with former FBI lawyer Lisa Page.
"Why does this always happen?" Nunes, R-Calif., asked. "Every time something happens on one side where we find out a new revelation about what appears to be real problems in the FBI and DOJ with this investigation, all of a sudden, they drop an indictment." Asked by Sean Hannity whether the FBI and DOJ were "stonewalling" congressional investigators in the hopes that Democrats would take control of the House in November, Nunes suggested that might be a possibility. "It's the oldest trick in the book," he said.
STORM FRONT: Footage of adult film star Stormy Daniels' arrest at an Ohio strip club last week was released by police on Wednesday ... Daniels was taken into custody outside Sirens Gentlemen's Club on July 12 after police claimed she touched a customer inappropriately. The video shows Daniels being handcuffed and put into a van, where an officer is heard telling her, "If you use any anatomical part of your body, like your chest, to put it on peoples' face, that's a misdemeanor in the first degree." Daniels' lawyer, Michael Avenatti, said the charges were "bogus" and the arrest was a "politically motivated" setup. The charges against Daniels were dropped later that day.
FACEBOOK SELF-POLICING ... OR CENSORSHIP? - Facebook says it will start removing posts on its site that it views could spark violence ... The move is a response to criticism that the spread of rumors and false stories on its platform has led to people suffering physical harm in countries around the world, Dow Jones reported. Facebook's approach to misinformation has been focused on suppressing the popularity of such content on the platform -- without entirely scrubbing the problematic content. The social networking company has faced questions about being a source for false information that can inflame societal tensions.
WARREN'S 'SPECIAL INTERESTS': Brockton, Mass., is known as the birthplace of boxing legend Rocky Marciano. But with U.S. Sen. Elizabeth Warren pushing for a $1 billion Native American casino less than 20 miles away, struggling blue-collar Brockton's competing casino bid might not stand a fighting chance ... Brockton Mayor William Carpenter slammed Warren's bill on behalf of the Masphee Wampanoag tribe, which would override a federal judge's decision last year to block the tribe's plan for a luxury gaming resort in East Taunton.
He says Warren seems to be acting on behalf of special interests instead of people like Brockton's struggling residents. "Year after year we're running multimillion-dollar deficits in our budget. We've laid off schoolteachers for three years in a row," Carpenter told the Washington Times. "We desperately need the revenue."
AS SEEN ON FOX NEWS
DEMS WANT TO BE LIKE TRUMP: "The guys that despise Trump are now looking for their own Trump. A punk rock outsider who rejects the establishment and wins." – Greg Gutfeld, on "The Five," sounding off on Democrats' search for a 2020 candidate that could take on and defeat President Trump. WATCH
IDENTITY CRISIS: "If her win makes her into what Kellyanne Conway called the 'new face' of the Democratic Party, the Democratic Party's not going to have a very bright future." – Former U.S. Sen. Joe Lieberman, D-Conn., on "Your World with Neil Cavuto," expanded upon his Wall Street Journal op-ed in which he warned against allowing Democratic socialist New York congressional candidate Alexandria Ocasio-Cortez to become the new face of the party. WATCH
RUSSIAN HYSTERIA
Tammy Bruce: Trump and the fever dreams of the left.
David Bossie: Victims of 'Trump Derangement Syndrome' land in ICU after Putin freak-out.
Sarah Sanders says press 'out of control' for confusing Russian spy, White House staffer.
Judge denies Manafort bid to suppress evidence seized in condo raid.
Accused Russian spy Maria Butina offered sex in exchange for US job, prosecutors say.
'She kept showing up': Author recalls accused Russian spy's history.
TRENDING
California Supreme Court blocks proposal to split state in 3 from November ballot.
Clinton controversies return to spotlight in Kavanaugh confirmation.
Flesh-eating bacteria in raw oysters kill Florida man, health officials say.
THE SWAMP
Ted Cruz, Beto O'Rourke in nation's most expensive Senate race: reports.
Interior Department watchdog investigating real estate deal involving Secretary Ryan Zinke.
GOP bill applauding ICE approved in House, as Dems lament 'stunt.'
Watchdog exposes $14.7B of pork-barrel spending, including 'brown tree snake eradication' project.
ACROSS THE NATION
California ballot initiative to reverse illegal immigrant driver's license law.
NFL star says he'll defy orders not to protest during national anthem.
Let it Gogh: 'Starry Night' home fight leads to apology from Florida mayor.

MINDING YOUR BUSINESS
Trump threatens EU with 'tremendous retribution' with higher tariffs on cars.
Ford recalls 550,000 vehicles for roll-away risk.
Gold's demise may be golden for U.S. stocks.
Millennials making key investment, retirement mistakes.
Social Security: What to know, what to expect, how to make it better.
Americans think this is the ideal age to retire, buy a house.
Universal basic income won't work at city-level: expert.
FOX NEWS OPINION
Charlie Kirk: Chicago officials have an irresponsible idea: Give away money to create a universal basic income.
Marillyn A. Hewson: We must close the skills gap to secure our future.
John Stossel: The absurd hysteria around plastic straws.
HOLLYWOOD SQUARED
Alec Baldwin chased by waitress with check after dining at Hollywood restaurant.
Billy Joel reaches historic milestone at Madison Square Garden.
Leonardo DiCaprio, Brad Pitt declined 'Brokeback Mountain' roles: report.
DID YOU HEAR ABOUT THIS?
Construction workers discover remains of 95 African-American laborers from early 20th century.
500-pound goliath grouper eats shark as shocked Florida fishermen watch.
Restaurant calls out young girl on Facebook for stealing tip.
STAY TUNED
On Facebook:
Check out 'FOX News Update,' our new Facebook-exclusive news program hosted by Shepard Smith, Carley Shimkus and Abby Huntsman!
On FOX News:
FOX & Friends, 6 a.m. ET: An interview with Don Rosenberg, whose son was killed by an illegal immigrant. Plus, meet the Michigan twin sisters who are running for office in opposing parties. Additional guests include: Erielle Davidson of the Federalist, Rep. Kevin Yoder, and the owner of Warrior One Guns and Ammo.
The Ingraham Angle, 10 p.m. ET: Former Arkansas Gov. Mike Huckabee will be among the special guests.
FOX News @ Night, 11 p.m. ET: Don't miss Shannon Bream's exclusive interview with Secretary of State Mike Pompeo.
On FOX Business:
Mornings with Maria, 6 a.m. ET: Guests include: Herman Cain; Sam Stovall, chief investment strategist for CFRA Research; Sen. Mike Rounds; Rep. Roger Williams.
Varney & Co., 9 a.m. ET: Kayleigh McEnany, RNC spokesperson; La. Sen. John Kennedy; Rep. Sean Duffy; David Mele, president of Homes.com; Rep. Lee Zeldin; Rep. Tom Reed.
Cavuto: Coast to Coast, Noon ET: Gene Munster, tech analyst; Nick Johnston, Axios editor-in-chief.
The Intelligence Report, 2 p.m. ET: Mike Huckabee; Rep. Thomas Garrett; Scott Martin, chief investment officer of Kingsview Asset Management.
Countdown to the Closing Bell, 3 p.m. ET: John Frisbie, U.S.-China Business Council president; Susan DeVore, Premier CEO.
On FOX News Radio:
The FOX News Rundown podcast: At Monday's Helsinki summit presser, Vladimir Putin said Russia would gladly let Robert Mueller and his investigators interview the 12 Russians indicted for election meddling in exchange for Bill Browder, an American businessman and Putin critic who was expelled from the country because, he says, he exposed government corruption. The "FOX News Rundown" speaks with Bill Browder. Japan bombed Pearl Harbor, but did you know that Germany attacked Cape Cod? Jake Klim, author of "Attack on Orleans: The World War I Submarine Raid on Cape Cod" and a Massachusetts resident, gives insight. Plus, commentary by Karol Markowicz, columnist for FOXNews.com and the New York Post.
Want the FOX News Rundown sent straight to your mobile device? Subscribe through Apple Podcasts, Google Play, and Stitcher.
The Brian Kilmeade Show, 9 a.m. ET: Gen. Jack Keane takes on President Trump, Putin and the intelligence community; Andrew McCarthy on the latest in the Robert Mueller Russia investigation; Tucker Carlson looks back on his interview with Trump; former White House press secretary Ari Fleischer on Trump's communication hits and misses; Karl Rove sounds off on the leading political headlines of the day.
#OnThisDay
1993: President Bill Clinton announces a policy allowing homosexuals to serve in the military under a compromise dubbed "Don't ask, don't tell, don't pursue."
1980: The Moscow Summer Olympics begin, minus dozens of nations boycotting the games because of Soviet military intervention in Afghanistan.
1969: Apollo 11 and its astronauts, Neil Armstrong, Edwin "Buzz" Aldrin and Michael Collins, go into orbit around the moon.
FOX News First is compiled by Fox News' Bryan Robinson. Thank you for joining us! Enjoy your day! We'll see you in your inbox first thing Friday morning.