FOX NEWS FIRST: SC governor hopes for 'Trump bump' in primary runoff; Democrats fear Leftist harass backlash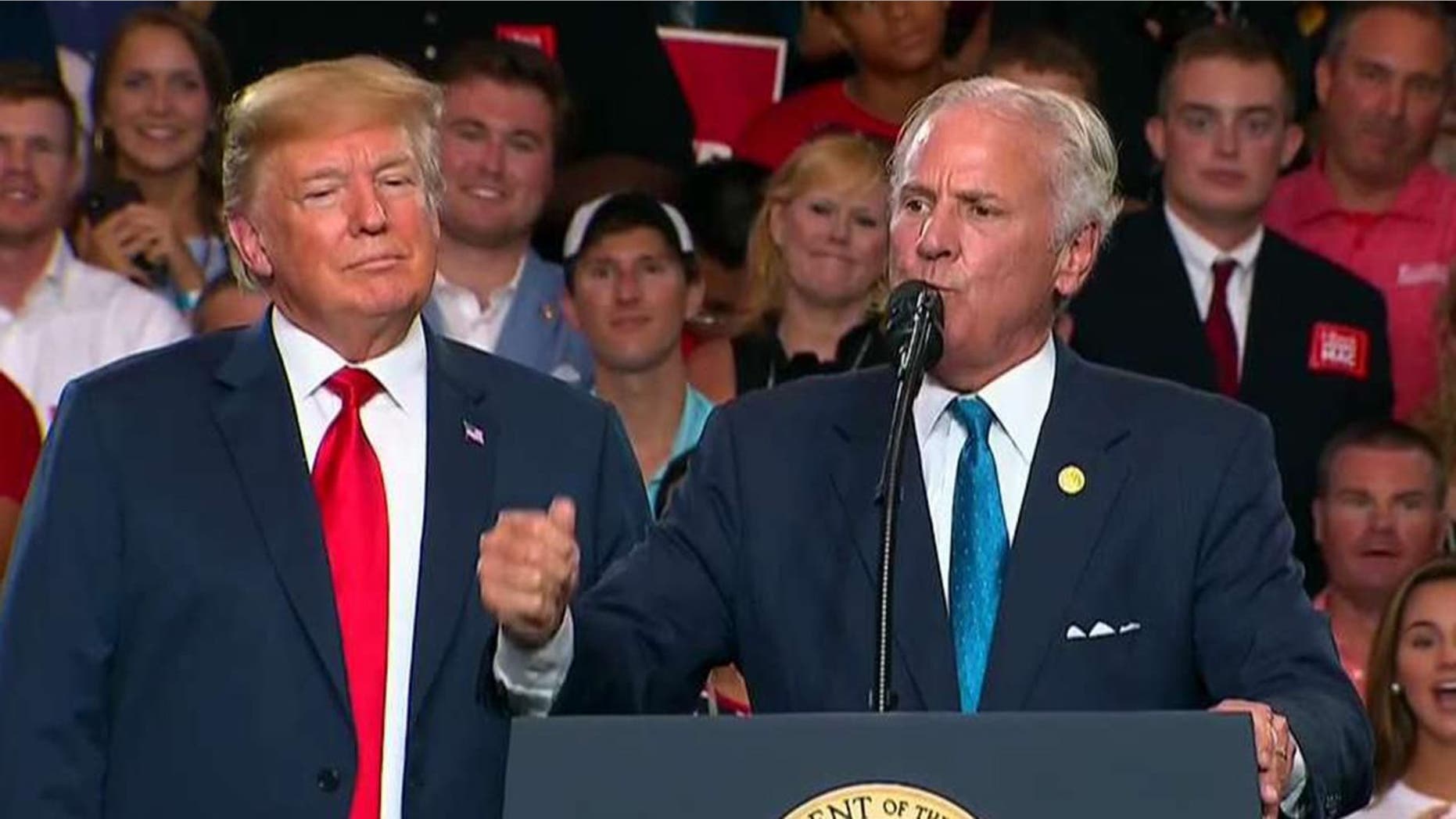 Welcome to FOX News First. Not signed up yet? Click here.
Developing now, Tuesday, June 26, 2018
The South Carolina GOP gubernatorial runoff will be the focus as voters will decide primary contests in seven states Tuesday
Democrats reportedly worry that calls to publicly shame Trump administration officials will hurt them at the polls and possibly the November midterm elections
The Justice Department refused House Intelligence Committee Chairman Devin Nunes's request for more information about the FBI's use of alleged informants in 'spygate'
The Trump administration has temporarily scaled back a key element of its 'zero tolerance' immigration policy amid backlash over the separation of children from their illegal immigrant families
FOX News has learned the identity of the Congressional intern who cursed at President Trump on Capitol Hill last week  - and that the intern will not be fired
THE LEAD STORY - ALL EYES ON THE PALMETTO STATE: President Trump is not on the ballot, but he has invested time, energy and political capital in a slate of primary contests across America that will again test his clout within his own party. Voters will have their say in seven states Tuesday, but the contest that matters most to Trump is South Carolina, where he appeared at a rally Monday to help Gov. Henry McMaster hours before polls opened ... The Republican governor, one of Trump's first high-profile supporters, is fighting for his political life against self-made millionaire John Warren in a runoff election ... The South Carolina gubernatorial race headlined the latest in a series of primary contests that stretched across New York, Utah, Colorado, Oklahoma, Maryland and Mississippi on Tuesday. With the November general election nearly four months away, more than half of all states will have selected their general-election candidates after Tuesday's votes are counted.
'AUNTIE MAXINE' BACKFIRING ON DEMS? - Some Democrats are reportedly concerned that public appeals to "absolutely harass" Trump administration officials will come back to hurt them in the polls and benefit Republicans ... There have been several recent instances where Trump officials have been publicly shamed, including Homeland Security Secretary Kirstjen Nielsen at a Mexican restaurant and White House Press Secretary Sarah Sanders, who was asked to leave by an owner of a restaurant in Virginia. The Washington Post's editorial board wrote a column titled, "Let the Trump team eat in peace." The paper identified the heightened state of "passions" in the country, but saw no benefit in protesters interrupting dinners.
Democrats warned that these public encounters could win sympathy for the Trump administration, The Los Angeles Times reported. Rep. Maxine Waters, in the meantime, is not backing down from her weekend comments calling for people to confront members of the Trump administration at gas stations and anywhere else they're seen in public.
FBI CLAIMS CONFIDENTIALITY: The Justice Department on Monday declined to answer requests by House Intelligence Committee Chairman Devin Nunes, R-Calif., for more information about the reported use of FBI informants while investigating President Trump's 2016 campaign ... Nunes had given Deputy Attorney General Rod Rosenstein until 5 p.m. ET to say whether the FBI had used "informants against members or associates of the Trump campaign and if so, how many informants were used and how much money was spent on their activities?" In his response to Nunes, Assistant Attorney General Stephen Boyd said: "Many of your requests relate to documents and information regarding issues surrounding confidential human sources that are solely in the custody and control of the FBI."
SLIGHT, TEMPORARY SHIFT IN 'ZERO-TOLERANCE': The Trump administration has temporarily halted the practice of turning over parents to prosecutors for charges of illegally entering the country, scaling back a key part of its "zero-tolerance" immigration policy amid the controversy over separating children from their illegal immigrant families at the border ... Customs and Border Protection Commissioner Kevin McAleenan said Monday that President Trump's executive order last week to stop splitting immigrant families at the border required a temporary halt to prosecuting parents and guardians, unless they had criminal history or the child's welfare was in question. He insisted the White House's zero tolerance policy toward illegal entry remained intact.
White House press secretary Sarah Sanders acknowledged the policy shift, but attributed it to the government resources being stretched thin. "We're not changing the policy. We're simply out of resources," she said.
F-BOMBER REVEALED: The Congressional intern who hollered "Mr. President, f--- you!" across the Capitol Rotunda last week during a presidential visit has been identified ... Sources tell Fox News the woman in question is 21-year-old Caitlin Marriott, who is interning in the office of Sen. Maggie Hassan, D-N.H. Fox News is told Marriott has not been terminated and will continue to work there through August. FOX News learned she received a week-long suspension and will be confined to her duties in Hassan's office.
AS SEEN ON FOX NEWS
THE LEFT'S TRUMP NIGHTMARE: "Donald Trump was never supposed to be elected by you, the people. He is a threat to everything that is wrong about them. His success is the Left's worst nightmare" – Sean Hannity, in his opening monologue on "Hannity," explaining why some of President Trump's opponents have become "utterly psychotic and unhinged." WATCH
SUBPOENA POWER: "They can ask for it until the cows come home. They're not going to get it." – Judge Andrew Napolitano, on "Outnumbered Overtime," pointing out that unless the House Intelligence Committee subpoenas the FBI and Department of Justice, it's unlikely it will see the documents about the FBI's use of an alleged informant within President Trump's 2016 campaign. WATCH
TRENDING
EXCLUSIVE: NY state suspends license of lawyer for ex-sailor suing Comey, Obama.
CNN's Acosta shamed at Trump rally as crowd chants, 'Go home, Jim.'
Harley-Davidson to take big hit from EU tariffs
NASA's new picture of Jupiter is stunning and 'turbulent' at the same time, like a Van Gogh painting.
THE SWAMP
Trump questions if Mark Warner was 'near drunken state' when joked about revealing secrets of Russia probe.
Burned and decapitated animal left on Homeland Security staffer's porch, report says.
Trump trade war with China puts 300,000 soybean farmers, $14 billion export industry in limbo.
Supreme Court sides with Texas in redistricting map dispute.
ACROSS THE NATION
California's 'call girl killer' indicted for second man's death: report.
New York Times bombshell on own reporter reveals Ali Watkins dated second potential source.
Former president George H.W. Bush welcomes service dog named Sully, shows off Bill Clinton socks.
Vietnam veteran, New York state deputy arrest man accused of stealing dog tags from war memorial.
MINDING YOUR BUSINESS
Netflix suffers worst stock plunge in two years.
Dow tumbles 328 points as U.S.-China tariff spat heats up again.
General Electric to officially exit Dow Jones Industrial Average Tuesday.
Final Toys R Us stores to close by Friday.
U.S. will crack down on all countries trying to steal its technology.
Lockheed Martin secures $1.2B contract to sell new F-16 fighter jets.
FOX NEWS OPINION
Frank Miniter: 10 years after Heller decision, gun rights continue trend toward more freedom, not more gun control.
Harry J. Kazianis: Here's how Trump finds out if North Korea is serious about giving up its nukes.
Penny Young Nance: The staggering hypocrisy of all the Hillary defenders going after women of the Trump administration.
HOLLYWOOD SQUARED
Sara Gilbert says she's 'so excited' for the 'Roseanne' spinoff.
Heather Locklear rushed to hospital after 'overdose' call, report says.
Remembering 'Pawn Stars' staple Richard Harrison: Five fast facts about the 'Old Man.'
DID YOU HEAR ABOUT THIS?
A new supervolcano is brewing under Massachusetts, Vermont and New Hampshire.
Ancient Egypt burials show traces of cancer.
Iguana drama: Viral video shows dueling lizards in Starbucks parking lot.
STAY TUNED
On FOX News: 
FOX & Friends, 6 a.m. ET: Guests include: Rep. Jim Jordan; pollster Lee Carter; congressional candidate Antonio Sabato, Jr. and more.
The Story, 7 p.m. ET: Exclusive: Super Bowl-winning Philadelphia Eagles quarterback Nick Foles shares his rags-to-riches story with Martha MacCallum.
The Ingraham Angle, 10 p.m. ET: Special guest includes: Former Ark. Gov. Mike Huckabee.
On FOX Business:
Mornings with Maria, 6 a.m. ET: Guests include: Steve Forbes, Forbes Media chairman; Gen. Jack Keane, FOX News senior strategic analyst; Anthony Scaramucci, former White House communications director; Rep. Brian Babin; Patrick Byrne, Overstock.com CEO; Rep. Dave Brat.
Varney & Co., 9 a.m. ET: Anthony Pratt, Australia's wealthiest person; Lawrence Jones, editor-in-chief of CampusReform.org; Mark Janus, the plaintiff behind the closely-watched Supreme Court unions case; South Carolina Gov. Henry McMaster.
The Intelligence Report, 2 p.m. ET: John Lonski, Moody's chief economist; Antonio Sabato Jr., actor and congressional candidate.
Countdown to the Closing Bell, 3 p.m. ET: Derek Scissor, American Enterprise Institute resident scholar; Trevor Koverko, Polymath CEO; Hank Smith, Haverford Trust chief investment officer.
On FOX News Radio:
The FOX News Rundown podcast: The Department of Health and Human Services has released a plan to reunite immigrant children that have been separated from their families. FOX News' Bryan Llenas is at the U.S.-Mexico border and discusses what the HHS wants to do. Some members of the GOP have been ambushed by protesters angry with the Trump administration's policies. Democratic Rep. Maxine Waters told her supporters over the weekend the GOP is not welcome "anywhere." Florida Attorney General Pam Bondi, who was heckled at the movies and says this rhetoric is crossing the line, sounds off. Plus, a commentary by FOX News Radio talk host Tom Shillue.
Want the FOX News Rundown sent straight to your mobile device? Subscribe through Apple Podcasts, Google Play, and Stitcher.
The Brian Kilmeade Show, 9 a.m. ET: Allen West will give his take on Rep. Maxine Waters and the latest on North Korea and China; Bill Bennett on the immigration debate and Maxine Waters; Chris Stirewalt on anticipated U.S. Supreme Court rulings, Tuesday's primaries and the midterms; Ian Bremmer on China and North Korea; Bret Baier on the Supreme Court, immigration and Charles Krauthammer's legacy; "Impractical Jokers" star James Murray on his new book, "Awakened."
Benson & Harf, 6 p.m. ET: Rep. Steve Chabot, R-Ohio, joins Guy Benson and Marie Harf to talk about Trump's tariffs.
#OnThisDay
2013: In deciding its first cases on the issue, the U.S. Supreme Court gives the nation's legally married gay couples equal federal footing with all other married Americans and also clears the way for same-sex marriages to resume in California.
1993: President Bill Clinton announces the U.S. has launched missiles against Iraqi targets because of "compelling evidence" Iraq had plotted to assassinate former President George H.W. Bush.
1977: Elvis Presley performs his last concert at Market Square Arena in Indianapolis.
Fox News First is compiled by Fox News' Bryan Robinson. Thank you for joining us! Enjoy your day! We'll see you in your inbox first thing Wednesday morning.