FOX NEWS FIRST: Political theater mars Kavanaugh hearing; Facebook, Twitter executives expected on the hot seat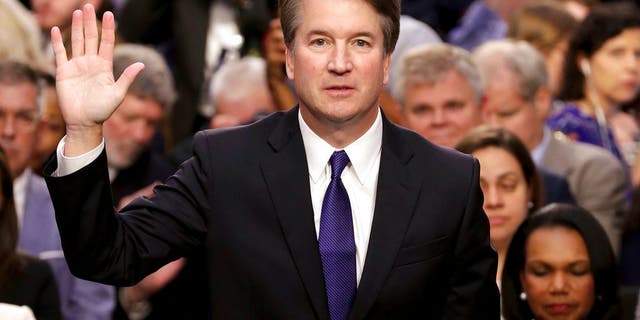 NEWYou can now listen to Fox News articles!
Welcome to FOX News First. Not signed up yet? Click here.
Developing now, Wednesday, September 5, 2018
Another contentious day is expected on Capitol Hill Wednesday as the confirmation hearings for President Trump's Supreme Court pick Brett Kavanaugh enters its second day. Tuesday's hearing was marked by political theater from Democrats, outbursts and protests as Kavanaugh vowed to be impartial and open-minded on the high court
Ayanna Pressley, a Democrat backed by political upstart and self-proclaimed Socialist Alexandria Ocasio-Cortez, upset 10-term U.S. Rep. Michael Capuano in Massachusetts' Democratic primary Tuesday
Facebook and Twitter executives are expected to be on the hot seat in two congressional hearings Wednesday as lawmakers grill them about alleged political bias on their social media platforms and efforts to prevent foreign parties from meddling in the November midterms
Tropical Storm Gordon made landfall late Tuesday near the Alabama-Mississippi border, leaving thousands without power
President Trump questioned whether famed reporter Bob Woodward is a 'Dem operative' as he refuted allegations in his upcoming new book about the Trump White House
Special counsel Robert Mueller is reportedly willing to accept some written answers from President Trump in his Russia investigation   
THE LEAD STORY - POLITICAL THEATER OF THE ABSURD: Judge Brett Kavanaugh on Tuesday vowed to be a "a neutral and impartial arbiter" if confirmed to the Supreme Court, after a chaotic first day of hearings on Capitol Hill amid political theatrics and protests from Democrats ... "If confirmed to the Supreme Court, I will keep an open mind in every case," Kavanaugh said. "I will do equal right to the poor and to the rich. I will always strive to preserve the Constitution of the United States and the American rule of law." Kavanaugh's confirmation hearings are set to continue through the week. Testimony is scheduled to resume Wednesday at 9:15 a.m. ET.
Democrats, in their opening remarks Tuesday, sounded the alarm about Kavanaugh's past work in Republican politics, including as a lawyer in George W. Bush's White House. Protests from Democratic lawmakers and demonstrators delayed the formal start of proceedings by more than an hour. Within moments of Tuesday's confirmation hearing kickoff, top Democrats tried to sideline the session with a rapid-fire string of objections concerning access to the nominee's records.
The spectacle underscored the political nature of the confirmation hearings, coming two months before the midterms and as some senators gear up for a possible 2020 presidential run against President Trump. Several of those senators led the charge Tuesday in objecting to Kavanaugh.
THE CHANGING FACE OF THE DEMOCRATIC PARTY: Boston city councilor Ayanna Pressley unseated 10-term U.S. Rep. Michael Capuano in a Democratic primary Tuesday in the latest shakeup of the House Democratic caucus by a far-left challenger ... Capuano conceded defeat to Pressley in the race to represent Massachusetts' 7th District approximately 30 minutes before the Associated Press formally called the race. With 69 percent of precincts reporting late Tuesday, Pressley had the lead by 10,682 votes. Pressley, who is running unopposed in November, is set to become the first African-American woman elected to Congress from the Commonwealth.
Capuano is the fourth House member to lose a primary this year, along with Reps. Robert Pittenger, R-N.C.; Mark Sanford, R-S.C., and fellow 10-term Rep. Joe Crowley, D-N.Y.
BIG TECH UNDER THE MICROSCOPE: Facebook and Twitter executives will try to convince lawmakers in two hearings Wednesday that their popular social media platforms are not politically biased and that they are doing everything possible to combat foreign bad actors who want to disrupt the upcoming midterm elections in November ... The day of hearings will start in the Senate, where the Intelligence Committee will question Sheryl Sandberg, the chief operating officer of Facebook, and Jack Dorsey, the chief executive of Twitter at a session focusing on foreign governments that spread misinformation on social media.
In the afternoon, House Energy and Commerce Committee will host only Dorsey in a hearing focused on bias and Twitter's algorithms. President Trump and conservatives have argued that Twitter is "shadow banning" some Republicans because of the ways search results have appeared, a charge officials have denied.
Google will not be present at Wednesday's hearings. Google CEO Sundar Pichai declined the invitation to testify, drawing criticism from lawmakers. Larry Page, the CEO of Google's parent company, Alphabet, was invited, but the company said it would send a lower-ranking executive instead. The committee rejected that offer.
GORDON UNLEASHED: Tropical Storm Gordon made landfall west of the Alabama-Mississippi border late Tuesday night, unleashing powerful winds that has already claimed one life in Florida, FOX 10 reported, citing officials … Emergency responders in Florida's Escambia County received a call around 8:40 p.m. of a downed tree that slammed into a mobile home in Pensacola. EMS crews confirmed one pediatric fatality. No others were injured.
The Escambia County Sheriff's Office was investigating. Gordon was expected to lose strength as it made its way inland across the lower Mississippi Valley through Wednesday, the National Hurricane Center (NHC) said.
'A CON ON THE PUBLIC': President Trump on Tuesday asked whether Bob Woodward could be "a Dem operative" after an early copy of the veteran reporter's soon-to-be-released book portrayed a chaotic White House plagued by infighting and bad-mouthing against the president ... Labeling details of the book "a con on the public" with "made up" quotes, the president also seemingly questioned the "timing" of the book reveal. "The," Trump tweeted. "Their quotes were made up frauds, a con on the public. Likewise other stories and quotes. Woodward is a Dem operative? Notice timing?"
An early copy of The Washington Post associate editor's book was obtained by The Washington Post. According to the Post, it portrays a Trump White House that's filled with second-guessing by members of Trump's staff, who repeatedly bad-mouth him behind closed doors.
LEGAL DANCE BETWEEN MUELLER AND TEAM TRUMP: Special Counsel Robert Mueller has agreed to accept some written responses from President Trump in his Russia investigation, the New York Times reports, and the president's legal team says it is still deciding whether to "accept the proposition" ... "I will tell you this," Trump attorney Jay Sekulow told FOX News' Sean Hannity. "I'm not concerned about the President of the United States responding, if we decide to accept the proposition of responding to written questions, responding to questions about Russia and interference with the election."
Sekulow said Trump's lawyers and Mueller's team have "an ongoing dialogue." He said that he's not going to "discuss the contents of what has been agreed to or not agreed to." Mueller did not say he would be giving up on an interview altogether, including on questions of obstruction of justice, according to the Times. Mueller also reportedly did not ask for written responses on the obstruction investigation.
AS SEEN ON FOX NEWS
'LAME' POLITICIANS ON DISPLAY: "I do think that the left started this fight, but I think both of these parties are really, really, lame in teaching basic civics to our kids right now." – Sen. Ben Sasse, on "Special Report," saying that Supreme Court nominee Brett Kavanaugh's confirmation hearing showed that both Republicans and Democrats are doing a poor job teaching civics to American children. WATCH
LOOK IN THE MIRROR, CHUCK: "So, let me get this straight. While NBC is embroiled in multiple scandals, including completely blowing it on the Weinstein sexual assault story, Chuck Todd is telling FOX and others how to handle its business? Nice try." – Laura Ingraham, on "The Ingraham Angle," blasting NBC News' Chuck Todd for targeting FOX News and conservatives in a recent article in The Atlantic. WATCH
IN THE SPOTLIGHT: THE NIKE-COLIN KAEPERNICK CONTROVERSY
Nike billboard featuring Kaepernick hovers over San Francisco.
As NFL offers measured response to Nike's Kaepernick ad, other reactions range from support to outrage.
Britt McHenry: Colin Kaepernick doesn't have a clue about what 'sacrificing everything' really means.
Nike shares fall after Kaepernick ads revealed.
'He's sacrificed nothing': 'The Five' slams Nike's Kaepernick deal.
Todd Starnes: Colin Kaepernick is only qualified to endorse knee pads.
Nike's Kaepernick campaign puts NFL apparel deal in spotlight.
TRENDING
Social media users falsely accuse ex-Trump official of making 'white power' gesture at Kavanaugh hearing.
$400G in GoFundMe cash for homeless vet is gone, lawyer claims.
North Carolina Chick-fil-A workers, diners pray for staffer battling cancer in viral video.
THE SWAMP
Jon Kyl to replace John McCain: Three things to know about the former Arizona senator
Haley: Trump's Israeli-Palestinian 'deal of the century' can happen if Abbas comes to the table.
Schumer tells raucous crowd 'the sooner the better' on Trump impeachment, later claims he misheard the question.
Chicago Mayor Rahm Emanuel announces he will not seek re-election.
ACROSS THE NATION
Cities can't prosecute homeless for sleeping on streets: federal court rules.
LAPD releases new video of Trader Joe's shootout.
F-22 refines dogfighting and air-to-air combat tactics.
MINDING YOUR BUSINESS
Canada, U.S. to resume trade talks.
Stocks lower as traders cautious over trade.
Blood-testing firm Theranos to dissolve.
Could Coca-Cola buy Dunkin Brands?
One-third of employees would take 20 percent pay cut to work this many days per week.
FOX NEWS OPINION
John Yoo: Kavanaugh shows why he'd be a great Supreme Court justice --too bad Dems are all about demonization
Jim Daly: Kavanaugh's daughters should not have to watch their dad being bullied -- When is all of this going to stop?
William McGurn: Is this candidate the GOP's Ocasio-Cortez
HOLLYWOOD SQUARED
Kim Kardashian reportedly working to free another convicted felon.
LA prosecutor declines to file sexual assault charges against Kevin Spacey, Anthony Anderson and Steven Seagal.
Asia Argento reportedly won't pay sexual assault accuser the rest of $380G.
DID YOU HEAR ABOUT THIS?
Russia: Hole in space station was likely act of sabotage.
Florida men pull in massive 750-pound alligator: 'More scared than we were happy.
Sea lion who spent 4-day adventure inland finally rescued.
STAY TUNED
On Facebook:
Check out 'FOX News Update,' our new Facebook-exclusive news program!
On FOX News:
FOX & Friends, 6 a.m. ET: Sen. John Cornyn on the Kavanaugh hearings. Rep. Jim Jordan on the need for border security in the spending package. California wants ICE to stop arresting illegal immigrants in courtrooms; former ICE acting director Tom Homan reacts. Steve Hilton talks Republicans vs. Silicon Valley. Plus, special guests White House press secretary Sarah Sanders and FOX News contributor Andrew McCarthy.
FOX News Live Coverage: The Kavanaugh Hearings, starting at 9:15 a.m. ET - Stay with FOX News for complete coverage and in-depth analysis.
Special Report, 6 p.m. ET: Don't miss an exclusive interview with Senate Majority Leader Mitch McConnell.
FOX News @ Night, 11 p.m. ET: Sen. Orrin Hatch and Mike Lee.
On FOX Business:
Mornings with Maria, 6 a.m. ET: Special guests include: Hank Greenberg, former AIG chairman and CEO; Rep. Greg Walden; Sam Zell, founder and chairman of Equity International; Roger Kay, Endpoint Technologies Associates founder.
Varney & Co., 9 a.m. ET: Rep. Adam Kinzinger; David Stockman, former budget director for President Reagan; Curtis Ellis, former Trump campaign trade and jobs adviser.
Cavuto: Coast to Coast, Noon ET: Rep. Earl L. "Buddy" Carter; Ed Whelan, former law clerk to Justice Scalia.
Countdown to the Closing Bell, 3 p.m. ET: Tom Vilsack, U.S. Dairy Export Council CEO, former Agriculture Secretary.
On FOX News Radio:
The FOX News Rundown podcast: Arizona Gov. Doug Ducey appointed former Sen. Jon Kyl to fill the vacant seat left after the death of Sen. John McCain. FOX News chief congressional correspondent Mike Emanuel discusses what the appointment may mean in the long run. Russian planes have reportedly bombed rebel-held targets in the Syrian province of Idlib. This follows President Trump's tweet warning Syria and its allies, Russia and Iran, against attacking the Syrian province. FOX News Radio's international reporter, Simon Owen, gives the latest update. Plus, commentary by Harry Kazianis, director of Defense Studies at the Center for the National Interest.
Want the FOX News Rundown sent straight to your mobile device? Subscribe through Apple Podcasts, Google Play, and Stitcher.
The Brian Kilmeade Show, 9 a.m. ET: The hot topics of the day will be the Kavanaugh confirmation hearings, Bob Woodward's new book and the Nike-Colin Kaepernick controversy with special guests: New York Post columnist Michael Goodwin, Carrie Severino, Gina Loudon, Shannon Bream and Steve Hilton.
The Tom Shillue Show, 3 p.m. ET: Author and media personality Dr. Gina Loudon joins Tom Shillue to discuss her new book, "Mad Politics: Keeping Your Sanity in a World Gone Crazy."
#OnThisDay
2005: President George W. Bush nominates John Roberts to succeed the late William Rehnquist as chief justice of the United States.
1975: President Gerald R. Ford escapes an attempt on his life by Lynette "Squeaky" Fromme, a disciple of Charles Manson, in Sacramento, Calif.
1972: The Palestinian group Black September attacks the Israeli Olympic delegation at the Munich Games; 11 Israelis, five guerrillas and a police officer are killed in the resulting siege.
FOX News First is compiled by FOX News' Bryan Robinson. Thank you for joining us! Enjoy your day! We'll see you in your inbox first thing Thursday morning.