FOX NEWS FIRST: Kavanaugh's accuser faces a deadline; Pompeo wants Kerry to 'get off the stage'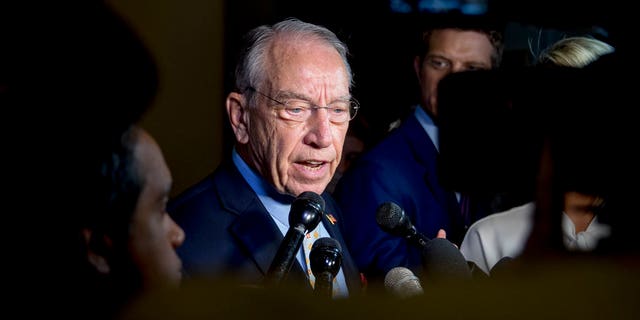 Welcome to FOX News First. Not signed up yet? Click here.
Developing now, Thursday, Sept. 20, 2018
Supreme Court nominee Brett Kavanaugh's accuser has until Friday morning to say if she'll testify next Monday, Senate Judiciary Committee Chairman Chuck Grassley says
Grassley blasts Sen. Dianne Feinstein and other Democrats for their handling of the sexual assault allegations against Kavanaugh and alleged attempts to 'delay and obstruct' his confirmation
In an exclusive interview with FOX News' Laura Ingraham, Secretary of State Mike Pompeo slams John Kerry and other former Obama administration officials for attempting to undermine President Trump's agenda
Attorney General Jeff Sessions' job once again appears to be in jeopardy after President Trump rips him in an interview published Wednesday
For the second time in less than a year, the federal government reportedly has acknowledged losing track of nearly 1,500 migrant children placed in foster care nationwide
THE LEAD STORY - CLOCK TICKING FOR KAVANAUGH'S ACCUSER - Senate Judiciary Committee Chairman Chuck Grassley has warned the woman accusing Supreme Court nominee Brett Kavanaugh of sexual assault that time is beginning to run out if she wants to explain her allegations on Capitol Hill next Monday ... Grassley wrote to Christine Blasey Ford's attorneys Wednesday that the panel was giving her until 10 a.m. ET Friday to submit a biography and prepared statement "if she intends to testify" Monday. However, Ford's attorney said late Wednesday that she would not testify. It remained unclear, though, whether Ford would attend or if the hearing would occur without her. (Grassley has said Monday's hearing would remain on the calendar despite Democrats' objections.)
Ford has demanded that the FBI conduct a full investigation of her decades-old allegations against Kavanaugh before she agrees to testify before Congress. Grassley has offered Ford an opportunity to talk in private about her allegations. Kavanaugh has denied the charges and is said to be ready to refute Ford's story in next Monday's scheduled public hearing.
'OBSTRUCT AND DELAY' TACTICS BACKFIRING ON DEMS? - Senate Judiciary Committee Chairman Chuck Grassley on Wednesday unloaded a torrent of criticism on ranking Democratic Sen. Dianne Feinstein for her handling of the sexual assault accusations against Supreme Court nominee Brett Kavanaugh and blasted Democrats for their "abuse of this confirmation process" through "delay and obstruction" ... Saying Feinstein "chose to sit on the allegations until a politically opportune moment," Grassley demanded she immediately turn over an unredacted copy of the letter from Christine Blasey Ford that Feinstein received July 30. Feinstein, D-Calif., shared the letter with federal authorities and other senators only last week, days before a key Judiciary Committee vote on Kavanaugh's confirmation, after a leak about the letter was published in the Intercept. Republicans have accused Democrats of orchestrating that leak. Grassley has had access only to a redacted copy of the letter.
JOHN KERRY 'CAN'T GET OFF THE STAGE': Secretary of State Mike Pompeo, in an exclusive interview with FOX News' Laura Ingraham, ripped his predecessor John Kerry and other former members of the Obama administration for allegedly trying to undermine President Trump's foreign policy agenda ... "Secretary Kerry can't seem to get off the stage," Pompeo said on "The Ingraham Angle" on Wednesday. "It's one thing to meet with your counterpart, it's another thing to do what Secretary Kerry, Wendy Sherman, Ernest Moniz, frankly the whole gang has done, which is to actively seek to undermine what President Trump is trying to achieve." Pompeo said Kerry, Moniz and others are "acting in ways that are harmful to achieving what's best for the American people." When asked whether he supports calls for the Justice Department to investigate whether Kerry violated federal law by meeting with Iranian officials, Pompeo said, "I'll leave the legal action to others. I'm trying to execute America's foreign policy."
SESSIONS' DAYS NUMBERED?: President Trump again stirred speculation about Attorney General Jeff Sessions' future with a new public attack Wednesday ... In an interview with Hill.TV, Trump tore into Sessions, saying "I don't have an attorney general." Trump said the beleaguered Sessions was absent and performing poorly in his role as the nation's top lawyer. Trump's relationship with Sessions has been strained since the former U.S. senator from Alabama recused himself from the Russia investigation in early 2017. While Sessions was the first senator to back Trump, and has been central in passing key planks of Trump's agenda -- particularly on border enforcement and law and order -- Trump has repeatedly slammed him publicly.
In the latest interview, Trump said his frustration extends beyond the Russia recusal. "I'm not happy at the border, I'm not happy with numerous things, not just this," he said. However, when asked about the Hill interview by reporters, Trump appeared to mildly walk back his comments. "I'm disappointed in the attorney general for numerous reasons but we have an attorney general -- I'm disappointed in the attorney general for many reasons and you understand that," he said.
'LOST' CHILDREN: Twice in less than a year, the federal government has lost track of nearly 1,500 migrant children after placing them in the homes of sponsors across the country, federal officials have acknowledged... The Health and Human Services Department, the Associated Press reported, recently told Senate staffers that case managers could not find 1,488 children after they made follow-up calls to check on their safety from April through June. That number represents about 13 percent of all unaccompanied children the administration moved out of shelters and foster homes during that time. The agency first disclosed that it had lost track of 1,475 children late last year, and it came under fire at a Senate hearing in April.
__________________________________________________________
Consider yourself an Influencer? Become a trusted adviser in our FOX News community and help guide our brand's future. Click here to find out how.
Members of FOX News Influencers:
Have the opportunity to be heard
Be part of a special network of peers
Get to influence new ideas and initiatives 
Receive updates on what we've learned and how your input has made impact 
Fill out our qualification survey and join us. Thank you for your continued support in our company's growth.
__________________________________________________________
AS SEEN ON FOX NEWS
HILLARY'S HYPOCRISY: "It's really unbelievable if [Hillary] said all women have a right to be heard ... Why not me, Kathleen [Willey] and Juanita [Broaddrick]?" – Paula Jones, who says Bill Clinton sexually harassed her when he was governor of Arkansas, on "Tucker Carlson Tonight," calling out Hillary Clinton for demanding due process for Supreme Court nominee Brett Kavanaugh's accuser. WATCH
TRENDING
U.S. can't deny passport over refusing to pick gender, judge says.
McDonald's customers who hung fake poster in restaurant for 51 days get $25G checks from fast-food chain.
GRAPHIC VIDEO: Driver plows into emus in attack described as 'sickening cruelty.'
THE SWAMP
Pelosi bid to regain House speaker role facing new threat from rebel Democrats.
Socialism rises in Democratic Party as primary season of upsets comes to close.
Oregon candidate Amanda La Bell bows out over false claims about university degree: reports.
ACROSS THE NATION
New Mexico observatory shut down amid FBI child porn investigation: documents.
Gun entrepreneur accused of sex with minor has left U.S., officials say.
$364M Ponzi scheme funded three men's luxury lifestyles, including $25M on casino gambling, feds say.
MINDING YOUR BUSINESS
Stock futures point to cautious gains following Wednesday's rally.
U.S., Canada trade talks to continue Thursday.
Alibaba's Jack Ma takes back promise to Trump to create 1 million U.S. jobs.
Mark Cuban to donate $10M after Mavericks sexual harassment investigation.
Olympian Michael Phelps is ready for his second career.
Why 'inflated' stock prices, bank deregulation could signal economic trouble ahead.
After Sears sale, Craftsman to launch new tools through Amazon, Lowe's.
FOX NEWS OPINION
Bryan Dean Wright: When will Democrats wake up and resist the socialists' scheme to take over their party?
Judge Andrew Napolitano: Why Paul Manafort is Trump's beast in the night.
Newt Gingrich: If Republicans want to defeat Democrats in 2018, they must do this.
HOLLYWOOD SQUARED
Chevy Chase slams 'Saturday Night Live': 'Worst f------ humor in the world.'
Surgeon who appeared on Bravo, accused of drugging, raping women, sees new accusers step forward.
Allman Brothers Band's Dickey Betts to undergo brain surgery following 'freak accident.'
DID YOU HEAR ABOUT THIS?
Giant spider web stretches 1,000 feet across lagoon.
Georgia angler reels in rare Kemp's ridley sea turtle.
Florida architect constructing home from shipping containers: report.
STAY TUNED
FOX Nation is coming! - Sign up now and find out about its exciting launch!
On Facebook:
Check out 'FOX News Update,' our new Facebook-exclusive news program!
On FOX News:
FOX & Friends, 6 a.m. ET: Meet the GOP Texas state senator who won a special election in district Hillary Clinton won by 12 points. Plus, special guests include: Sen. Marco Rubio, R-Fla; Sen. David Perdue, R-Ga; Michelle Malkin; Judge Andrew Napolitano.
Your World with Neil Cavuto, 4 p.m. ET: Special guests include: former White House press secretary Sean Spicer.
Special Report, 6 p.m. ET: Special guest: Rep. Trey Gowdy, R-S.C.
The Story with Martha MacCallum, 7 p.m. ET: An exclusive interview with U.S. Ambassador to the U.N. Nikki Haley.
Hannity, 9 p.m. ET: Sean Hannity will be live and on the scene in Las Vegas with an exclusive interview with President Trump before his scheduled rally. Special guests: Gregg Jarrett, Judge Jeanine Pirro and investigative reporter and FOX News contributor Sara Carter.
On FOX Business:
Mornings with Maria, 6 a.m. ET: Special guests include: Alex Azar, Health and Human Services secretary; Thomas Flohr, Vista Global chairman and founder; Herman Cain, chairman of America Fighting Back; Joe Moreno, former federal prosecutor.
Varney & Co., 9 a.m. ET: James Carafano, national security and foreign policy analyst; Dana Outlaw, mayor of New Bern, N.C.; Jason Whitlock, FOX Sports 1 "Speak For Yourself" host.
Cavuto: Coast to Coast, Noon ET: Rich Karlgaard, Forbes publisher.
The Intelligence Report, 2 p.m. ET: Scott Bolden, former D.C. Democratic Party chairman.
Countdown to the Closing Bell, 3 p.m. ET: Erin Ennis, U.S.-China Business Council senior vice president.
On FOX News Radio:
The FOX News Rundown podcast: Sen. Ted Cruz, R-Texas, is in a tight race to keep his Senate seat against his Democratic opponent, Rep. Beto O'Rourke. Jonathan Tilove, chief political writer for Austin American Statesman, discusses the close race. Florence may be another example of people relying too heavily on hurricane categorization when deciding if and when to evacuate. FOX Business Channel's Kristina Partsinevelos describes the devastation she saw in South Carolina and Bill Lapenta, director of NOAA's National Centers for Environmental Prediction, explains the potential pitfalls of hurricane categorization. Plus, commentary by FOX News contributor Jessica Tarlov.
Want the FOX News Rundown sent straight to your mobile device? Subscribe through Apple Podcasts, Google Play, and Stitcher.
The Brian Kilmeade Show, 9 a.m. ET: Guest host will be Mary Walter as FOX News White House correspondent Kevin Corke and Steve Doocy sound off on the latest developments in Brett Kavanaugh Supreme Court confirmation saga.
The Tom Shillue Show, 3 p.m. ET: Author and commentator Gina Loudon joins Tom Shillue to discuss her new book, "Mad Politics: Keeping Your Sanity in a World Gone Crazy" and the latest news of the day!
#OnThisDay
2017: Hurricane Maria, the strongest hurricane to hit Puerto Rico in more than 80 years, strikes the island, wiping out as much as 75 percent of the power distribution lines and causing an island-wide blackout.
2000: Independent Counsel Robert Ray announces the end of the Whitewater investigation, saying there is insufficient evidence to warrant charges against President Bill Clinton and first lady Hillary Clinton.
1973: In their so-called "Battle of the Sexes," tennis legend Billie Jean King defeats Bobby Riggs in straight sets, 6-4, 6-3, 6-3, at the Houston Astrodome.
FOX News First is compiled by FOX News' Bryan Robinson. Thank you for joining us! Enjoy your day! We'll see you in your inbox first thing Friday morning.