FOX NEWS FIRST: Historic tax reform nears reality as Senate approves bill; House has final vote today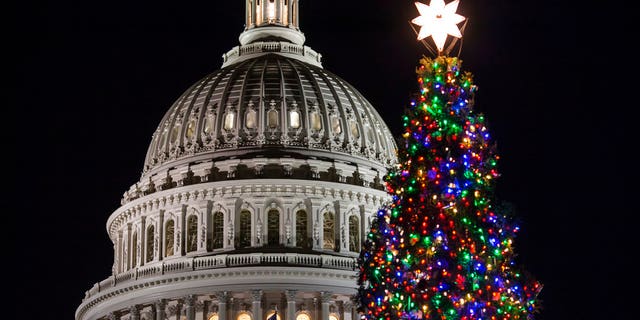 Welcome to Fox News First. Not signed up yet? Click here.
Developing now, Wednesday, Dec. 20, 2017:
The Senate approves historic tax reform package, sends bill back to House for final vote
FBI's Andrew McCabe grilled for eight hours on Capitol Hill about alleged bias in Clinton email and Russia investigations as lawmakers call for his firing
Amtrak train operator in Monday's deadly derailment says he was distracted; feds investigating
Southern California wildfire raging since Dec. 4 is now the second-largest in state history 
THE LEAD STORY: The U.S. Senate passed the most sweeping rewrite of the nation's tax laws in more than three decades early Wednesday, all but ensuring the bill will soon become law ... The vote also likely helped hand President Donald Trump and congressional Republicans a major year-end legislative triumph. The final vote, shortly before 1 a.m. ET, was 51-48, with no Democrats voting in favor of the bill and all Republicans supporting it. Only U.S. Sen. John McCain, R-Ariz., who had announced his support for the bill earlier this month, was not present for the vote as he is recovering from brain cancer treatment back home in Arizona. Before Trump can sign the tax overhaul into law, the House of Representatives must re-vote because of procedural flaws in the chamber's vote earlier Tuesday.
MARATHON QUESTIONING: FBI Deputy Director Andrew McCabe testified behind closed doors for nearly eight hours Tuesday on Capitol Hill about allegations of conflicts of interest and political bias in his agency ... At the center of firestorm are anti-Trump text messages exchanged between FBI officials Peter Strzok and Lisa Page, who worked on Special Counsel Robert Mueller's Russia probe. Strzok, who also worked on the Hillary Clinton email investigation, was dismissed from Mueller's team after a series of his scathing anti-Trump texts surfaced. But one particular text exchange that referred to an "Andy" and an "insurance policy" against a Trump presidency caused great concern among lawmakers and appeared to implicate McCabe. Rep. Trey Gowdy, R-S.C., a member of the House panel and other committee members were tight-lipped on the details of McCabe's testimony. But the committee's ranking member, Rep. Adam Schiff, D-Calif., said McCabe "has been a professional FBI agent" and that he does not understand "the calls of some to fire him."
DERAILED ATTENTION?: Federal investigators are looking into whether the Amtrak engineer operating a train which derailed and killed three people in Washington state Monday was distracted by an employee-in-training, an official told the Associated Press ... Investigators, according to the official, want to determine if the engineer lost "situational awareness" while operating the train during its inaugural ride because of the second person in the train car. The train was traveling at 80 mph in a 30 mph zone on a new rail line early Monday in DuPont when it derailed and fell over onto Interstate 5 below, the National Transportation Safety Board said late Monday.
HISTORY-MAKING FIRE: The monster wildfire burning in Southern California is now the second-largest blaze in the history of the state ... Officials estimate that the Thomas Fire, which was only 55 percent contained Tuesday night, will grow to become the biggest in California history before full containment, expected by Jan. 7. The fire began Dec. 4 and has killed at least two people, including a firefighter. It has destroyed at least 750 homes, burned about 425 square miles in Ventura and Santa Barbara counties, and continues to threaten 18,000 homes and other buildings. As of Tuesday, 432 people were still staying at evacuation shelters run by the Red Cross.
AS SEEN ON FOX NEWS
DESSERT, ANYONE?: ""The American people are going to be the ones to be the judge at the end of the day. The proof is in the pudding, and the pudding will be this upcoming year when we see the economy growing and more money in people's pockets." – Rep. Diane Black, R-Tenn., on "Outnumbered Overtime," making her case for the GOP tax reform bill. WATCH
FEDS' LOST CRED: "The bias is so palpable and so real. Nobody thinks they're going to get a fair investigation at any level." - Rep. Andy Biggs, R-Ariz., on "The Story with Martha MacCallum," sounding off on FBI Deputy Director Andrew McCabe's hours-long questioning on Capitol Hill. WATCH
ACROSS THE NATION
Bernard Law, former cardinal linked to Boston's church sex abuse scandal, dead at 86.
Democrat wins Virginia House seat in recount by single vote.
'Stunning' Tic Tac shaped UFO encounter by US Navy pilot? 'It was not from this world.'
MINDING YOUR BUSINESS
GOP tax reform: How you can come out a winner.
Bitcoin falls almost 20 percent from recent peak to one-week low.
'Grinch bots' ruining Christmas | Rise of the robots: There won't be enough work to go around, former Apple CEO says.
NEW IN FOX NEWS OPINION
Ingraham: How Trump can bolster his popularity in 2018.
John Stossel: The truth about the deadly isms.
Tax Bill gives Americans cash Christmas present they really want.
HOLLYWOOD SQUARED
Disney World slammed for 'horrible' animatronic Trump that 'looks like Jon Voight.'
Heather North, voice of Daphne on 'Scooby-Doo,' dies at 71
'Game of Thrones' star teases finale details.
DID YOU HEAR ABOUT THIS?
PHOTO: Abominable Snowman arrested in Oregon for drunk driving
Indiana hotel reportedly charges woman $350 for bad review.
Tennessee woman gives birth to baby who was frozen as embryo for 24 years.
STAY TUNED
On Fox News:
Fox & Friends, 6 a.m. ET: House Speaker Paul Ryan and Sen. Ted Cruz discuss the passage of tax reform; former NFL great Burgess Owens on Colin Kaepernick's reported interest in owner the Carolina Panthers.
The Story with Martha MacCallum, 7 p.m. ET: Bill Bennett takes on President Trump's tax reform victory.
Tucker Carlson Tonight, 8 p.m. ET: Navy pilot Cmdr. David Fravor discusses his encounter with an object "not from this world." Was it a UFO?
On Fox Business:
Fallout from the Senate's passage of the tax reform bill will be among the hot topics today on FBN. Get all the latest news and analysis from the guests below!
Mornings with Maria, 6 a.m. ET: Peter Roskam, chairman of the House Ways and Means Subcommittee on Tax Policy; Sen. John Kennedy, R-La.; and Linda McMahon, administrator of the Small Business Administration.
Varney & Co., 9 a.m. ET: Peter Smith, Blockchain CEO and co-founder; Corey Lewandowski, former Trump campaign manager; House Majority Whip Steve Scalise; Sen. Pat Toomey, R-Penn.; John Chen, BlackBerry CEO and Kayleigh McEnany, RNC spokeswoman.
Cavuto: Coast to Coast, Noon ET: Sen. Mike Rounds
On Fox News Radio:
The Fox News Rundown podcast: The tax reform bill is only one step away from heading to President Trump's desk. Chairman of the Tax Policy Subcommittee on Ways and Means, Congressman Peter Roskam explains how the final GOP tax bill will affect Americans.
A complaint filed with the Federal Election Commission claims that Hillary Clinton's campaign laundered money during the 2016 election. FoxNews.com's Perry Chiaramonte provides details.
Want the Fox News Rundown sent straight to your mobile device? Subscribe through Apple Podcasts, Google Play, and Stitcher.
#OnThisDay
1989: The United States launches Operation Just Cause, sending troops into Panama to topple the government of Gen. Manuel Noriega.
1812: Jacob and Wilhelm Grimm publish the first volume of the first edition of their collection of folk stories, "Children's and Household Tales."
1803: The Louisiana Purchase is completed as ownership of the territory is formally transferred from France to the United States.
Thank you for joining us on Fox News First! Enjoy your day, and we'll see you in your inbox first thing Thursday morning.