FOX NEWS FIRST: Giuliani says Trump reimbursed Cohen's 'expenses'; New hope for American hostages in N. Korea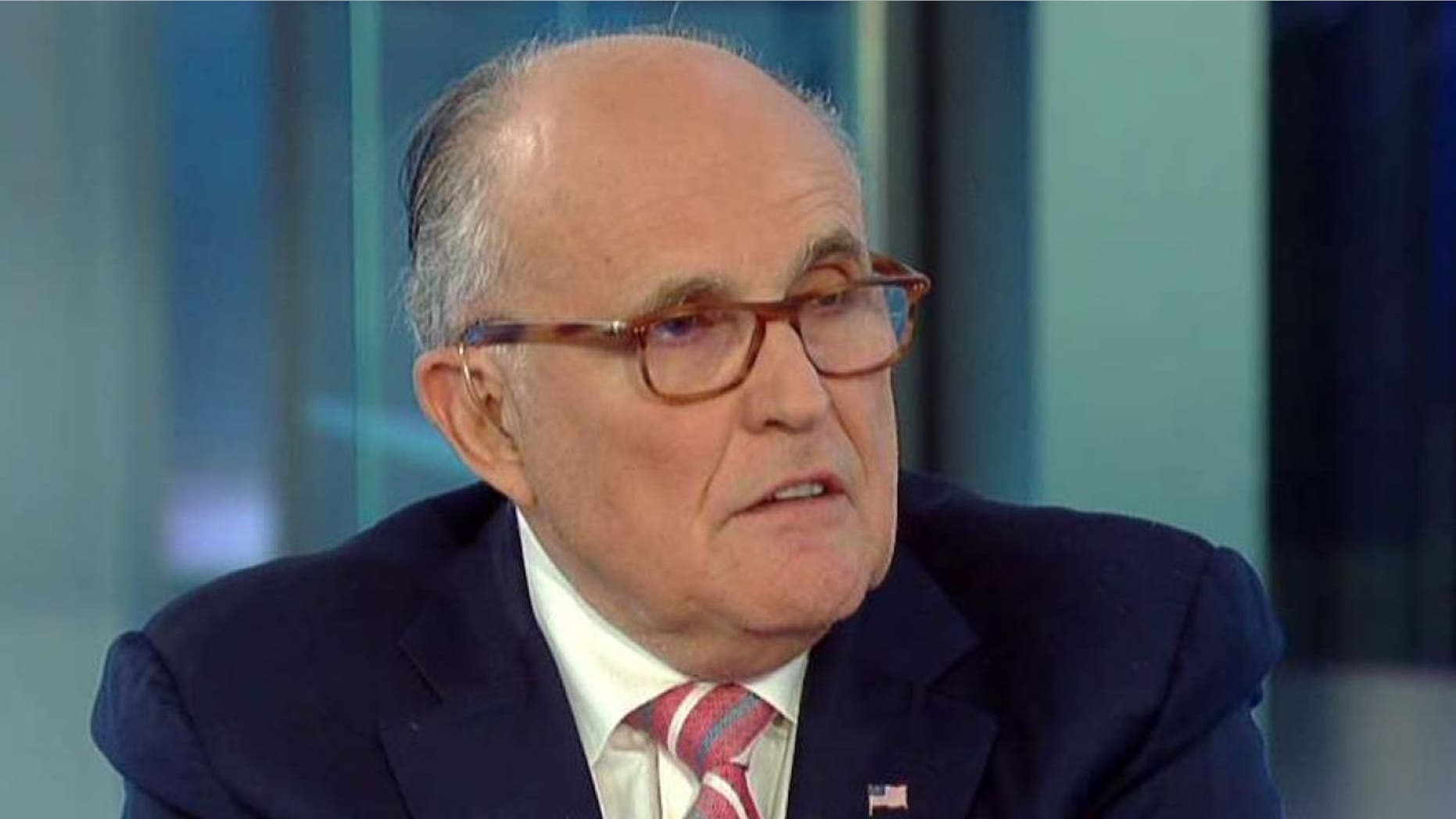 Welcome to Fox News First. Not signed up yet? Click here.
Developing now, Thursday, May 3, 2018
EXCLUSIVE: Rudy Giuliani tells Fox News that President Trump reimbursed his personal attorney, Michael Cohen, for $130,000 in 'expenses,' but did not know about the payment to porn star Stormy Daniels. 
Three Americans detained in North Korea reportedly are relocated ahead of Trump's planned summit with Kim Jong Un; Trump tweets, "Stay tuned!" 
Authorities release body cam footage of police searching the hotel room of Las Vegas massacre gunman Stephen Paddock
Amid spying concerns, the Pentagon orders all stores on U.S. military bases worldwide to ban mobile phones made by two Chinese companies
THE LEAD STORY - GIULIANI SPEAKS OUT: In a wide-ranging, exclusive interview on Fox News' "Hannity," Rudy Giuliani said President Donald Trump reimbursed his personal attorney, Michael Cohen, $130,000 that Cohen paid to adult film star Stormy Daniels days before the 2016 election in exchange for her silence about a sexual encounter with Trump in 2006 ... The former New York City mayor later clarified to Fox News that the president reimbursed Cohen for "expenses," not for a payment to Daniels. Giuliani said Cohen told the president that he had incurred the expenses on Trump's behalf and they required repayment. Trump, he said, was not aware that the expenses included a $130,000 payment to Daniels. "That money was not campaign money," said Giuliani, who was recently added to Trump's legal team. "It's not campaign money. No campaign finance violation."
In the "Hannity" interview, Giuliani also said Attorney General Jeff Sessions and Deputy Attorney General Rod Rosenstein should end Special Counsel Robert Mueller's investigation into alleged collusion between the Trump campaign and Russian officials "in the interest of justice." In addition, he called for former FBI Director James Comey to be prosecuted for leaking classified information, calling him "a disgraceful liar."
NEW HOPE FOR AMERICAN HOSTAGES IN NORTH KOREA: Three Americans who have been detained in North Korea reportedly have been relocated ahead of the upcoming planned summit between President Trump and North Korean dictator Kim Jong Un ... Trump on Wednesday night tweeted that "the past Administration has long been asking for three hostages to be released from a North Korean Labor camp, but to no avail. Stay tuned!" Korean-Americans Kim Hak Song, Kim Dong Chul and Tony Kim were moved in early April from a labor camp to a hotel near Pyongyang, South Korea's Yonhap News Agency reported, citing an activist. The move reportedly came following direction from top authorities.
LONG-AWAITED LAS VEGAS MASSACRE FOOTAGE RELEASED: Las Vegas police have finally released partial footage from police body cameras that showed officers entering and combing through the hotel room where gunman Stephen Paddock unleashed a hail of gunfire on concert-goers last October ... The video released on Wednesday came from officers Sgt. Joshua Bitsko and David Newton, the Las Vegas Journal-Review reported. The first officer to enter the room, Levi Hancock, did not activate his body camera, for reasons that remain unknown to investigators. The footage appeared to show a group of armed police officers clearing the dimly lit room where Paddock, 64, was staying, the same room where he opened fire a crowd of 22,000 people at an open-air concert on Oct 1, ultimately killing 58.
SPY GAME: The Pentagon has ordered all stores on U.S. military bases worldwide to ban mobile phones and other telecommunications equipment made by the Chinese companies Huawei Technologies Co. Ltd. and ZTE Corp. after senior U.S. intelligence officials warned the phones could be used to spy on Americans and U.S. service members ... The products were removed from exchange service stores and exchange concessionaires worldwide following warnings from top U.S. intelligence officials and lawmakers that Chinese mobile phones could track movements of the military. Officials told Fox News the Pentagon also recently terminated its use of BlackBerry smartphones, and now issues Apple iPhones, which also are assembled in China.
AS SEEN ON FOX NEWS
RIP, BOY SCOUTS:  "I think the Boy Scouts are effectively dead."  – Mike Huckabee, on "The Story with Martha MacCallum," reacting to the Boy Scouts of America renaming their marquee organization "Scouts BSA" in a nod to the newly co-ed nature of the group. WATCH
STALE DEMOCRATS: "There's absolutely no new thinking in the Democratic Party ... The ghosts of failures past still haunt their party."  –  Greg Gutfeld, on "The Five," sounding off on recent statements by House Minority Leader Nancy Pelosi that she will remain the caucus' leader and that Democrats will retake the House of Representatives in November. WATCH
TRENDING
Howard Kurtz: Trump eyes Lewandowski for Kelly's job amid White House infighting.
Were Strzok-Page texts deleted? Sources say IG flagged gaps in record.
Cambridge Analytica shutting down, company says.
Iranian women sneak into men-only soccer match with fake beards.
THE SWAMP
Intel committee chairman blasts 'sloppy redactions' in Russia report, amid Flynn mystery.
Sessions sends more immigration judges, prosecutors to border; tells caravan: 'People should wait their turn.'
Massachusetts governor, top prosecutor ask ex-Senate president to resign.
ACROSS THE NATION
'Mexican Mafia' crackdown results in 85 arrests in Southern California.
Severely beaten woman escapes from husband before explosion, fire injure eight cops, reports say.
Media watchdog hangs billboard outside New York Times office accusing paper of bias against Israel.
Businesses in Seattle could pay millions to help city deal with homeless problem.
MINDING YOUR BUSINESS
Tesla shares sink as Elon Musk cuts off analysts on call | Tesla sticks with Model 3 forecast
GOP gubernatorial candidate: California gas price to hit $5 a gallon.
Subway CEO Suzanna Greco to retire.
She was Google's youngest employee at 19 -- now she's on a new mission.
FOX NEWS OPINION
On the National Day of Prayer: Let us pray that our nation is on God's side.
Sens. Daines, Grassley, Perdue, Johnson: America must wake up and do a better job competing with China.
John Fund: Democrats embrace sleazy Sen. Menendez, despite Ethics Committee saying he discredited Senate.
HOLLYWOOD SQUARED
Meghan Markle's estranged half-brother urges Prince Harry to cancel royal wedding.
TV stars Allison Mack and Nicki Clyne married on orders from 'cult' leader Keith Raniere, source says.
Pamela Anderson: Julian Assange 'hated because of the Clinton monopoly on the media.'
DID YOU HEAR ABOUT THIS?
Utah teen shamed over 'racist' prom dress wins praise in China.
Dead Sea Scrolls discovery: Tech reveals hidden script.
Burger King fans trade boarding passes for Whopper at airport.
STAY TUNED
On Fox News: 
Fox & Friends, 6 a.m. ET: Rudy Giuliani discusses the Russia collusion case, Michael Cohen, James Comey and more. U.S. Rep. Luke Messer explains why he nominated Trump for the 2019 Nobel peace prize. Other scheduled guests include: NRA spokeswoman Dana Loesch, Judge Andrew Napolitano, U.S. Rep. Ron DeSantis and White House press secretary Sarah Huckabee Sanders.
Tucker Carlson Tonight, 7 p.m. ET: Tentatively scheduled guests include: U.S. Sen. Marco Rubio, U.S. Rep. Tulsi Gabbard, columnist Tammy Bruce. Plus, another edition of "Tucker's Final Exam"!
On Fox Business:
Mornings with Maria, 6 a.m. ET:  Guests include: Rudy Giuliani; Alan Greenspan, former Federal Reserve chairman; Gary Heminger, Marathon Petroleum chairman and CEO; Ed Rensi, former CEO of McDonald's USA.
Varney & Co., 9 a.m. ET: Joe Namath; Brent Bozell, Media Research Center president; Melissa Ackison, Republican Ohio Senate candidate; Ill. State Rep. David McSweeney; Mike Braun, Ind. U.S. Senate candidate.
Cavuto: Coast to Coast, Noon ET: Jeb Johnson, former Homeland Security secretary; U.S. Rep. Pete Sessions; Jim Lacamp, senior vice president of UBS.
On Fox News Radio:
The Fox News Rundown podcast: The National Rifle Association kicks off its annual meeting Friday with speeches by President Trump and Vice President Mike Pence. NRA spokesperson Catherine Mortensen explains the importance of the event. The price of gas is on the rise around the country as we approach Memorial Day, the unofficial kickoff to summer. Fox Business correspondent Jeff Flock explains the reason for the price increase. Plus, a commentary by Fox News Radio talk host Tom Shillue.
Want the Fox News Rundown sent straight to your mobile device? Subscribe through Apple Podcasts, Google Play, and Stitcher.
The Brian Kilmeade Show, 9 a.m. ET: Chris Wallace and Guy Benson and Marie Harf on the revelations from Rudy Giuliani's interview on "Hannity"; White House Director of Legislative Affairs Marc Short and Gen. Jack Keane on the challenges CIA director nominee Gina Haspel could face in her upcoming hearing before the Senate Intelligence Committee; Ian Bremmer discusses the latest on North Korea, Iran and his new book, "Us vs. Them: The Failure of Globalism."
#OnThisDay
2007: British toddler Madeleine McCann vanishes during a family vacation in Portugal nine days before her fourth birthday; her disappearance remains unsolved.
1979:  Margaret Thatcher is chosen to become Britain's first female prime minister as the Tories ousts the incumbent Labour government in parliamentary elections.
1978: Spam email is born as Gary Thuerk, a marketing executive for the Digital Equipment Corp. of Maynard, Mass., transmits an unsolicited sales pitch for a new line of computers to 400 prospective customers on ARPANET, a precursor to the internet.
Fox News First is compiled by Fox News' Bryan Robinson. Thank you for joining us! Enjoy your day! We'll see you in your inbox first thing Friday morning.