FOX NEWS FIRST: Carolinas brace for worst with Florence; Feinstein under fire for Kavanaugh smear tactics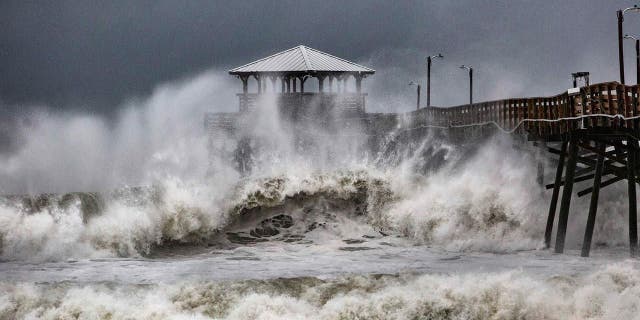 Welcome to FOX News First. Not signed up yet? Click here.
Developing now, Friday, Sept. 14, 2018
Hurricane Florence, downgraded to a Category 1 storm late Thursday, battered the Carolina coast with brutal winds and rain early Friday, leaving hundreds of thousands without power. Officials were bracing for the worst and warned that Florence could cause catastrophic flooding when it makes landfall
Sen. Dianne Feinstein, D-Calif., is under fire for alleged smear tactics for suggesting Supreme Court nominee Brett Kavanaugh may have committed a crime in his youth
Incumbent Gov. Andrew Cuomo defeated former 'Sex and the City' actress Cynthia Nixon in New York's Democratic gubernatorial primary
EXCLUSIVE: Anti-Trump former FBI official Lisa Page interned 'under Clinton,' new texts obtained by FOX News reveal
Former Trump campaign chairman Paul Manafort has reportedly reached a 'tentative' plea deal with Special Counsel Robert Mueller
FOX News remembers conservative commentator Charles Krauthammer, who died of cancer in June at age 68, by establishing a scholarship in his memory
THE LEAD STORY - BRACING FOR FLORENCE'S FURY: Hurricane Florence was downgraded late Thursday to a Category 1 storm, as the North Carolina coast was battered by hurricane-force winds and a life-threatening storm surge ... Still, state officials braced for the worst. A tattered American flag seen flying on a live surf camera at Frying Pan Tower in North Carolina was evidence of the strong wind gusts pounding the coast. Authorities in the coastal city of New Bern, N.C., were working with federal responders to rescue at least 150 residents who reported themselves stranded in Florence's storm surge.
The storm is likely to bring significant rain to the Carolinas, where some places could see upwards of 20 inches, the update said. This is expected to cause "catastrophic flash flooding and prolonged significant river flooding." North Carolina had nearly 200,000 power outages across the state as of early Friday, officials said.
FEINSTEIN'S 'SEPTEMBER SURPRISE': Sen. Dianne Feinstein, D-Calif., on Thursday threw a cryptic curveball at Brett Kavanaugh, insinuating the Supreme Court nominee could be guilty of a crime even as other Democrats on the Senate Judiciary Committee seek to delay his confirmation ... "I have received information from an individual concerning the nomination of Brett Kavanaugh to the Supreme Court," Feinstein said in her surprise statement. "That individual strongly requested confidentiality, declined to come forward or press the matter further, and I have honored that decision. I have, however, referred the matter to federal investigative authorities."
The vague accusation comes after the Senate Judiciary Committee already grilled Kavanaugh and other witnesses and prepares to vote on sending his nomination to the full Senate. The White House blasted the ambiguous charge as a last-minute, 11th-hour attack. A spokesperson for Feinstein declined FOX News' request to further explain her statement. A source familiar with the confirmation proceedings told FOX News that Feinstein received the letter in July, but did not make its existence public until Thursday.
NEW YORK 'RESISTANCE' DEFEATED: New York Gov. Andrew Cuomo soundly defeated insurgent progressive Cynthia Nixon in Thursday's gubernatorial primary, denying far-left liberals a victory they had long sought against the establishment Democrat ... In other races, incumbent Kathy Hochul defeated Jumaane Williams, another so-called "resistance" candidate, for lieutenant governor, and Cuomo-backed New York City Public Advocate Letitia James, 59, won a four-way Democratic primary for attorney general, triumphing over progressive law professor Zephyr Teachout.
Still, there was some good news on the night for supporters of Democratic socialist U.S. House candidate Alexandria Ocasio-Cortez. Julia Salazar, a Democratic socialist whose campaign for a seat in the state Senate was overshadowed by a series of bizarre revelations about her past, unseated a 16-year incumbent in Thursday's Democratic primary.
FOX NEWS EXCLUSIVE - CLINTON CONNECTION REVEALED: Ex-FBI lawyer Lisa Page, whose Trump-bashing texts made it clear who she backed in the 2016 presidential election, refers in a newly revealed message to serving as an intern "under Clinton" ... Page, who exchanged tens of thousands of texts with disgraced FBI official Peter Strzok, revealed the information in one message among a new batch exclusively obtained by FOX News. "Get inspired and depressing reading that article about how Obama approached the mail room," Page wrote Strzok on Jan. 19, 2017 - the last day of the Obama administration. "Needless to say, it was very different when I interned there under Clinton."
The article they were discussing was a Jan. 17, 2017, story in the New York Times Magazine titled "To Obama With Love, and Hate, and Desperation," which described eight years of mail that poured through the mailroom. It was not clear who exactly Page interned for or what she did. Page, 39, attended American University in Washington in the late 1990s, studying public affairs and earning her bachelor's degree in 2000.
Strzok and Page were first brought into the spotlight last December, when it was revealed that Justice Department Inspector General Michael Horowitz discovered a series of anti-Trump text messages between the two officials. The latest text messages between Strzok and Page also appeared to refer to leaks planted in the media by "our sisters," which some observers speculate could mean other government employees.
MANAFORT SQUEEZED? - Former Trump campaign chairman Paul Manafort has reached a "tentative" plea deal with Special Counsel Robert Mueller, ABC News reports ... The tentative deal is expected to be announced in court Friday during a scheduled pretrial conference in federal court in Washington, D.C. Details of the deal were unclear. On Aug. 21, Manafort was convicted on eight counts of bank and tax fraud, making him the first campaign associate of President Trump found guilty by a jury as part of Mueller's probe. A mistrial was declared on 10 other counts related to financial crimes.
CHARLES KRAUTHAMMER'S LASTING LEGACY: The late Charles Krauthammer, dean of conservative commentators, will be honored with a scholarship awarded to the children of FOX News Channel and FOX Business Network employees ... "Charles was a beloved member of the Fox News family, but more importantly, he was an incredible mentor and role model for millions of Americans across the country," Suzanne Scott, CEO of Fox News, said Thursday in a statement. "We are proud to honor Charles, his legacy, impact and countless contributions with a new scholarship program enabling the next generation of thought leaders the opportunity and education they need to reach their dreams." The memorial scholarship honors the longtime FOX News contributor, Pulitzer Prize winner, Harvard-trained psychiatrist and best-selling author, who died in June at age 68. FOX News partnered with the National Merit Scholarship Program, which will accept applications through March 31, 2019; winners will be announced in spring 2020.
AS SEEN ON FOX NEWS
TUCKER VERSUS 'CREEPY PORN LAWYER': "You're exploiting her and you know that." – Tucker Carlson, exchanging barbs with Stormy Daniels' attorney Michael Avenatti, live on "Tucker Carlson Tonight" on Thursday. After weeks of off-air taunts, Carlson and Avenatti confronted each other in a heated interview, with the FOX News host accusing the lawyer of profiting from Daniels' profile as a porn star pursuing legal action against President Trump. WATCH
TRENDING
PHOTOS: Face transplant alters man's life after hunting accident.
Driver dramatically wrecks $150G Maserati he borrowed from friend.
Texas school district to reevaluate 'sexist' dress code because of online petition.
THE SWAMP
Number of illegal immigrants crossing border surges after U.S. ends family separations.
House passes $146B 'minibus' bill, sends to Trump for approval.
Jimmy Carter: To beat Trump, Dems can't scare off moderates with pivot too far left.
ACROSS THE NATION
One dead, thousands forced to flee after gas explosions near Boston.
Most Americans support NFL players' right to kneel: Poll.
Weapons upgrade set to make U.S. Special Operations even more deadly.
MINDING YOUR BUSINESS
Amazon's Bezos fires back at Trump criticism.
Hurricane Florence targets South Carolina golf industry.
Nike CEO criticizes Oregon proposal to eliminate sanctuary law.
IRS warns some retirees at risk of tax penalty: What to know.
Here's what could cause the next financial crisis.
FOX NEWS OPINION
Marc Thiessen: Trump is looking out for us by protecting Americans from unaccountable United Nations court.
Max Lucado: Hold on to hope during Hurricane Florence
Brent Bozell: After Trump won, Google cried in its safe space – How the heck can we trust them now?
HOLLYWOOD SQUARED
Willie Nelson fans furious over announcement that he'll headline a rally for a Dem candidate.
Julie Chen signals support for husband in her 'Big Brother' TV return.
'Last Man Standing' star Tim Allen reveals how he really feels about President Trump.
DID YOU HEAR ABOUT THIS?
Florida construction worker unearths possible mammoth bone.
Elephant bird mystery solved? Discovery may explain demise of world's largest-ever birds.
NASA starts 45-day clock to contact Mars Rover Opportunity as dust storm wanes.
STAY TUNED
FOX Nation is coming! - Sign up now and find out about its exciting launch!
On Facebook:
Check out 'FOX News Update,' our new Facebook-exclusive news program!
On FOX News:
Stay with FOX News all day and Friday night for team coverage of Hurricane Florence on all platforms.
FOX & Friends, 6 a.m. ET: Special guests include: Geraldo Rivera, FEMA administrator Brock Long and more.
Your World with Neil Cavuto, 4 p.m. ET: Wrightsville, N.C. Police Chief Dan House tells Cavuto why he advised residents who refused to evacuate before Hurricane Florence to tell others how to notify their next of kin.
On FOX Business:
Mornings with Maria, 6 a.m. ET: Special guests include: Jonathan McNamara, Red Cross spokesman; Joe Allbaugh, former FEMA director; Aaron Jagdfeld, Generac CEO; Eddie Barber, Emerald Isle, N.C. mayor; Bruce Jones, U.S. Coast Guard; U.S. Rep. Kevin Brady, House Ways and Means Committee chairman.
Varney & Co., 9 a.m. ET: Angela Powley, regional executive officer, American Red Cross Greater Carolinas Region; Stephen Benjamin, Columbia, S.C. mayor; David Bennett, Hilton Head Island, S.C. mayor; Joe Benson Carolina Beach, N.C. mayor; Heather Zumarraga, Vision 4 Fund Distributors senior vice president;
The Intelligence Report, 2 p.m. ET: Retired Lt. Gen. Russel Honoré, who commanded the military's response to Hurricane Katrina in New Orleans; Stephen Holmes, Home Depot chief spokesman; Ed Rollins, GOP strategist; John Lonski, Moody's managing director and chief economist; U.S. Reps. George Holding and Tom Rice of N.C.
On FOX News Radio:
The FOX News Rundown podcast: Lanny Davis served as special counsel to former President Bill Clinton, he represents President Trump's former personal attorney, Michael Cohen, and remains a good friend of Hillary Clinton. In his latest book, Davis argues that former FBI Director James Comey's actions cost Hillary Clinton the 2016 election and tells the FOX News Rundown why. Pope Francis met with top U.S. Roman Catholic officials over the mounting new allegations of sexual misconduct within the church, with plans to meet again in late February. Lauren Green, FOX News' chief religion correspondent, and Phil Lawler, editor of Catholic World News, discuss a potential investigation and more. Don't miss some good news with FOX's Tonya J. Powers. Plus, commentary "FOX News Sunday" anchor Chris Wallace.
Want the FOX News Rundown sent straight to your mobile device? Subscribe through Apple Podcasts, Google Play, and Stitcher.
The Brian Kilmeade Show, 9 a.m. ET: F.H. Buckley on his new book, "The Republican Workers Party: How the Trump Victory Drove Everyone Crazy, and Why It Was Just What We Needed"; Shannon Bream on the latest in Sen. Dianne Feinstein's insinuations against Supreme Court nominee Brett Kavanaugh.
The Tom Shillue Show, 3 p.m. ET: Comedians Jimmy Failla and Alli Breen join Tom Shillue's nightly panel to discuss Michael Avenatti's explosive interview with Tucker Carlson and the latest news of the day!
On FOX News Weekend:
Cavuto Live, Saturday, 10 a.m. ET: Former FEMA Director Michael Brown on fallout from Hurricane Florence. "Cavuto Live" also discuss how price hikes from Florence could impact people around the country.
#OnThisDay
1814: Francis Scott Key is inspired to write the poem "Defence of Fort McHenry" (later called "The Star-Spangled Banner") after witnessing the American flag flying over the Maryland fort following a night of British naval bombardment during the War of 1812.
1972: "The Waltons" premieres on CBS.
1982: Princess Grace of Monaco, formerly actress Grace Kelly, dies at age 52 of injuries from a car crash the day before.
FOX News First is compiled by FOX News' Bryan Robinson. Thank you for joining us! Enjoy your day and weekend! We'll see you in your inbox first thing Monday morning.