FOX NEWS FIRST: Brave Americans coming home as North Korea hands over remains; Roseanne says she's not a racist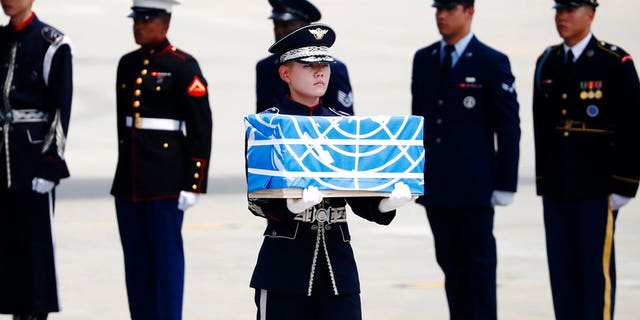 Welcome to FOX News First. Not signed up yet? Click here.
Developing now, Friday, July 27, 2018
North Korea has handed over 55 cases believed to contain the remains of American service members who died in the Korean War, according to U.S. officials
The Commerce Department will release its gross domestic product (GDP) report Friday, and Trump predicts the numbers will show 'terrific' economic growth
In an exclusive interview with FOX News' Sean Hannity, Roseanne Barr admitted her controversial tweet about former Obama aide Valerie Jarrett was a mistake, and insisted she is not a racist
Facebook will look to begin its recovery after suffering the worst single-day stock drop for a public-owned U.S. company in Wall Street history on Thursday
President Trump's former lawyer Michael Cohen says the president had prior knowledge of the June 2016 Trump Tower meeting between his campaign officials and a Russian lawyer, according to one report
THE LEAD STORY - BRAVE AMERICANS COMING HOME, AT LAST: Fifty-five cases containing what were believed to be the remains of U.S. service members killed during the Korean War were returned Friday, the White House said ... The cases, each draped with the flag of the United Nations, arrived aboard a U.S. military plane at Osan Air Base outside Seoul, South Korea. Earlier, the plane and its crew had traveled to Wonsan, North Korea, to collect the remains, the White House said. The transfer of the remains from the 1950-53 Korean War had been negotiated last month during a summit meeting in Singapore between President Trump and North Korean leader Kim Jong Un.
TRUMP PREDICTS 'BIG' GDP NUMBERS: The Commerce Department will release its first official estimate of second-quarter gross domestic product (GDP) growth, a broad measure of the goods and services produced across the U.S. - and President Trump has predicted 'big numbers'... "Big numbers announced tomorrow; I don't know what they are, but I think they're going to be terrific," Trump said Thursday at a newly reopened U.S. Steel plant in the St. Louis-area town of Granite City, Ill. "Somebody actually predicted today, 5.3 [percent GDP growth] -- I don't think that's going to happen. If it has a 4 in front of it, we're gonna be happy. If it has a 3 -- 3.8, 3.9, 3.7, we're OK."
Many economists also have predicted Friday's report will show robust growth. White House economic adviser Larry Kudlow told FOX Business that when the Commerce Department releases second-quarter GDP data, he expects the number could exceed 4 percent. "You're going to get a very good economic growth number tomorrow. Big," Kudlow said during an interview on "Varney & Co." on Thursday. The steady growth of the U.S. economy has been credited in part to the 2017 Tax Cuts and Jobs Act.
FOX NEWS EXCLUSIVE - 'I'VE APOLOGIZED A LOT': Roseanne Barr, the embattled television star whose namesake show was canceled after she tweeted racist sentiments about a former Obama administration official, said Thursday night that she's not a racist ... "I've apologized a lot, it's been two months," Barr said. "I feel like I have apologized and explained and asked for forgiveness and made recompense. That's part of my religion."
Barr made headlines after she tweeted in May that Jarrett, who is African-American and was born in Iran, was as though the "Muslim brotherhood & planet of the apes had a baby." Speaking in her first national television interview since the scandal, Barr told FOX News' Sean Hannity that she was "so sad that people thought" her tweets about Valerie Jarrett were "racist." Barr on Thursday night said that she "made a mistake. It cost me my life's work."
FACEBOOK'S FACEPLANT: Bad day on Wall Street? Chances are it doesn't compare to the losses Facebook co-founder and CEO Mark Zuckerberg experienced on Thursday after the social media giant's shares plunged 19 percent, erasing over $119 billion in market cap in just one day, the most ever for a public company, according to the WSJ Market Data Group ... It was also the worst percentage drop for the company ever. The losses hit Zuckerberg's wallet to the tune of about $15 billion through the 387,095,123 Facebook shares (Class A and B shares combined) he owns, according to FactSet.
Before the stock dump, Mark Zuckerberg was the fifth wealthiest American in 2018 – with $71 billion net worth according to the Forbes Billionaires List. Considering Thursday's losses – his net worth slipped down to around $55.9 billion. This would remove Zuckerberg from the top 10 of the list – putting him down to the 11th spot behind Oracle co-founder Larry Ellison.
TALL TOWER TALES? - President Trump's former personal attorney Michael Cohen says then-candidate Trump knew in advance about a controversial June 2016 meeting between his campaign officials and a Russian lawyer, CNN reported Thursday ... According to unnamed CNN sources, Cohen says he was with Trump when Donald Jr. called his father to tell him about the offer to get "dirt" on Hillary Clinton and that the elder Trump approved of the meeting taking place.
If true, Cohen's story contradicts previous claims that President Trump did not have prior knowledge of the meeting. After the CNN story surfaced, Trump attorney Rudy Giuliani fired back at the claims, calling Cohen a "pathological liar." "He's been lying all week. He's been lying for years," Giuliani said. "I don't see how he has any credibility." Earlier this week, Cohen released a secretly recorded tape where he and Trump appeared to discuss possible payment to former Playboy model Karen McDougal, who claims she had an affair with the president years ago.
AS SEEN ON FOX NEWS
THE TRUTH ABOUT DEMOCRATS AND OPEN BORDERS: "To the modern Democratic Party, Americans are an afterthought. Try to find a Democrat running this year on the opioid crisis, or high energy prices or the collapse of public schools or the decline of the middle class. They're bored by those topics ... That's why the Democratic Party suddenly supports open borders so fervently ... because packing the electorate is the only way they can regain control of the county." – Tucker Carlson, in his opening monologue on "Tucker Carlson Tonight," sounding off on the Democratic Party's alleged motives in the midterm elections and in supporting open borders. WATCH
ROSEANNE EXPLAINS HER TWEET: "I will always defend Israel. I'm a Jew and I also have family that lives there. That is a tweet asking for accountability from the previous administration about the Iran deal, which Valerie Jarrett is the author of. " – Roseanne Barr, on "Hannity," trying to explain how the tweet that led to her firing was not meant to be racist. WATCH
NEWSMAKERS: REP. JIM JORDAN
Rep. Jim Jordan announces run for House speaker.
Three things to know about Jim Jordan.
Adam Brandon: Jim Jordan just gave the GOP base the rallying cry it so desperately needs.
TUNE IN: Sean Hannity's exclusive interview with Rep. Jim Jordan Friday at 9 p.m. ET
TRENDING
Bush-bashing Fresno State professor returns to Twitter, calls on 'white editors' to resign.
'Big one' coming? Earthquakes off the West Coast could eventually trigger a global event.
Golf on the moon: How Alan Shepard tricked NASA and hit the most famous shot in history.
McDonald's worker, customer get into vicious brawl over soda.
THE SWAMP
Pelosi describes 9/11 attacks as 'incident,' suggests GOP weaker on border than Democrats.
Democratic Sen. Claire McCaskill targeted in password-stealing scheme by Russian hackers: report.
Joe Biden's niece sentenced in $110,000 credit card case.
Conservative's satirical Ocasio-Cortez 'interview' triggers media uproar.
ACROSS THE NATION
Officers fired for using coin flip to decide whether to arrest woman.
Arson suspect linked to five of California's fires, officials say.
'High probability' that George H.W. Bush's onetime doc was targeted by gunman: police.
MINDING YOUR BUSINESS
Amazon profit soars, doubling Wall Street's estimate.
Papa John sues Papa John's.
Exxon Mobil: Will its growth investments pay off?
These states are drowning in 'irretrievable' debt.
Major retailers are already hiring seasonal workers.
FOX NEWS OPINION
Marc Thiessen: Trump is using tariffs to advance a radical free-trade agenda.
Ambassador Callista Gingrich: To strengthen women's rights you must protect religious freedom.
Jim Hanson: Trump is right -- Twitter needs to stop 'shadow banning' conservatives.
HOLLYWOOD SQUARED
Anne Hathaway calls out white privilege in wake of black woman stabbed to death at BART station.'
Kristen Stewart to star in 'Charlie's Angels' reboot: report.
Eric Church says NRA is to blame for Las Vegas festival mass shooting.
DID YOU HEAR ABOUT THIS?
Incredible discovery sheds light on 'Europe's lost people.'
Colorado man spots four mountain lions lurking on porch: 'It blew my mind.'
Florida beaches littered with dead sea turtles; scientists blame red tide.
STAY TUNED
On Facebook:
Check out 'FOX News Update,' our new Facebook-exclusive news program hosted by Shepard Smith, Carley Shimkus and Abby Huntsman!
On FOX News:
FOX & Friends, 6 a.m. ET: Special guests include: Rep. Jim Jordan on why he wants to be the next House speaker; Diamond & Silk; Turning Point USA founder Charlie Kirk; Geraldo Rivera; RNC chairwoman Ronna McDaniel. Plus, Felix Cavaliere & Gene Cornish's Rascals visit the All-American Summer concert stage!
Hannity, 9 p.m. ET: Don't miss Part 2 of Sean Hannity's exclusive interview with Roseanne Barr! Plus, a must-see interview with House speaker hopeful, Rep. Jim Jordan.
On FOX Business:
Mornings with Maria, 6 a.m. ET: Special guests include: Karl Rove; James Freeman, assistant editor of the Wall Street Journal Editorial page; Joe Piscopo; Rep. Lee Zeldin; former MMA fighter Tim Kennedy and more.
Varney & Co., 9 a.m. ET: Stu Varney will have the latest market reaction to the GDP report.
On FOX News Radio:
The FOX News Rundown podcast: On Thursday in Illinois, President Trump continued his tough stance on trade while praising his tariff bailout for farmers. FOX Business Network's Jeff Flock was in Granite City, Ill., and joins the podcast to discuss. Also, If you have ever rented a movie from Blockbuster video, you might be surprised that there is only one left in the U.S., located in Bend, Ore. FOX News Radio's Dave Anthony speaks with the general manger of that store, Sandi Harding, who says customers can still use their Blockbuster cards there. Tonya J. Powers has the good news of the day. Plus, commentary from "FOX News Sunday" host Chris Wallace.
Want the FOX News Rundown sent straight to your mobile device? Subscribe through Apple Podcasts, Google Play, and Stitcher.
The Brian Kilmeade Show, 9 a.m. ET: Jason Chaffetz on Republican lawmakers' move to impeach Deputy Attorney General Rod Rosenstein and Rep. Jim Jordan's campaign to be the next House speaker. Dan Hoffman on the latest in Trump's dealings with Russia, North Korea and Iran. Additional insight from the leading headlines of the day from: Geraldo Rivera; Kennedy; Morgan Ortagus; and Carley Shimkus.
On FOX News Weekend:
Cavuto Live, Saturday, 10 a.m. ET: Guests include: House Foreign Affairs Committee member Darrell Issa on the EU trade agreement and fallout from the secret Michael Cohen audiotapes; former Cypress Semiconductor CEO T.J. Rodgers on the fallout of Facebook's stock plunging; and farmer Brian Duncan on getting possible relief from President Trump's trade agreement with the EU.
FOX News Sunday, Sunday, 2 p.m. and 7 p.m. ET: Highlights of Chris Wallace's exclusive interview with Russian President Vladimir Putin.
OBJECTified, Sunday, 8 p.m. ET: "Jeopardy" host Alex Trebek sits down with Harvey Levin to talk about his childhood, the perks of being a celebrity, and his inevitable final curtain call from one of TV's most popular game shows -- which is coming sooner than you might expect!
Life, Liberty & Levin, Sunday, 10 p.m. ET: Host Mark Levin and special guest Lt. Col. Allen West delve into politics, philosophy, and the life of a career military man.
#OnThisDay
1996: Terror strikes the Summer Olympics in Atlanta as a pipe bomb explodes at Centennial Olympic Park, directly killing one person and injuring 111. (Anti-government extremist Eric Rudolph would later plead guilty to the bombing, exonerating security guard Richard Jewell, who had been wrongly suspected – and eventually reached a settlement with NBC over on-air remarks by Tom Brokaw.)
1981: Six-year-old Adam Walsh is abducted from a department store in Hollywood, Fla., and is later murdered. (His father, John Walsh, would become a well-known crime victims' advocate and host of "America's Most Wanted.")
1974: The House Judiciary Committee votes 27-11 to adopt the first of three articles of impeachment against President Richard Nixon, charging he had personally engaged in a course of conduct designed to obstruct justice in the Watergate case.
FOX News First is compiled by FOX News' Bryan Robinson. Thank you for joining us! Enjoy your day and weekend! We'll see you in your inbox first thing Monday morning.