FOX NEWS FIRST: All eyes on Alabama special election; Attempted NYC suicide bombing renews chain migration debate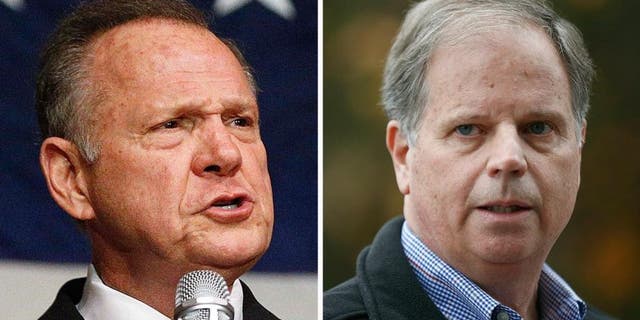 Welcome to Fox News First. Not signed up yet? Click here.
Developing now, Tuesday, Dec. 12, 2017:
Alabama voters go to the polls today and decide the special election between Senate candidates Democrat Doug Jones and Republican Roy Moore
Attempted suicide bombing in New York City brings the chain migration and the immigration debate back into the spotlight
Fox News Exclusive: Man who acted as "go-between" reveals how British spy released Trump "dossier" to FBI, media and Capitol Hill
Questions surround sudden rescheduling of FBI deputy director's closed-door testimony on agency's integrity in the Clinton email investigation, Russia probe and other cases
Mom of bullied boy in viral video now under scrutiny
THE LEAD STORY: All eyes are on Alabama today as voters will decide the special election between Senate candidates Roy Moore and Democrat Doug Jones ... After months of campaigning and reports of sexual misconduct rocked the state, Moore and Jones held competing rallies Monday night, firing their final shots ahead of today's election. Democrat Jones spoke first during a "Get-Out-the-Vote Rally" in Birmingham. Jones, who led Moore by 10 points in a recent Fox News poll, said that now is the time to make a choice. Embattled Republican Moore spoke later at a "Drain the Swamp" rally in Midland City. He was bolstered by support from a wide array of local figures and prominent conservatives, including Steve Bannon and Sheriff David Clarke. Jones and Moore are vying for the seat vacated by Jeff Sessions' move to become attorney general earlier this year. Moore, has spent the last month of his campaign battling allegations of sexual misconduct with several underage girls when he was in his 30s, a charge he has repeatedly denied.
PROGRAMMING ALERT: Stay with Fox News for live team coverage of Alabama's special election tonight!
TIME TO BREAK THE CHAIN ON MIGRATION?: The attempted suicide bombing in New York Monday would never have happened if President Trump's immigration policies had been in place, the White House said, after it was revealed that the terror suspect had entered the country via chain migration ... Akayed Ullah, a 27-year-old Bangladeshi national, allegedly detonated a pipe bomb in a subway corridor, New York Police Department officials said. Hours later, the Department of Homeland Security confirmed to Fox News that Ullah was admitted to the U.S. after presenting a passport displaying an F43 family immigrant visa in 2011. That prompted White House Press Secretary Sarah Sanders to note that President Trump has railed against so-called "chain migration," through which dozens of an immigrant's relatives can enter the U.S. simply because their family member made it. Trump, in a statement, blamed the attack on America's "lax immigration system, which allows far too many dangerous, inadequately vetted people to access our country."
FOX NEWS EXCLUSIVE - INSIDE THE TRUMP DOSSIER: The man who says he acted as a "go-between" last year to inform Sen. John McCain about the controversial "dossier" containing salacious allegations about then-candidate Donald Trump is speaking out, revealing how the ex-British spy who researched the document helped coordinate its release to the FBI, the media and Capitol Hill ... "My mission was essentially to be a go-between and a messenger, to tell the senator and assistants that such a dossier existed," Sir Andrew Wood told Fox News in an exclusive interview with senior executive producer Pamela K. Browne. Fox News spoke to Wood at the 2017 Halifax International Security Forum in Nova Scotia, Canada. Just after the U.S. presidential election in November 2016, Sen. McCain spoke at the same security conference. Wood says he was instructed by former British spy Christopher Steele, who put together the dossier, to reach out to McCain. Wood insists that he's never read the dossier, which was commissioned by opposition research firm Fusion GPS and funded by the Democratic National Committee and the Hillary Clinton campaign.
SUSPICION SURROUNDS FBI DEPUTY DIRECTOR'S POSTPONED TESTIMONY: Deputy FBI Director Andrew McCabe, who was reportedly scheduled to testify behind closed doors in front of the House Intelligence Committee today, will instead meet next week due to a "routine scheduling error," Department of Justice officials told Fox News ... McCabe's testimony was likely to, at least in part, focus on Peter Strzok's role in the Hillary Clinton email investigation. Strzok is a former deputy to the assistant director at the FBI who was removed from Special Counsel Robert Mueller's staff after Mueller learned Strzok had exchanged anti-Trump texts with a colleague. However, Fox News was told by those familiar with the matter that the intelligence committee is suspicious of the purported scheduling error. One source said they believe the schedule issue arose after Fox News' report Monday night on Department of Justice official Bruce Ohr, who was recently demoted from one of his two senior posts. Fox News reported that Ohr's wife, Nellie Ohr, worked through last fall for Fusion GPS, which was behind the anti-Trump dossier.
QUESTIONS SURROUND MOM OF BULLIED BOY: A moving video that made a bullied little boy famous is bringing increasing scrutiny on his mother and her motives ... Middle schooler Keaton Jones' video revealing his torment went viral over the weekend. Celebrities including Chris Evans, Justin Bieber, Katy Perry, and Gal Gadot took up his anti-bullying message, sharing the video with their huge social media followings. Sometime during the massive outpouring of support -- the video has been viewed over 15 million times -- Keaton's mom, Kimberly Jones, set up a PayPal account where people could donate money, causing some to question her motives.
AS SEEN ON FOX NEWS
DISSECTING MUELLER'S TEAM: "[Either] it was put together entirely incompetently... which I don't believe, [or] this isn't an investigation, this is an attempt to nullify an election." – Retired Secret Service agent Dan Bongino, on "Hannity," sounding off on "obvious ideologues" Special Counsel Robert Mueller appointed to be part of his team in his Russia collusion investigation. WATCH
WEIGHING TAX REFORM'S CHANCES: "I think it looks pretty good. We've got some work to be done yet ... Either way, the economy is going to respond very positively to what we're doing." - Sen. Patrick Toomey, on "Your World with Neil Cavuto," saying he's "optimistic" that the House and Senate will come to a consensus on tax reform and send a final bill to President Trump by Christmas. WATCH
ACROSS THE NATION
Sarah Sanders shuts down CNN star Jim Acosta's grandstanding.
Trump administration requests emergency stay to stop transgender enlistment in January.
Google employee's half-naked body found floating in San Francisco Bay.
MINDING YOUR BUSINESS
Unibail-Rodamco agrees to buy Westfield in $24.7 billion mall deal.
Bitcoin's fraud perception will change over time: Cboe CEO Ed Tilly.
Viagra is about to get a lot cheaper.
NEW IN FOX NEWS OPINION
Senate tax bill could be a game changer for parents frustrated with the public school system
Here's how Trump could make a quick (and complete) exit from the Paris climate agreement right now
Taxes have become the weakest link in our innovation strategy. Will that soon change?
HOLLYWOOD SQUARED
Former NFL Network employee names top executives, ex-players in sexual harassment suit, report says.
'Shape of Water,' 'Big Little Lies' lead Golden Globe nominations.
Celebrity chef Mario Batali accused of sexual misconduct by four women.
DID YOU HEAR ABOUT THIS?
Hitler-themed homework upsets parents of Illinois middle school students.
'Rented parents' are here to meet teachers and significant others.
Subway discovery: Los Angeles construction unearths 'rare' fossil trove.
STAY TUNED
On Fox News:
Fox & Friends, 6 a.m. ET: Former Boston Police Commissioner Ed Davis talks about the NYC terror attack investigation; Steve Cortes on why Hispanic entrepreneurs need tax reform; White House Historical Association unveils its 2017 official White House ornament; and country music star Phil Vassar performs.
Stay with Fox News as the results of Alabama's special election between Senate candidates Roy Moore and Doug Jones come in! We'll have the latest updates with prime-time coverage and analysis, starting with The Story with Martha MacCallum at 7 p.m. ET; Tucker Carlson Tonight at 8 p.m.; Hannity at 9 p.m.; The Ingraham Angle at 10 p.m. and Fox News @ Night at 11 p.m.
On Fox Business:
Mornings with Maria, 6 a.m. ET: AOL co-founder Steve Case explains his new Rise of the Rest seed fund for startups; Reps. Peter King and Ron DeSantis on the implications of the attempted suicide bomber attack in New York City; Joy Mangano, inventor of The Miracle Mop, shares some of the secrets of her success in her new book.
Varney & Co., 9 a.m. ET: Rep. Peter Roskam on the latest in tax reform negotiations.
The Intelligence Report, 2 p.m. ET: Rep. Chris Collins on the latest in the attempted suicide bomb attack at New York City's Port Authority.
On Fox News Radio:
The Brian Kilmeade Show, 9 a.m. to Noon ET: Allen West sizes up Alabama's special election; Marie Harf takes on the renewed debate over chain migration sparked by the attempted suicide bombing in New York City; Rep. Matt Gaetz sounds off on the FBI's questionable handling of the Hillary Clinton email case; Stuart Varney addresses skepticism about bitcoin and more.
The Fox News Rundown podcast: Alabama voters head to the polls today to decide who will win a critical seat in the Senate. Karl Rove breaks down the key factors in the race with Fox News' Jessica Rosenthal. Former assistant FBI director Bill Gavin discusses the impact of Monday's attempted suicide bombing in New York City with Fox News' Dave Anthony. And commentary by John Stossel.
Want the Fox News Rundown sent straight to your mobile device? Subscribe through Apple Podcasts, Google Play, and Stitcher.
#OnThisDay
2000: George W. Bush becomes president-elect as a divided U.S. Supreme Court reverses a state court decision for recounts in Florida's contested election.
1997: Ilich Ramirez Sanchez, the international terrorist known as "Carlos the Jackal," goes on trial in Paris on charges of killing two French investigators and a Lebanese national. (Ramirez was convicted, and is serving a life prison sentence.)
1977: "Saturday Night Fever," a Paramount Pictures movie starring John Travolta, premieres in New York.
Thank you for joining us on Fox News First! Enjoy your day, and we'll see you in your inbox first thing Wednesday morning.