FOX NEWS FIRST: 8-state primary roundup; New bombshell accusation against Bill Clinton; Comey deputy seeks immunity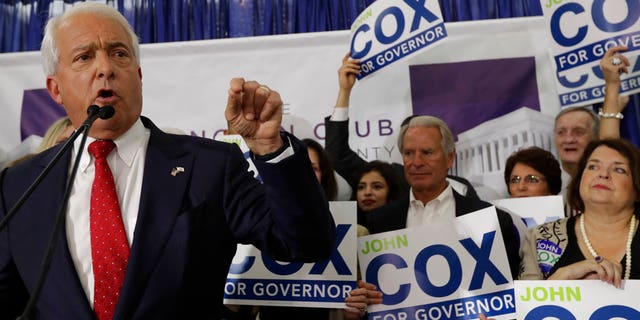 NEWYou can now listen to Fox News articles!
Welcome to FOX News First. Not signed up yet? Click here.
Developing now, Wednesday, June 6, 2018
Eight states hold primary elections on Tuesday, including the very-closing watched California, which may hold the key to Democrats' hopes of taking Congress in the November midterms and President Trump's chances of carrying out his agenda
Fired former FBI Deputy Director Andrew McCabe seeks immunity in exchange for his testimony about the agency's handling of the Hillary Clinton email probe during the 2016 presidential election
Anti-Trump FBI official Peter Strzok had a larger role in the Clinton email and Russia investigations than previously believed, Fox News has learned
China offers to buy $70 billion in U.S. goods if the Trump administration drops its plan to slap tariffs on Chinese imports
'Ingraham Angle' Exclusive: Gennifer Flowers accuses Bill Clinton of sexually harassing her before their alleged 12-year consensual relationship
The fashion world is reeling from famed designer Kate Spade's apparent suicide as admirers and colleagues pay tribute to her legacy
THE LEAD STORY - ALL THAT GLITTERS IN THE GOLDEN STATE: So far, there are few surprises in the pivotal primaries in California, the liberal stronghold where Democrats' hopes of retaking Congress in November and mounting a national challenge to President Trump's agenda hang in the balance ... Fox News projects that Democratic Lt. Gov. Gavin Newsom will move on to the November election in the state's gubernatorial race, taking the top spot in the jungle primary. Newsom will face Republican businessman John Cox, who surged late in the campaign with the support of President Trump to finish second. The result is disappointing for Democratic Los Angeles Mayor Antonio Villaraigosa, who was widely considered the most viable potential challenger to Newsom in November's general election in the extremely liberal state. But Cox's strong finish over Villaraigosa, a Democratic institution in Southern California, was something of a win for President Trump, who enthusiastically backed Cox over another Republican contender.
Fox News also projects that Sen. Dianne Feinstein will place first in the state's jungle primary -- a widely expected result. She will likely face ultra-progressive State Sen. Kevin de Leon in November, who delivered remarks early Wednesday strongly suggesting that he will be the runner-up. The state's key House races, though, are still too close to call, but the Fox News Decision Desk will make those calls as ballots are counted. The winners and losers in California's most competitive races could take days to sort out given the state's unique election laws. Democrats need to flip 23 Republican-controlled to retake the House from the GOP in November. Out of California's 53 House seats, Republicans hold 14 -- and seven of those GOP-held districts backed Hillary Clinton in 2016.
Seven other states held primaries on Tuesday, including New Jersey, Alabama, Mississippi, New Mexico, South Dakota, Iowa and Montana. New Jersey Democratic Sen. Bob Menendez, who avoided conviction in a corruption and bribery case last year but was "severely" admonished by the Senate Ethics Committee, survived a challenge from a fellow Democrat and won his party's nomination for another term as senator. Former pharmaceutical executive Bob Hugin won the Republican nomination to face Menendez in November. In Mississippi, Republican Sen. Roger Wicker defeated Richard Boyanton, a veteran and businessman. The Democratic Senate primary in Mississippi is headed for a runoff, as neither candidates David Baria or Howard Sherman received more than 50 percent of the vote. CLICK HERE FOR THE RESULTS IN OTHER KEY RACES.
SEEKING IMMUNITY: Ousted FBI Deputy Director Andrew McCabe is seeking immunity in exchange for his testimony related to a Justice Department watchdog's referral for possible prosecution, ahead of a congressional hearing on the handling of the Clinton email probe during the 2016 presidential election ... Michael Bromwich, an attorney representing McCabe, sent a letter to Senate Judiciary Committee Chairman Chuck Grassley, R-Iowa, on Tuesday requesting that McCabe be granted immunity in exchange for testimony surrounding the inspector general's report that he leaked information and lied about it to former FBI director James Comey.
ANTI-TRUMP FBI OFFICIAL'S ROLE UNDER THE MICROSCOPE: Peter Strzok, the FBI official who was pulled off Special Counsel Robert Mueller's investigative team last year because of anti-Trump texts, played a more central role than previously known in both the Russia and Hillary Clinton email probes, a lawmaker familiar with the matter told Fox News ... The lawmaker's assessment of Strzok's role in both investigations was based on the most recent records and testimony, including a closed-door interview with FBI espionage chief Bill Priestap. Priestap was interviewed Tuesday as part of an ongoing joint investigation by the House Judiciary and Oversight committees. Priestap was Strzok's supervisor and oversaw both the Russia and Clinton investigations. Strzok was reassigned to the FBI's human resources division following revelations that he was romantically involved with colleague Lisa Page and exchanged politically charged text messages. An FBI spokesperson told Fox News last month that Page had "resigned" to "pursue other opportunities." In addition to his work on the Mueller probe, Strzok was the lead agent on the Clinton email case known inside the bureau by the code name "Mid Year Exam" or MYE.
CHINA PLAYING LET'S MAKE A DEAL: Beijing offered to buy tens of billions of dollars' worth of U.S. goods if the U.S. abandons plans to hit Chinese imports with hefty tariffs, but the offer may be dead-on-arrival as the Trump administration signals it plans to move ahead with the levies later this month ... A government source familiar with the trade discussions told FOX Business on Tuesday that Beijing said it would purchase almost $70 billion worth of U.S. goods, including agricultural products like soybeans and corn, as well as energy products like coal, natural gas and oil. The deal, however, is conditional on the Trump administration's commitment to abandon its plans to slap tariffs on $50 billion worth of Chinese imports.
'INGRAHAM ANGLE' EXCLUSIVE - GENNIFER FLOWERS DROPS CLINTON BOMBSHELL ACCUSATION: Gennifer Flowers accused former President Bill Clinton of sexually harassing her before entering the alleged 12-year-long relationship with him in the 1970s ... Flowers, who hasn't done an interview in six years, spoke with Fox News' Laura Ingraham on Tuesday. She claimed that-- in retrospect-- Clinton's first approach to her in 1977 when she was a young local news reporter amounted to sexual harassment. "When I first met Bill Clinton, it was when I was sent on my first story by myself after my training with my cameraman," she said on "The Ingraham Angle." "He came on to me that night, I told him to knock it off. He proceeded to continue to come on to me for three months before I decided that I wanted to have a relationship with him, which at that point was consensual." In 1998, Clinton admitted while under oath to a sexual encounter with Flowers, but denied that it lasted for over a decade. He testified as part of the Paula Jones sexual harassment case.
GRIEVING KATE SPADE: Bright. Vibrant. Colorful. And, most essentially, fun. The same words used so often to describe Kate Spade's enormously popular handbags — "It" bags that were both aspirational and affordable — were an apt description of the woman herself, say many in the fashion world ... Those same words are a stark contrast to how Spade's life ended. The iconic fashion designer was found dead in an apparent suicide in her New York City apartment, law enforcement officials told Fox News. She was 55. Spade's body was discovered by a housekeeper at her Upper East Side apartment, a source told Fox News. The source added that Spade's husband, Andy Spade, was home at the time of her death. The Associated Press reported Spade was found with a red scarf around her neck attached to a doorknob. The couple's 13-year-old daughter was at school at the time and officials said a note was found at the scene telling her it was not her fault.
__________________________________________________________
Consider yourself an Influencer? Become a trusted adviser in our FOX News community and help guide our brand's future. Click here to find out how.
Members of FOX News Influencers:
Have the opportunity to be heard
Be part of a special network of peers
Get to influence new ideas and initiatives 
Receive updates on what we've learned and how your input has made impact 
Fill out our qualification survey and join us. Thank you for your continued support in our company's growth.
__________________________________________________________
AS SEEN ON FOX NEWS
WHO IS THE FUTURE OF THE DEMOCRATIC PARTY?: "There's only one problem for Democrats: Trump has been speaking truth and delivering real promises as president ... All that's left for the Democrats to prattle on about are side issues - cable news catnip irrelevant to the lives of most people ... If you're like most people, you care about pocketbook issues, your safety, and the declining culture around you --- all the things that Trump is fearlessly addressing and winning on." – Laura Ingraham, on "The Ingraham Angle," breaking down Democrats' problems - and falling poll numbers - heading into the midterm election. WATCH
'TOO BROWN TO WIN': "I had some California delegates come up to me and say, 'By far, you're the best candidate...but you know what, the name Omar Siddiqui will not work in Orange County. You need to change your name." – Democrat Omar Siddiqui, who was seeking to unseat Calif. Republican Rep. Dana Rohrabacher, telling "The Story's" Martha MacCallum that members of the Democratic Party told him he was "too brown" to win Tuesday's primary. WATCH
TRENDING
IHOP says it's changing iconic name; pancake lovers flip out.
Miss America dropping swimsuit competition.
Pennsylvania students get ballistic shield inserts as graduation gift.
American Airlines apologizes to passenger for 'shredded' suitcase, missing items.
THE SWAMP
Kelly Sadler leaves White House, official says; unclear if directly related to backlash over McCain comment.
Mitch McConnell cancels Senate's traditional August recess.
House members try to force immigration debate: What happens if discharge petition secures 218 signatures.
ACROSS THE NATION
ICE raids Ohio lawn and garden business, arrests 114.
California protesters arrested after allegedly climbing on Columbus statue they say hails genocide.
N.J. police officers won't face criminal charges for beach altercation, prosecutor says.
MINDING YOUR BUSINESS
Elon Musk survives vote, remains Tesla chairman.
MLB buys Rawlings, seeking more control over baseball production.
Dwayne 'The Rock' Johnson's latest Under Armour sneaker sold out in 30 minutes.
FOX NEWS OPINION
John Stossel: When politicians favor their friends, that's not capitalism, that's corruption.
Harry J. Kazianis: Will Trump's North Korea summit be an epic breakthrough or a colossal mistake? What the president must do next.
Elizabeth Wydra: If Trump fires Mueller, the judge and grand jury in the Russia probe will remain.
HOLLYWOOD SQUARED
Kevin Spacey's 'American Beauty' co-star Mena Suvari calls sexual misconduct accusations 'shocking.'
Harvey Weinstein's contract reportedly forced him to pay his company for each misconduct settlement.
Dr. Phil captured on video hitting man on a skateboard with his car.
DID YOU HEAR ABOUT THIS?
Easter Island mystery solved: How huge stone 'hats' were placed on famous ancient statues.
Terrifying 150 million-year-old 'mystery' dinosaur sells for $2.4M.
Mascara kept on for decades leaves 'embedded' lumps under woman's eyelids.
STAY TUNED
On FOX News:
FOX & Friends, 6 a.m. ET: To salvage the FBI's reputation, does Director Christopher Wray need to come clean about the origins of the Russia investigation? "FOX & Friends" will take a closer look. Plus, Megan Meany shares exclusive Mega Morning Deals for viewers. Gold Star father CeeJay Metcalf honors his son's memory.
The Story with Martha MacCallum, 7 p.m. ET: A very special edition of "The Story" will remember D-Day.
The Ingraham Angle, 10 p.m. ET: Laura Ingraham will have an exclusive interview with Senate Majority Leader Mitch McConnell.
On FOX Business:
Mornings with Maria, 6 a.m. ET: Guests include: Newt Gingrich, Stu Varney, Mark Penn, Byron York, Burgess Owens, Judge Andrew Napolitano, Dr. Mike Varshavski and more.
On Fox News Radio:
The Fox News Rundown podcast: President Trump's attorney, Rudy Giuliani, remains on the defensive when it comes to Special Counsel Robert Mueller's intentions in the Russia investigation. Judge Andrew Napolitano weighs in on the pros and cons of that strategy. Wednesday marks 50 years since Robert F. Kennedy died after being shot following his victory in California's Democratic presidential primary at the Ambassador Hotel in Los Angeles. Richard Allen, a former deputy assistant to President Clinton, shares the insights he learned while co-authoring "RFK: His Words and Our Times." Plus, commentary by MediaBuzz host Howard Kurtz.
Want the Fox News Rundown sent straight to your mobile device? Subscribe through Apple Podcasts, Google Play, and Stitcher.
The Brian Kilmeade Show, 9 a.m. ET: Maria Bartiromo sizes up the possible looming trade war, Trump's tariffs and the economy under Trump. Peter Baker on Trump's ongoing unhappiness with Attorney General Jeff Sessions; Newt Gingrich on the midterms, Trump's upcoming summit with Kim Jong Un, and his new book, "Trump's America: The Truth about Our Nation's Great Comeback"; former CIA analyst John Kiriakou on the latest in the Mueller investigation.
#OnThisDay
1944: During World War II, Allied forces storm the beaches of Normandy, France, on "D-Day" as they begin the liberation of German-occupied Western Europe.
1966: Black activist James Meredith is shot and wounded as he walks along a Mississippi highway to encourage black voter registration.
1968: Sen. Robert F. Kennedy dies at Good Samaritan Hospital in Los Angeles, 25 1/2 hours after he is shot by Sirhan Bishara Sirhan.
FOX News First is compiled by FOX News' Bryan Robinson. Thank you for joining us! Enjoy your day! We'll see you in your inbox first thing Thursday morning.