Four bodies found in Long Island park most likely victims of MS-13, officials say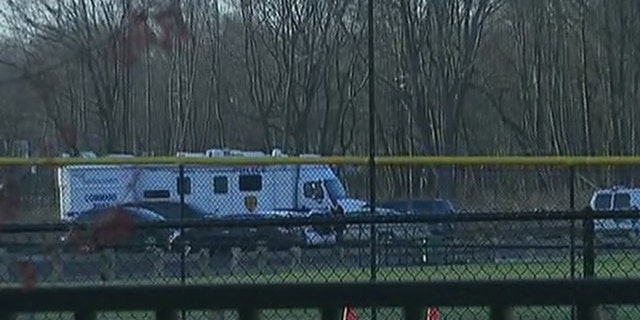 NEWYou can now listen to Fox News articles!
The four people whose bodies were discovered at a Long Island park most likely were killed by the notorious MS-13 gang, Suffolk County Police Commissioner Timothy Sini said Thursday.
The bodies of the four men were found at about 8 p.m. Wednesday in a wooded section between Clayton Street and Lowell Avenue in Central Islip, Sini said. They were several hundred feet south from a nearby soccer field.
ALLEGED MS-13 GANG MEMBERS ACCUSED IN HOUSTON WOMAN'S 'SATANIC' MURDER
Sini would not release the identify of the four individuals -- a 16-year-old boy, two 18-year-old men and a 20-year-old man -- because they have been only tenatively identified.
The homicides took place within the last two days, but the exact date and time was not released.
BLACK, MUSLIM JUDGE, A NY COURT TRAILBLAZER, FOUND DEAD
The men suffered "significant trauma" throughout their bodies and were killed with a "a sharp or edged instrument," according to Sini.
"We will confirm that the manner of which they were killed is consistent with the modus operandi of MS-13," Sini said, adding that investigators are still considering other possible motives.
Sini announced a $25,000 "fast cash reward" will be given to anyone with information that leads to an arrest.
The discovery of the bodies came more than a month after 13 members of the MS-13 gang were arrested and charged in connection to the killing of two teenage girls in nearby Brentwood last September.
The investigation into the deaths of Kayla Cuevas, 16, and Nisa Mickens, 15, on Sept. 13, 2016 led to the discovery of the skeletal remains of three teenage boys in another section of Brentwood.
The gang members were charged with 41 counts which include racketeering, attempted murder, assault and obstruction of justice.
The arrests were the culmination of a sweep by federal officials and Suffolk police targeting gang members.
"Today marks the beginning of healing for the families and the community," Suffolk County Police Commissioner Tim Sini told Fox News at the time. "It's a great day for justice… but the job is not done."