Fort Bragg soldiers charged in deadly NC parking lot shooting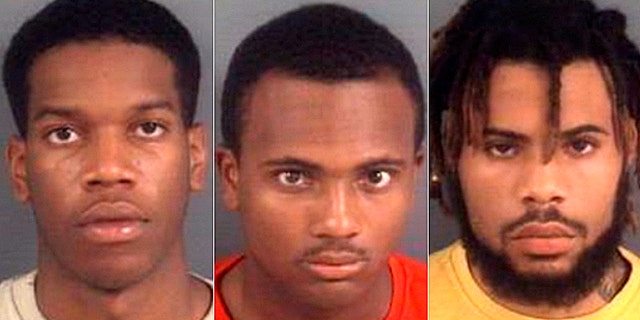 Two Fort Bragg soldiers and a third man have been arrested and charged with murdering two men they allegedly were trying to rob in a North Carolina restaurant parking lot.
Fayetteville Police Department announced Satureday the arrests of 20-year-old Ferris Brown, 19-year-old Javier Rashad Johnson and 19-year-old Daivon Tahjai Chambers on charges of first-degree murder, robbery with a dangerous weapon and conspiracy to commit robbery.
Brown and Johnson are active-duty soldiers at Fort Bragg. Brown is with the 1-17th Calvary Regiment; Johnson is with the 2-504th 82nd Airborne Division, according to police. Chambers is from Fayetteville.
All three men were jailed without bond and it's not known if they have attorneys.
They were accused of killing 18-year-old Dareon Tyrese Cook and 32-year-old Jonathan David Goodman who were found in a parked car on Sept. 5 as officers conducted security checks. Cook was pronounced dead at the scene. Goodman died at a hospital on Sept 7.
Their car was parked outside a Smokey Bones restaurant in Fayetteville.
Fayetteville police said robbery was the motive, WNCN-TV reported.
"Part of me is sad over the fact that it was done because of something as simple as a robbery," Goodman's father told the station.
David Goodman said his son had seven children and an eighth on the way.
The Associated Press contributed to this report.