Florida sergeant dives into river to rescue woman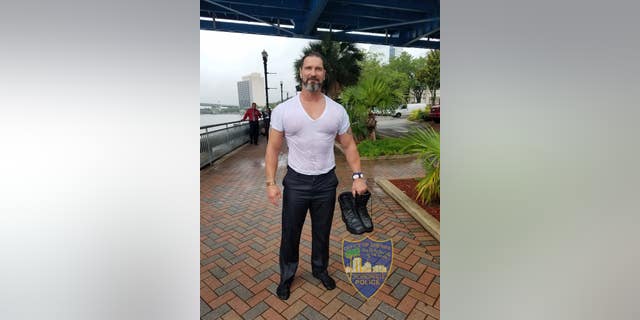 NEWYou can now listen to Fox News articles!
A Florida sergeant dived into a river on Tuesday to save a woman from drowning.
Jacksonville Sheriff's Office Sergeant Billy Irvin jumped into the St. Johns River after police responded to a call about a body in the water, the sheriff's office said.
FLORIDA POLICE SAFELTY LOCATE TWIN SISTERS WHO WENT MISSING
Sgt. Irvin dove in after "the body was heading south and the current was picking up," the sheriff's office wrote in a Facebook post.
Irvin determined that the woman was still alive and signaled for help. Three construction workers nearby the incident offered a helping hand and pulled the sergeant and the woman into their boat.
FLORIDA AIRPORT SHOOTING SUSPECT DUE BACK IN COURT
"He is a hero to all of us and all the people who witness this going on," the sheriff's office said about Irvin. "Numerous citizens came up to Sgt. Irvin just to shake his hand thanking him for his heroic effort and jumping in the river."
The Jacksonville Sheriff's Office's post about the rescue also included a photo of a drenched Sgt. Irvin after his heroic swim.
There was no immediate information on the woman's identity or condition.