Florida firefighters help save man after heart attack, then finish his lawn work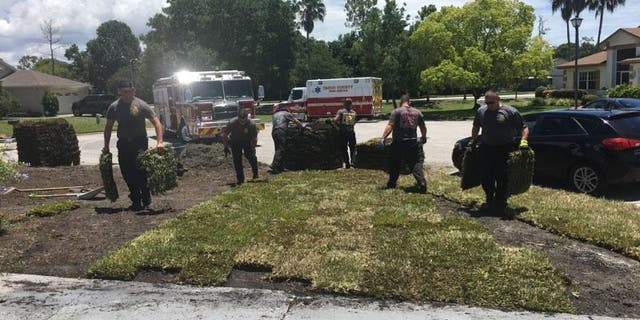 When a Florida man had a heart attack and couldn't finish his yard work, local first responders who brought him to the hospital stepped in to make sure his lawn was completed ahead of a deadline set by the homeowner's association (HOA).
Gene Work was laying sod on the property of his Bayonet Point home on Saturday, with help from his brother, his wife, Melissa, wrote on Facebook.
As Gene was rushing to complete the yard — it was his "biggest stress as our HOA date to fine us a huge amount was getting closer" — he suffered a heart attack.
Instead of worrying about his health, Gene, according to the post, was more concerned with the HOA's fine and, while "literally in and out of consciousness, he kept begging [Melissa] to figure out the sod and have it put down because he didn't want it to go to waste and die."
7 OKLAHOMA FIREFIGHTERS GO VIRAL AFTER BECOMING FATHERS WITHIN MONTHS OF EACH OTHER
"It's ALL he kept asking about literally during a massive heart attack," Melissa wrote, adding she calmed him down and told him, "Jesus will help us. It's ok. Jesus will figure this out babe."
Gene's brother, who had been working on the property, stayed behind to finish the job, and was planning on staying there until odd hours of the night to complete it.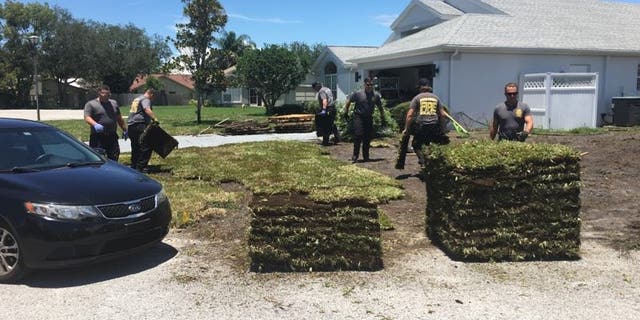 In the middle of laying new rows of sod on the property, "he heard huge trucks driving back down the road." Those vehicles turned out to be a Pasco County fire truck and an ambulance that had come back to the scene to aid him with the yard work.
"Before he knows it, 7 firefighters and EMT's jumped out, put on gloves and said they came back because they knew Gene was in serious trouble" and wouldn't be able to get back home for a number of weeks, so they decided to pitch in.
The firefighters and EMT's helped without even knowing that Gene had "pawned his favorite gun to pay" for the sod. Nor did they know that Melissa is scheduled to undergo a bone marrow transplant in August.
"I mean, they saved his life and then came back to save his grass," Melissa told Tampa Bay Online. "That's just so awesome."
The woman told the news outlet that when Gene woke up in the hospital and learned of what the first responders had done, he "said we had to find them and thank them, we had to tell everyone about this kindness."