F-35 aboard Navy ship in Pacific as US touts new era of 'up-gunned' air-sea capability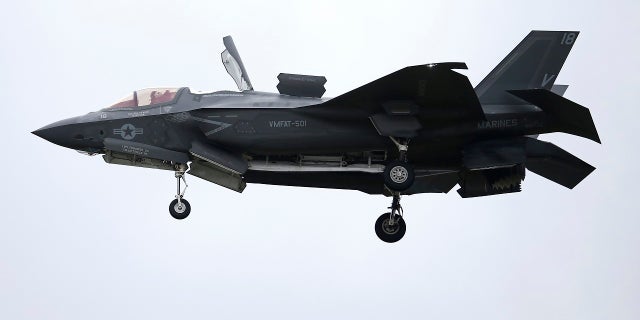 An F-35B Lighting II—which has been called a 'beastly airplane—landed Sunday on an amphibious assault ship at an undisclosed location in the Pacific, an event the Navy touted as a new era of "up-gunned" air-sea capability, Stars and Stripes reported.
The F-35B was assigned to the 31st Marine Expeditionary Unit based in Okinawa, Japan, and will provide support to Navy-Marine Corps expeditionary operations and help strengthen alliances in the region, the Navy Times reported citing a press release.
It is unclear how many F-35s were deployed and it comes amid continued tension in the area. The North Korean nuclear situation remains unstable and China continues work to extend into the South China Sea.
"Pairing F-35B Lightning IIs with the Wasp represents one of the most significant leaps in war-fighting capability for the Navy-Marine Corps team in our lifetime," Rear Adm. Brad Cooper, commander, Expeditionary Strike Group 7, said in a statement.
The Wasp is on a routine patrol in the Indo-Pacific where it will be joined by two destroyers to assist on operations and training, the paper reported.
The aircraft can conduct strikes inland, support Marines ashore and provide air defense for the Expeditionary Strike Group.
The F-35 lightning II is the world's first fifth-generation fighter jet. It has extraordinary stealth capabilities that will allow the aircraft to fly deep into enemy airspace without detection. The F-35s harness a massive Pratt and Whitney engine to deliver astonishing fighter speeds of approximately 1,200 mph.
One test pilot said it is a "beastly airplane."
The F-35 has had its share of setbacks, but the AP once described its maneuvers: The stealth jet has "a maneuverability so catlike it can turn corners so sharp that it seems to carve squares in the sky."