Engineer in fatal NY train wreck was falling asleep at controls, union official says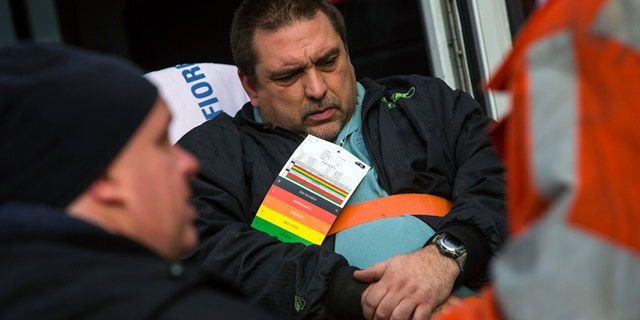 The engineer operating a commuter train that derailed in New York City Sunday, killing four, caught himself nodding at the controls just before the fatal crash, a union official said Tuesday.
Engineer William Rockefeller "caught himself, but he caught himself too late," said Anthony Bottalico, leader of the rail employees union, relating what he said Rockefeller told him.
Sources told The New York Post that Rockefeller was jolted back to reality only after a whistle went off warning him that he was going too fast.
[pullquote]
The National Transportation Safety Board, which is investigating the accident, said Tuesday there was no indication that brake systems had failed, and signal tests so far had not turned up any "anomalies."
Rockefeller, 46, who reportedly began his career as a custodian at Grand Central Station before becoming a Metro North engineer 11 years ago, had navigated the route many times, but had done the early shift for only a few weeks, according to reports.
A spokesperson for the MTA also confirmed to FoxNews.com that Rockefeller had experience on the route.
"He's qualified for the Hudson [line]. He liked working on the Hudson. He chose the Hudson," the spokesperson said referring to a recent timetable change on Nov. 17 where new assignments are determined through seniority.
Earl Weener, an NTSB board member, said at an afternoon news conference that Rockefeller likely had enough time to rest before beginning the second day of a five-day workweek on the morning of the crash.
"There's every indication he would have been able to get full, restorative sleep," Weener said.
Drug and alcohol tests performed on the crew, which included Rockefeller and three assistant conductors, have turned up negative so far, Weener added.
Weener said authorities are continuing to look at each of the cars involved in the crash, including the so-called "dead man's switch" located in the locomotive, to see if there were any malfunctions.
"It's too early to tell exactly what happened at this point," Weener said.
The NTSB said Monday that the train was going 82 mph as it went into the 30 mph curve near the Spuyten Duyvil station in the Bronx on Metro-North's Hudson Line.
As a result, the locomotive and some of its seven cars derailed and toppled over, leaving the lead cars inches from the water. Four people died in the accident and dozens were injured.
The station is located at a sharp bend where the Hudson and Harlem rivers meet.
On Monday, Weener sketched a scenario that suggested that the train's throttle was let up and the brakes were fully applied way too late to stave off disaster.
He said the throttle went to idle 6 seconds before the derailed train came to a complete stop — "very late in the game" for a train going that fast — and the brakes were fully engaged 5 seconds before the train stopped.
It takes about a quarter-mile to a half-mile to stop a train going 82 mph, Federal Railroad Administration spokesman Kevin Thompson said.
Weener would not disclose what Rockefeller told investigators, and he said results of drug and alcohol tests weren't yet available. Investigators are also examining Rockefeller's cell phone, apparently to determine whether he was distracted.
Engineers may not use cell phones while on the train, according to the Metropolitan Transportation Authority, which runs Metro-North.
Anthony Bottalico, executive director of the rail employees union, said Rockefeller "is totally traumatized by everything that has happened."
He said Rockefeller was cooperating fully with investigators.
"He's a sincere human being with an impeccable record that I know of. He's diligent and competent," Bottalico said. Rockefeller has been an engineer for about 11 years and a Metro-North employee for about 20, he said.
Rockefeller was being interviewed by the NTSB on Monday, and will be the subject of additional interviews "for the next couple of days," Weener said.
Outside Rockefeller's modest house in Germantown, police told reporters that at the request of the family any of them who trespassed would be arrested. Calls to the home went unanswered.
Weener said it was still too early to tell if human error or faulty equipment triggered the crash that killed four and injured dozens.
"That's the question we need to answer," Weener told a Monday afternoon news conference.
Flanked by senators Charles Schumer, D-N.Y., and Richard Blumenthal, D-Conn., Weener also said the train was traveling too fast for the 70 mph zone it passed through moments before reaching the curve where it derailed.
Weener said Monday that two data recorders had been recovered from the crash, and "low quality" surveillance footage, taken from a nearby bridge, was being examined.
Schumer added that the track appeared to be in good condition, and authorities were not aware of any problems with the train's brakes.
About 150 people were onboard the train when it veered off the tracks around 7:20 a.m.
In their efforts to find passengers, rescuers shattered windows, searched nearby woods and waters and used pneumatic jacks and air bags to peer under wreckage.
Passengers were removed from the wreck by authorities, with dozens bloodied and scratched, holding ice packs to their heads.
"I was asleep and I woke up when the car started rolling several times," said a bloodied Joel Zaritsky, who was on his way to New York City for a dental convention.
"Then I saw the gravel coming at me, and I heard people screaming. There was smoke everywhere and debris. People were thrown to the other side of the train."
The MTA Police Department identified the deceased Sunday as Ahn Kisook, 35, of Queens, N.Y.; Donna L. Smith, 54, of Newburgh, N.Y.; James G. Lovell, 58, of Cold Spring, N.Y. and James M. Ferrari, 59, of Montrose, N.Y. Three of the dead were found outside the train, and one was found inside, authorities said. Autopsies were scheduled for Monday, the New York City medical examiner's office said.
The accident was the latest mishap in a troubled year for Metro-North, which had never before experienced a passenger death during an accident in its 31-year history.
It came six months after an eastbound train derailed in Bridgeport, Conn., and was struck by a westbound train. That crash injured 73 passengers, two engineers and a conductor.
The Associated Press contributed to this report.