Elephant found wandering in New York town gets escort from state police
NEWYou can now listen to Fox News articles!
An elephant may never forget, but sometimes they need a little help with directions.
New York State Police said Monday a wayward pachyderm was found wandering by state troopers in the town of Westtown, about 70 miles northwest of New York City.
"Never a dull moment in Troop F," state police said in a Facebook post.
The lost elephant needed to be escorted back home after wandering away from an animal sanctuary.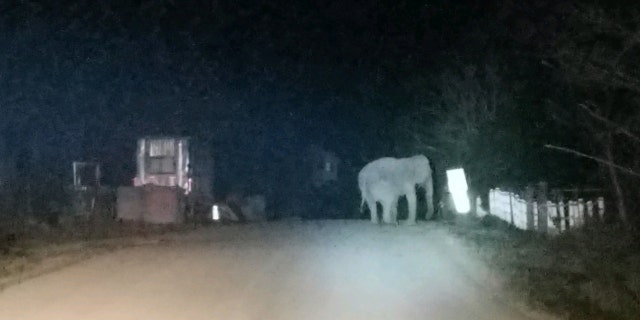 Photos posted by the law enforcement agency show the elephant milling around in the dark on the road, which was illuminated by the headlights of a car.
BLIND, SICK ELEPHANTS COMFORTED BY PIANIST AT THAILAND SANCTUARY
While it's not clear how the elephant got out of the sanctuary, National Geographic notes that the animals are not docile in darkness.
"These hungry animals do not sleep much, and they roam over great distances while foraging for the large quantities of food that they require to sustain their massive bodies," the magazine notes.