The twice-deported Guatemalan illegal immigrant who is accused of killing Indianapolis Colts linebacker Edwin Jackson and another man in a drunken driving crash over the weekend is now facing four felony charges, prosecutors announced Wednesday.
Manuel Orrego-Savala, wearing an orange jail suit during a court appearance, was charged with two counts of failing to remain at the scene of an accident and two counts of causing death while operating a vehicle above the legal alcohol limit.
Wednesday's announcement came after Orrego-Savala, 37, was charged Tuesday in a federal criminal complaint with illegal re-entry of a previously deported alien.
Federal prosecutors spell his name as Orrego-Zavala, but the federal criminal compliant lists "Orrego-Savala" as among his aliases, according to the Associated Press. Through a lawyer Wednesday, however, he said his correct name is Manuel Orrego-Savala, and a pretrial hearing was scheduled for March 27, the Indianapolis Star reported.
Orrego-Savala otherwise spoke little during the Wednesday hearing, responding through an interpreter as the judge explained the proceedings and charges.
"He's very distraught to say the least," the Associated Press quoted his lawyer, Jorge Torres, as saying. "He's very confused."
Orrego-Savala faces up to 10 years in prison on the immigration charge, which the U.S. attorney's office said would be handled after any state charges are resolved.
He was arrested following the crash early Sunday along Interstate 70 in Indianapolis. Investigators said Jackson, 26, and his Uber driver, 54-year-old Jeffrey Monroe, were standing outside Monroe's car when they were struck and killed by a pickup truck driven by Orrego-Savala.
Orrego-Savala was deported in 2007 and 2009, and was again living illegally in the U.S. at the time of the crash, according to investigators.
In a series of tweets Tuesday, President Trump offered his prayers and sympathies for Jackson's family while emphasizing his argument on the need for immigration reform.
"So disgraceful that a person illegally in our country killed @Colts linebacker Edwin Jackson," Trump tweeted. "This is just one of many such preventable tragedies. We must get the Dems to get tough on the Border, and with illegal immigration, FAST!"
He continued: "We need a 21st century MERIT-BASED immigration system. Chain migration and the visa lottery are outdated programs that hurt our economic and national security."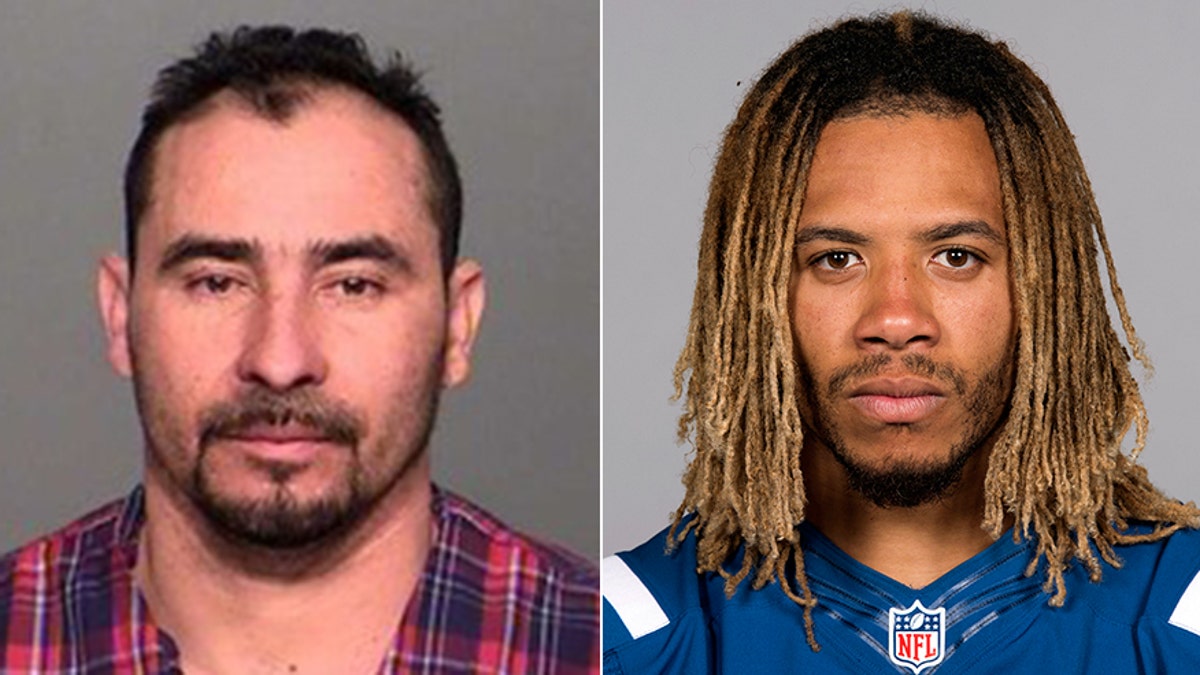 A spokesman for Jackson's family has said his relatives are devastated.
"The family is in shock, as you can imagine. This obviously happened so unexpectedly," Atlanta attorney Daniel Meachum said.
Orrego-Savala's blood alcohol level was 0.239 at the time of the crash — three times the legal limit — The Indianapolis Star reported, citing a probable cause affidavit. Drivers in Indiana are presumed intoxicated with a 0.08 percent blood alcohol level.
Orrego-Savala previously had a 2005 conviction for driving under the influence in Redwood City, California. He also has numerous other misdemeanor convictions and arrests in California and Indiana, according to U.S. Immigration and Customs Enforcement spokeswoman Nicole Alberico.
In the 2005 case, he pleaded no contest to two separate drunken-driving offenses and was given a brief jail sentence, San Mateo County District Attorney Steve Wagstaffe said Tuesday.
Orrego-Savala remains jailed in Indianapolis. He appeared Tuesday before a judge who advised him of his rights.
"I wasn't driving the car. I don't know why I am here," he was quoted as saying by WIBC.
The radio station said the judge responded by saying the matter would be "sorted out in court."
Fox News' Nicole Darrah and the Associated Press contributed to this report.