Duke removes Robert E. Lee statue, days after it was vandalized
Duke University announced that it removed a statue of Confederate Gen. Robert E. Lee early Saturday after it had been vandalized.
The university, located in Durham, N.C., said it removed the limestone depiction of Lee from Duke Chapel amid a national debate about monuments to the Confederacy. A statue of Lee was at the heart of a violent protest last week in Charlottesville, Va., which turned deadly.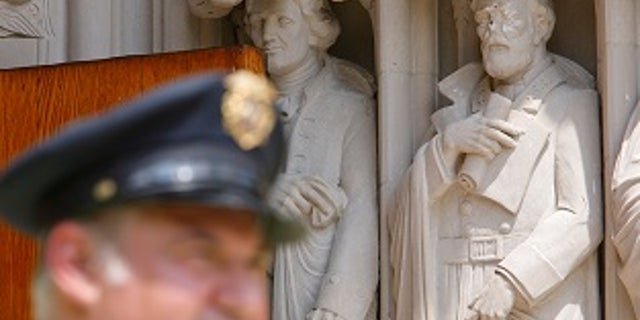 Heather Heyer, 32, was killed after a car drove into a crowd of people protesting the white nationalists who were demonstrating against the removal of a Lee statue.
CHARLOTTESVILLE SUSPECT FACES 5 ADDITIONAL FELONY CHARGES
James Alex Fields Jr., 20, has been accused of driving his car into a crowd of counterprotesters and has been charged with second-degree murder, among other charges.
University President Vince Price said in a letter to the campus community that he consulted with faculty, staff, students and alumni about the decision to remove the statue.
BOSTON HOPES TO KEEP PEACE AT 'FREE SPEECH RALLY'
Officials discovered early Thursday that the statue's face had been damaged by vandalism. Lee was among the 10 historical figures depicted at the chapel.
On Monday in Durham, protesters toppled a statue of a Confederate soldier during a rally against racism.
The Associated Press contributed to this report.