Details of Somali Terrorist Recruitment in Minneapolis Revealed in New Court Documents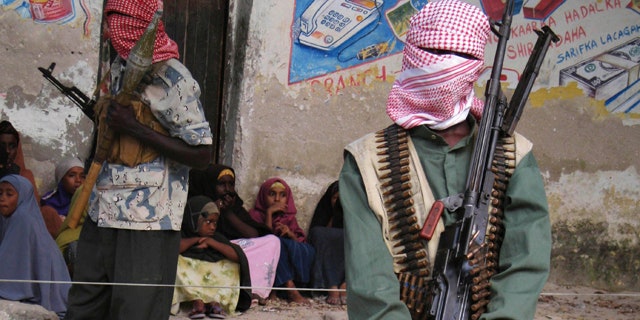 MINNEAPOLIS -- A group of Minneapolis-area Somalis, including some who traveled to their homeland to allegedly take up arms against the Ethiopian army, held secret meetings in 2007 to plan the trips, created fake itineraries to fool family members and challenged one another about their commitment, prosecutors contend in a court filing.
The document was filed this week in advance of a trial for one man accused of being part of the conspiracy.
It sheds new light on how the recruiting operation worked in Minneapolis and how some of the men arrived at safehouses in Somalia, where they received AK-47s and weapons training.
Since the fall of 2007, at least 21 men have left Minnesota for Somalia, where authorities believe they joined the terror group al-Shabab. Eighteen people have been charged in Minnesota in connection with the case, including Omer Abdi Mohamed, who goes on trial next week on terror-related charges.
Mohamed never traveled to Somalia, but he is accused of helping others who did. His attorney calls the allegations ridiculous.
"Omer was never involved in terrorism," said defense attorney Peter Wold. "It certainly stirs the public sentiment to suggest that, but it is not part of this case, not a part of Omer, and that will be abundantly clear."
Somalia has not had a functioning government since 1991, when warlords overthrew a socialist dictator and then turned on each other, causing chaos in the African nation of about 7 million people.
In 2006, Ethiopian soldiers, which many Somalis viewed as abusive, occupied parts of Somalia and a militant group called al-Shabab fought against against them. The U.S. declared al-Shabab a terrorist organization in early 2008.
According to prosecutors, starting in September 2007, Mohamed and others conspired to raise money to send men to Somalia to violently oust the Ethiopians. Others were also recruited to the cause. The group held meetings at mosques and restaurants, and took measures to keep things secretive.
"The defendant and his conspirators strove to keep the plan secret, reminding members not to discuss it with anyone outside of the conspiracy, and policing entry into the group," prosecutors said.
Mohamed and others went to malls and apartments, falsely telling members of the Somali community they were raising money to build a mosque or help relief efforts in Somalia, prosecutors said. The money actually went to the travelers, who planned to join one group member's relative -- a senior member of al-Shabab -- in Somalia.
Prosecutors said Mohamed used a contact at a local travel agency to get airline tickets. Members of the group allegedly gave one traveler a false itinerary to mislead his family.
The group also kept two recruits from leaving Minnesota in the fall of 2007 because they were too young, and decided their disappearance would draw attention to the plan, the document said.
The document said Mohamed and another man stayed behind to provide financial support to the travelers. It also says Mohamed advised his coconspirators to listen to a lecture by radical Muslim leader Anwar al-Awlaki about the path to jihad, and that at least one person did.
"They challenged members of the conspiracy who had planned to travel, questioning their commitment, dedication, and knowledge of both the religion and events in Somalia, before ultimately assisting them with the trip," the document said.
Prosecutors said the conspiracy includes men in Minneapolis, and men and women in Somalia. In Minneapolis, the conspiracy focused on traveling and funding trips and in Somalia, it focused on the use of safe-houses and weapons training, prosecutors said.
The document said some of the men went to Somalia through Saudi Arabia or through Dubai, United Arab Emirates, and eventually met each other and went to safe-houses. Some Minneapolis men helped clear brush for a training camp, and some participated in a July 2008 ambush of Ethiopian troops along a road in Somalia -- the preparations and the ambush were filmed as part of a propaganda video.
Prosecutors say in that video, a man from Minneapolis encourages more men to join the fighters in Somalia.
Mohamed's trial starts on Tuesday with jury selection.