DeLay's defense rests at ex-lawmaker's trial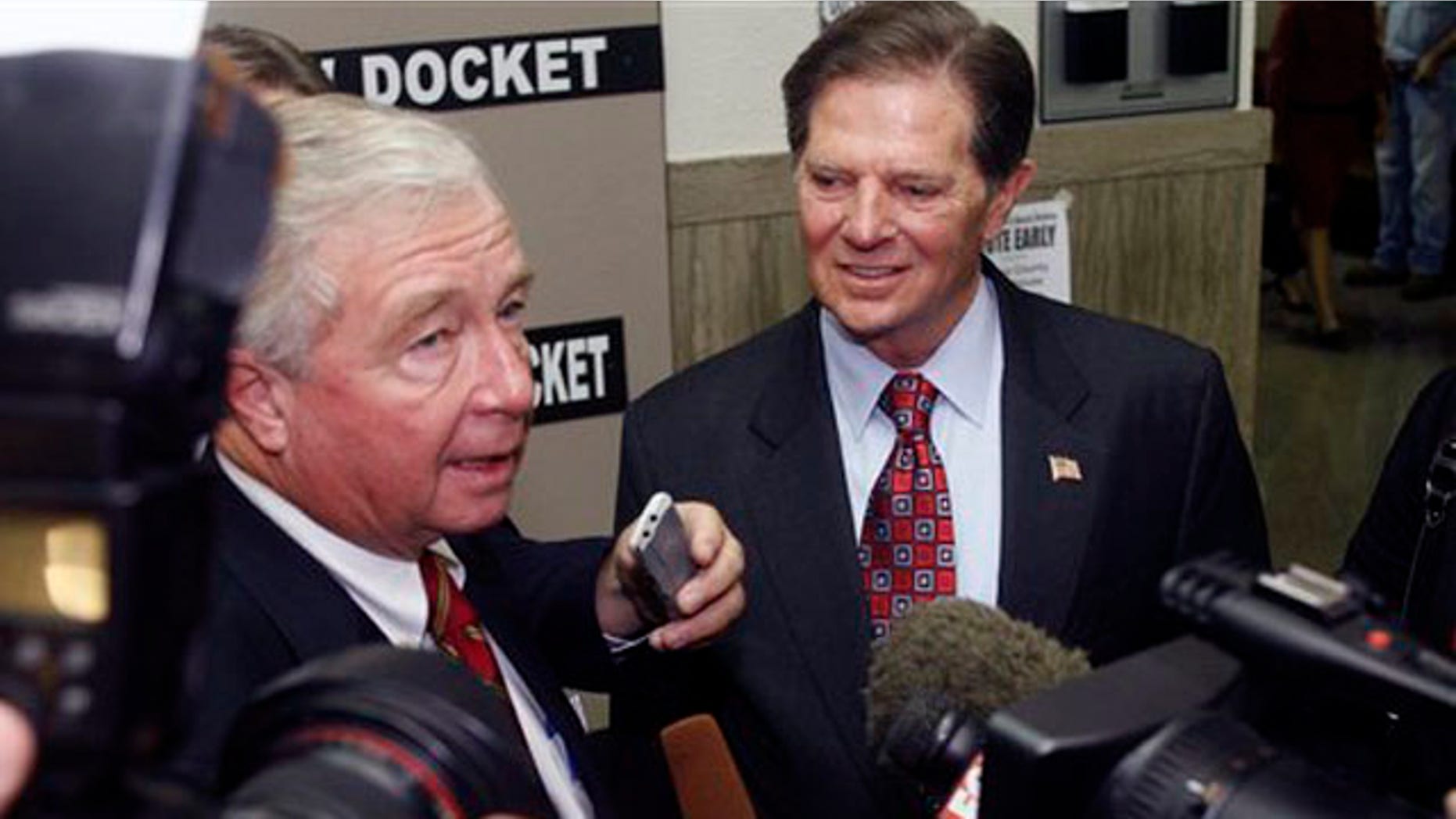 AUSTIN, Texas – Tom DeLay's defense team, after presenting five witnesses over two days, rested its case at the former U.S. House majority leader's money laundering trial on Thursday.
DeLay's defense was brief in comparison with the prosecution's case, which included more than 30 witnesses over nearly 10 days. The former Houston-area congressman did not testify. Closing arguments in the trial were set to be held on Monday with jurors expected to get the case later that day.
Prosecutors allege DeLay used his political action committee to illegally channel $190,000 in corporate donations into 2002 Texas legislative races through a money swap.
DeLay, who denies any wrongdoing, and his attorneys have said no corporate money went to Texas candidates and the money swap was legal.
"I feel very good. They didn't prove anything. And I hope the jury sees the same thing," DeLay said, adding there was no need for him to testify.
Lead prosecutor Gary Cobb said he was disappointed he didn't have a chance to cross examine DeLay.
"They said that before we started and after the jury returns their verdict they'll say the same thing," Cobb said in reference to defense claims prosecutors have not proven DeLay committed any crime. "We will present this to the jury and see which side the jury goes toward."
The once powerful but polarizing politician is charged with money laundering and conspiracy to commit money laundering and could face up to life in prison if convicted.
DeLay is accused with two associates — John Colyandro and Jim Ellis — of illegally channeling corporate donations collected by the Texas-based PAC through an arm of the Washington-based Republican National Committee or RNC. The money went to seven Texas House candidates in 2002. Under Texas law, corporate money cannot go directly to political campaigns.
Prosecutors allege the money helped Republicans take control of the Texas House. That enabled the GOP majority to push through a Delay-engineered congressional redistricting plan that sent more Texas Republicans to Congress in 2004 — and strengthened DeLay's political power.
During DeLay's defense, much of the focus was on when he first learned about the money swap at the center of the trial.
DeLay has told reporters he had little involvement in how the PAC was run and didn't learn about the money swap until Ellis told him about it on Oct. 2, 2002, after it had been approved. DeLay has said he didn't meet with Ellis, who ran a Washington-based DeLay PAC, in the month before that date.
But under cross examination by prosecutors, Mary Ellen Bos, who was in charge of DeLay's schedule, testified about two meetings Ellis had in DeLay's office in September 2002, including one on Sept. 11. Prosecutors told jurors that an hour before Ellis was in DeLay's office on Sept. 11, he had received a blank check from the PAC's accountant in Austin. That check was later sent to the RNC and filled out for $190,000.
Dick DeGuerin, DeLay's lead attorney, said while questioning Bos that he had missed the Sept. 11 meeting in reviewing DeLay's calendar. Bos also testified Thursday about a dinner and a fundraising trip in September 2002 that DeLay attended which were related to his Washington-based PAC.
Prosecutors suggesting to jurors there were more opportunities DeLay could have met with Ellis than previously disclosed kept in line with their case, which has been mostly circumstantial and not directly tied DeLay to the alleged scheme.
"I think almost any criminal case will be more circumstantial than not circumstantial. That's just often the case," Cobb said.
The strongest evidence was an audio interview played for jurors in which DeLay said he knew beforehand about the money swap. DeLay says he misspoke in the interview with prosecutors.
Prosecution evidence also showed the seven Texas candidates who received the $190,000 through the money swap got more donations from the RNC than all other state legislative candidates around the U.S., who got less than $33,000. Prosecutors also presented e-mails that showed in the weeks leading up to the 2002 elections, the PAC had problems raising money from individual donors, the only type of funds that can be given to Texas candidates.
DeLay's attorneys say prosecutors have presented no proof their client committed any crime, and on Thursday they continued to allude to the circumstantial nature of the case as they questioned Bos and Dan Flynn, DeLay's former deputy chief of staff.
DeGuerin suggested to jurors that DeLay's office was so big, he might not have known if Ellis had been there on Sept. 11, 2002. Bos and Flynn also told jurors it was unlikely DeLay would have been at the Sept. 11, 2002, meeting that Ellis attended because of his busy schedule, including attending events marking the first anniversary of the 9/11 terrorist attacks.
Prosecutors have implied DeLay was the PAC's driving force. Flynn told jurors the PAC was not something DeLay spent much time on.
Three former RNC officials, one spoke to jurors on Monday before the prosecution had rested its case, also testified for DeLay, saying that the money swap was not unusual and such transactions had been commonly done by political parties.
The criminal charges in Texas, as well as a separate federal investigation of DeLay's ties to disgraced former lobbyist Jack Abramoff, ended his 22-year political career representing suburban Houston. The Justice Department probe into DeLay's ties to Abramoff ended without any charges filed against DeLay.
Ellis and Colyandro, who face lesser charges, will be tried later.
DeLay, whose nickname was "the Hammer" for his heavy-handed style, runs a consulting firm based in the Houston suburb of Sugar Land. In 2009, he appeared on ABC's hit television show "Dancing With the Stars."