Delaware kidnapping: Suspect in sexual assault of 4-year-old girl arrested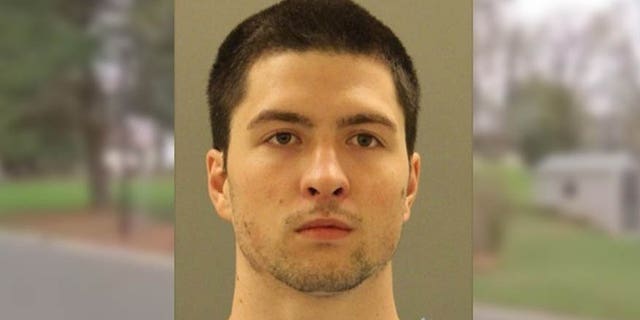 A 23-year-old man has been arrested for the "heinous and despicable" crime of sexually assaulting a 4-year-old girl and then trying to kill her nearly a month ago, Delaware police announced Monday.
Daniel M. Santucci Jr., 23, is being held on more than $1 million bail and faces charges of attempted murder, kidnapping, unlawful sexual contact and possession of child porn stemming from the April 7 incident in Newport.
"Santucci didn't care about the victim or her parents or what an incident like this would do to them," New Castle County Col. Vaughn Bond Jr. told reporters Monday. "He didn't care about a fear he instilled in every parent and child throughout New Castle County."
ARIZONA GIRL FOUND IN STORAGE BOX: COUSIN STANDS TRIAL ON MURDER, ABUSE CHARGES
Police say Santucci, of Elsmere, snatched the girl from the street while playing in her neighborhood of Plum Run, Fox 29 reported.
He then took the girl to a park in Newport and attacked her before throwing her in a pond and fleeing the area, authorities said.
Two hours after the kidnapping, the girl was found nearly naked in the park by a passerby who called 911, Fox 29 reported.
The girl was taken to a hospital where an evaluation determined that she was sexually assaulted.
BOSTON DOCTORS KILLED: HORRIFIC SCENE EMERGES AT PENTHOUSE
During an investigation police found Santucci's vehicle – which matched descriptions from witnesses -- abandoned in the center of a road. Investigators later learned Santucci had escaped to Florida on a bus and he was arrested in Tampa on April 20. He was transported back to Delaware on May 1 and is currently being held at the Young Correctional Institution in Wilmington.
"I am extremely pleased to make the announce of this arrest… but I'm equally saddened over the fact that the incident happened in the first place," Bond said Monday, adding that parents and the community can now exhale a "sigh of relief that Santucci is no longer roaming our county."