DC-area drivers blast I-66 tolling system as fees hit $40 mark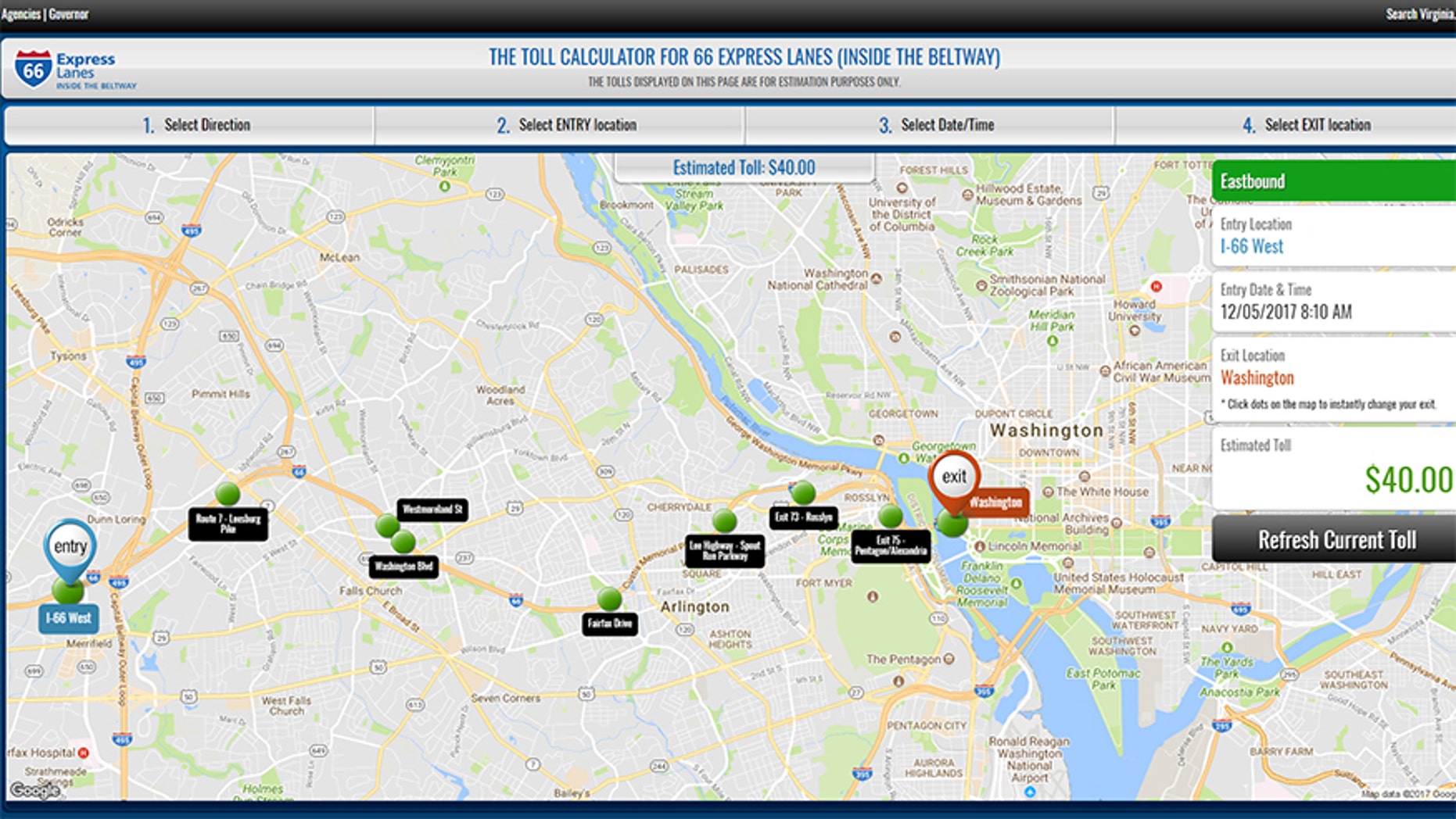 Outraged Washington, D.C.-area commuters and politicians took to social media Tuesday to blast a new tolling scheme on a busy interstate heading from Virginia into the nation's capital, as fees along the route peaked to an eye-popping $40 during the morning rush hour.
The Interstate-66 tolling plan, which launched Monday, opens up express lanes on the highway in northern Virginia to single drivers, as opposed to just carpoolers. But the sticker shock prices being posted on electronic signs along the roadway led some commuters and residents to give the roadway a new nickname.
"This is #highwayrobbery. People are just trying to get to work. What happened to a government FOR THE PEOPLE. I'm appalled," one user wrote on Twitter.
"Just go ahead & change its name to I-$66," said another.
The Virginia Department of Transportation – which has touted the project as giving commuters "new and improved travel choices" – did not respond to multiple requests for comment from Fox News on Tuesday.
The tolls are in effect from 5:30 a.m. to 9:30 a.m. local time eastbound, and 3:00 p.m. to 7 p.m. westbound. It is free for drivers at all other times.
All vehicles using the toll lanes must have a $35 E-ZPass device to pay the cashless tolls or one set to "HOV" (high-occupancy vehicle) mode to earn the free rides. Motorcycles are exempt.
"It's dynamically priced…basically that's an algorithm that measures congestion, and as the congestion increases the toll increases, and as the congestion goes down, the toll decreases," Virginia Department of Transportation Tolling Division Administrator David Caudill told WTOP in late November.
Drivers heading through the area without the E-ZPass device will have their license plate pictures taken and the bills sent home – plus a $12.50 fee. Law enforcement also will be on the lookout for solo drivers who have their vehicles' devices set to HOV mode, and those drivers could face fines of $250, according to Fox 5.
Before surging to $40 Tuesday, the tolls hit a price of $34.50 during Monday morning's rush hour for a trip from one end of the tolling lanes to the other – an 11-mile stretch.
Virginia previously said the tolls would peak at $7 for the morning rush, but on Monday, state transportation officials told the Washington Post those estimates were based on the average trip and not ones made during the highest points of rush hours.
Revenue from the tolls will go toward the funding of express buses and bike sharing stations, and lawmakers have agreed to add a lane to a stretch of I-66 eastbound as part of a compromise for allowing tolling, WMAL reported.
But some state lawmakers also joined in on the chorus ripping the tolling scheme on Tuesday, calling it "price gouging."
"$30+ tolls are unfair, especially for those of us with limited east-west travel options," Jennifer Wexton, a Democratic state senator, posted on Twitter.
"I stand w/ @DelegateJBell & HD13 commuters who battled through an outrageous trip to work Monday, which is why I called charging the highest toll in the country what it is: price gouging," said Danica Roem, a Virginia House of Delegates-elect. "I told a VDOT rep either VDOT can fix it or the GA can."