Dad helped son after escape from South Carolina prison; 2 murder suspects still on the loose, officials say
NEWYou can now listen to Fox News articles!
A father is now behind bars with his son after he helped the 27-year-old, who escaped from a South Carolina prison Saturday, police said.
The hunt is ongoing for two other murder suspects still on the loose.
Christopher Boltin, 27, was captured Sunday, nearly a day after he and two other inmates — Tyshon Demontrea Johnson, 27, and Curtis Ray Green, 20 — escaped from Orangeburg County Detention Center. The sheriff's office announced Tuesday Boltin's father, 51-year-old Hoyte Boltin, faces a charge of aiding an escapee. The elder Boltin is accused of providing "some type of assistance to his son" after he escaped prison.
Christopher Boltin, who was in jail on carjacking and grand larceny charges, was charged with escape. He, his father and Tyree Hillard — a 22-year-old inmate who was charged with aiding an escapee — are expected to appear in court for a bond hearing.
2 SOUTH CAROLINA MURDER SUSPECTS ON THE LOOSE AFTER PRISON ESCAPE; 1 INMATE CAPTURED, OFFICIALS SAY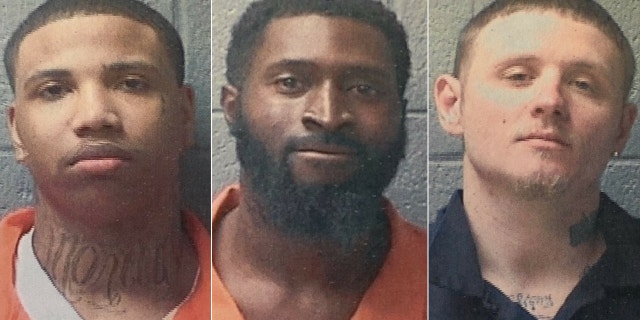 Authorities were still hunting for Johnson and Green Tuesday. Both inmates were being held on murder charges stemming from two separate incidents. Officials said they are considered armed and dangerous.
Details about how the inmates managed to escape the prison began emerging Monday. Orangeburg County Administrator Harold Young told WLTX the inmates were able to identify an electrical short that compromised the facility's security.
"They took advantage of a situation," Young said. "We had an electrical short in the panel. It did what it was designed to do. When that electrical short happened, it released the locks within that pod, like they're supposed to do."
An officer attempted to control the situation and stop the inmates before they broke free.
"Four of them overpowered him. This guy put his life on the line, he was beaten and they were able to get his mace away from him and in the face of having been maced, still put up enough of a fight to make sure no one else was able to get away," he said.
Hillard attempted to escape, but was caught before reaching the outdoor fence. Young added that the inmates used bedsheets to climb over the barbed wire fence. He said he believed they were able to reach the nearby railroad tracks and ran from there.